If you are a hardcore gamer, any issues with the screen display can distract you or divert your attention from gaming. It can also cause visual fatigue and tank our game's performance in the process. AMD Radeon Settings manages these issues well. It lets you do pretty much anything – from fine-tuning in-game graphics to monitoring your GPU temperatures and even overclocking. You can configure Radeon FreeSync for individual applications to experience seamless, fluid movement for fast-paced and high-resolution games.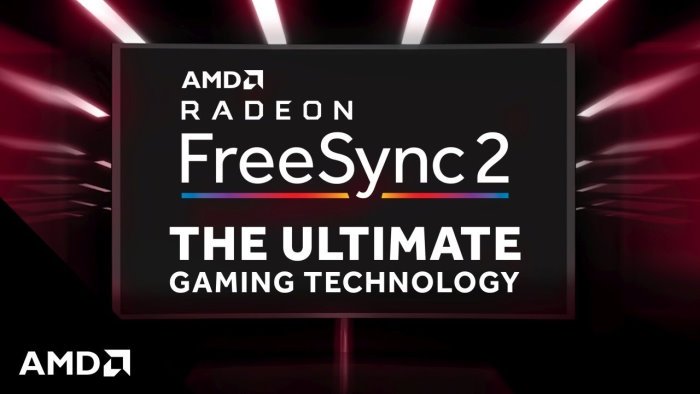 Enable Radeon FreeSync for Individual Applications
Radeon Software provides the option to configure AMD FreeSync per application within the Gaming menu. But what is FreeSync and how does it help to reduce visual fatigue? FreeSync is a technology used to combat screen tearing by synchronizing the frame rate with the refresh rate of a monitor.
A display or a monitor that is equipped with this technology synchronizes its refresh rate to the frame rate of a user's GPU. This helps in cutting down the input latency and diminish screen tearing during gaming and video streaming. Screen tearing is a visual phenomenon that occurs when the frames displayed during gameplay don't match up. As a result, the game segments become disjointed, with frames sticking on the previous image. Radeon FreeSync virtually eliminates screen tearing.
To enable Radeon FreeSync for Individual Applications, follow these steps:
Right-click on the desktop and select AMD Radeon Software.
Switch to the Gaming tab.
Select Games from the sub-menu.
Choose the desired application.
Hit the down arrow for AMD FreeSync.
Configure desired settings for the application.
Close Radeon Software and exit.
When the Screen Tearing continues to appear for long, it becomes impossible to focus as you can't see properly. However, it's easy to fix via this technique.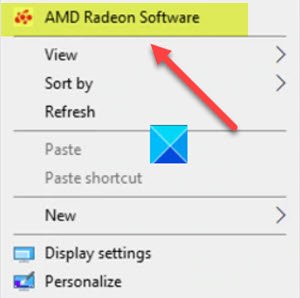 If you have Radeon software installed, right-click anywhere in the empty Desktop screen space and choose the Radeon Software option. It lets you quickly access the latest software features, game stats, performance reports, driver updates, and all from one convenient location.
Alternatively, you can press ALT+R hotkey to open Radeon Software directly in-game.
In the screen that appears, switch from the Home tab to the Gaming tab.
Select Games from the sub-menu.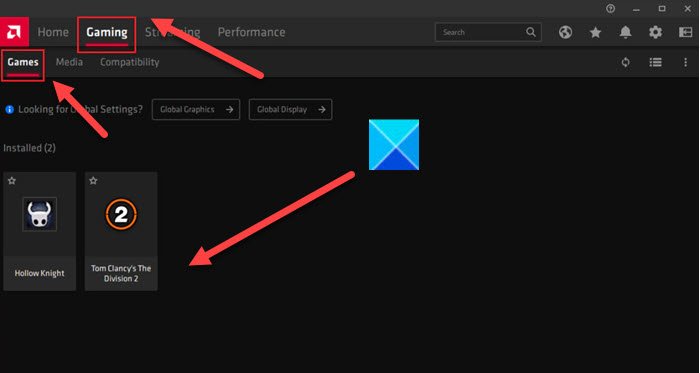 Select your desired application (Tom Clancy's The Division 2 in my case as shown in the image above).
Click on the down arrow for AMD FreeSync and choose the desired setting for this application. Within an application profile, there are three AMD FreeSync settings you can select from, these are
AMD Optimized – It is the default option and automatically selects the optimal AMD FreeSync setting (On/Off).
On – Enables Radeon FreeSync.
Off – Disables Radeon FreeSync.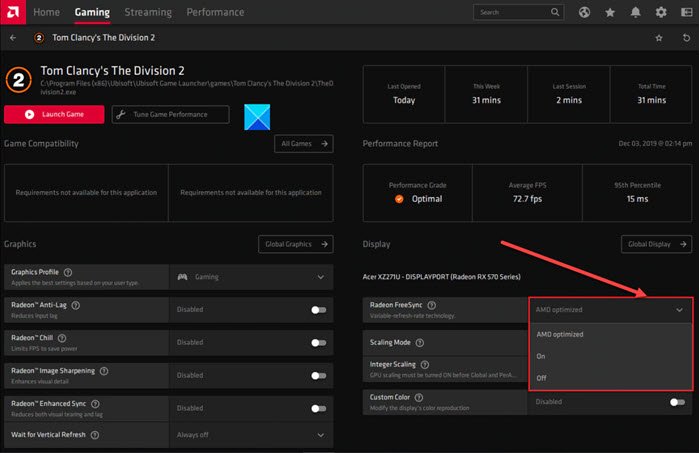 Once, you've configured the desired settings, close the Radeon Software and exit. Now, you can enjoy the smoothest gameplay that offers a pleasant experience.
Hope it helps!