Windows 10 Creators Update not only brings enhancements and improvements for its general consumers but also Enterprise and Business users. As such, you can find some tweaks and adjustments made to various features. One such can be found in Hyper-V Manager in Windows 10. Quick Create is a new option that has been added to it. The option allows Windows users to create virtual machines quickly and easily.
Quick Create in Hyper-V Manager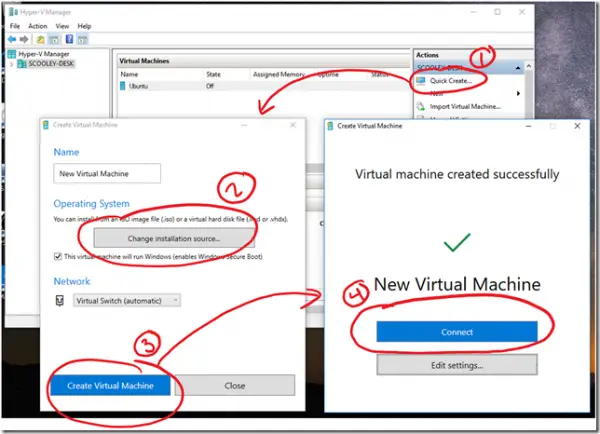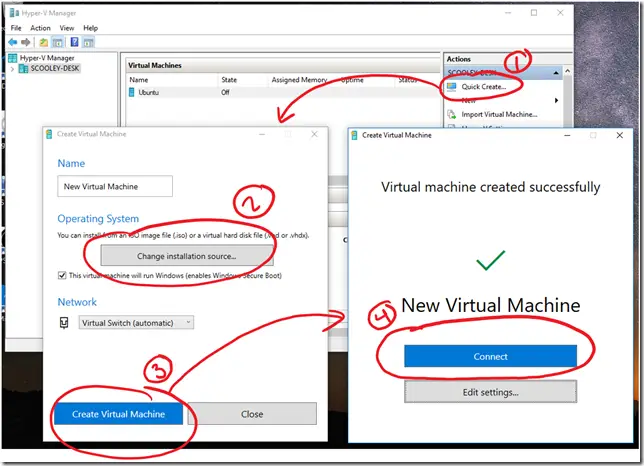 Hyper-V is a technology that enables virtualized computer systems to run on top of a physical host. These virtualized systems can be used and managed just as if they were physical computer systems, however, they exist in a virtualized and isolated environments. Special software called a hypervisor manages access between the virtual systems and the physical hardware resources.
It can be enabled in many ways. For instance, through-
Windows 10 Control Panel
PowerShell
Deployment Imaging Servicing and Management tool (DISM)
If you have installed Windows 10 v1703 and are using Hyper-V to create virtual machines a "Quick Create" button in Hyper-V Manager should be visible to you. It offers a simplified wizard that lets you create a new virtual machine, quickly.
The button's objective is on getting the guest operating system up and running as quickly as possible – including creating and connecting to a virtual switch. When you enable & start Hyper-V console you will see this button.
Click the button and select a good default setting. Windows 10 Quick Create defaults are:
Generation: 2
Memory: 2048 MB to start, Dynamic Memory enabled
Virtual Processors: 4
VHD: dynamic resize up to 100GB
Next, click "Set up automatic network" and a new virtual switch will be created. Now open "Virtual Switch Manager" in Hyper-V console and check new Virtual Switch.
Thereafter, navigate back to 'Quick Create', enter a name for your VM and click "Create Virtual Machine" button. Finally, hit the 'connect' button.
Apart from the 'Quick Create' button, other visible changes include:
1] Ability to dynamically resize your virtual machine. For now, this capability is limited to virtual machines that support Hyper-V's Enhanced Session mode.
Windows Client: Windows 8.1, Windows 10 and later
Windows Server: Windows Server 2012 R2, Windows Server 2016 and later
2] VMConnect now features an option to adjust Zoom Level under the View Menu, if you find it impossible to read your virtual machine.
3] The amount of memory shown in task manager accurately reflects the amount available for starting virtual machines when you run Hyper-V Manager in Windows.
For full details visit Technet.