When it comes down to note taking, many of us prefer to use Notepad or even OneNote to get the job done. However, if you're the type who like the basic features Notepad brings to the table, then chances are, you might like QText.
Now, we've been using this tool for quite some time, and yes, it works. Additionally, it's better than Notepad, but not by much, at least, that's our point of view. Not to mention, because the tool is simple, it doesn't use a ton of system resources, and that's good for even the weakest of computers.
How to use QText notes taking app
QText is an alternative to Notepad, and since it looks similar and doesn't throw a ton of features at the end user, we suspect hardcore computer users will love it.  The procedure involved in using the app is straightforward.
Create a note
Create a new tab
Rename tab
Show and set reminders.
Let us see this in a bit more detail.
1] Create a note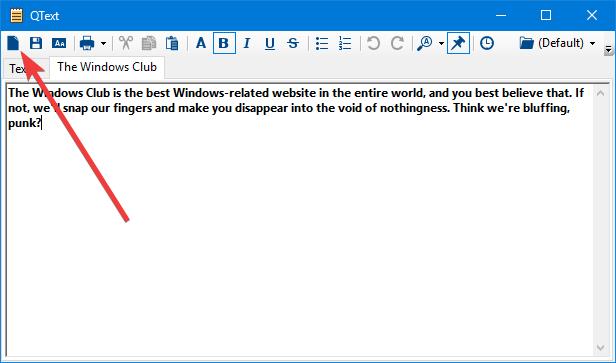 OK, so creating a note is easy as saying your ABCs, and that's a fact. After installing QText, check the Taskbar, then click on the section to show hidden icons. You'll see QText right there. Right-click and select Show.
Doing this will bring to the tool directly to the forefront. From there, begin the task of writing down your many notes. We should point out that clicking on CTRL+T will ensure that the program stays at the top of every other opened window.
2] Create a new tab
The most unique aspect of QText is its ability to have multiple tabs opened. Notepad is in no way capable of doing this, and chances are, the Microsoft-made tool won't be updated any further with new features.
OneNote is where it's at now for the software giant, so if you're looking for a simple notetaking tool with added features, then this is it.
To open a new tab, click on the tab icon, which is the first icon before the save button. You'll be asked to create a name for the tab, so get that done to complete its creation.
We're not sure what's the limit when it comes down to creating new tabs, but we suspect it's a lot, and probably unlimited if your computer can handle it.
3] Rename a tab
There might come a time when you feel the need to rename one of your tabs. Maybe the name is spelled wrong, or you just want a new one entirely. Whatever the case may be, renaming a tab is pretty simple and should take no time to get done.
To rename a tab, be sure to select the tab then click on F2, remove the current name, then type the new one in and finally, hit the OK button.
4] Show and set reminders
Creating tabs is not the only thing users can do with this tool. You see, folks can also set reminders if they so wish. Just click on the reminder button and hit the Add button to get the job done.
It's easy and should take the user just a few seconds to get the reminder up and running. Download QText for free from the official website right now.