Windows 10 ships with the free version of rhe OneNote app called OneNote for Windows 10 that allows you to perform multiple actions. For example, you can sync it with OneDrive (both, personal and Business accounts across multiple devices), search your hand-written notes, email content into OneNote, and more. There's also another version of OneNote with a different name – OneNote desktop software or OneNote 2016. The question worth asking is why we have two different apps with the same name and how's the latter different from the former? Well, let's find out!
Difference between OneNote and OneNote for Windows 10
First things first, OneNote for Windows 10 is simply labeled as "OneNote" and comes pre-installed with Windows 10. It is a UWP app and can run only on Windows 11 and Windows 10.
On the other hand, OneNote 2016 is designed primarily as a Desktop software and is shipped with Microsoft Office Suite. As such, it can run on Windows 11, Windows 10, Windows 8, and even Windows 7.
Apart from the above, OneNote for Windows 10 offers a customizable new interface which is consistent with OneNote for Mac, iOS (iPhone and iPad), Android (phones and tablets) and OneNote Online (the Web version of OneNote) thereby offering a truly universal user experience.
OneNote desktop software
The main features of the OneNote desktop software includes Office integration capabilities like,
Allows changing appearance by applying a template or rendering the desired look to pages by maintaining a specific layout.
Lacks few smart digital features like using device's camera to capture documents, whiteboards, receipts, and more.
OneNote also supports Smart Lookup (aka Insights from Bing) feature. This helps in finding additional information and adding it to your Notebook in the form of photos, research, links, and web articles. To access Smart Lookup right-click the element/text for which you would like to collect more data and drop-and-drag the data to your notebook.
Read: How to change the Default Version of OneNote on your Windows computer.
OneNote app for Windows 10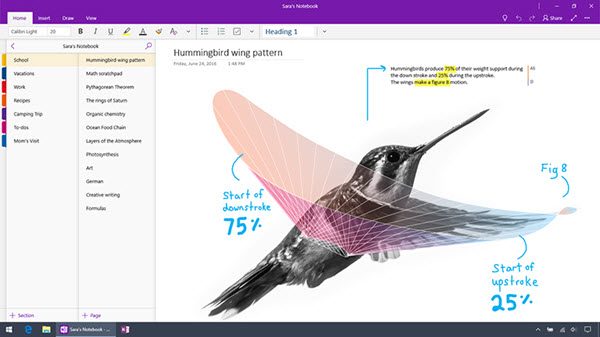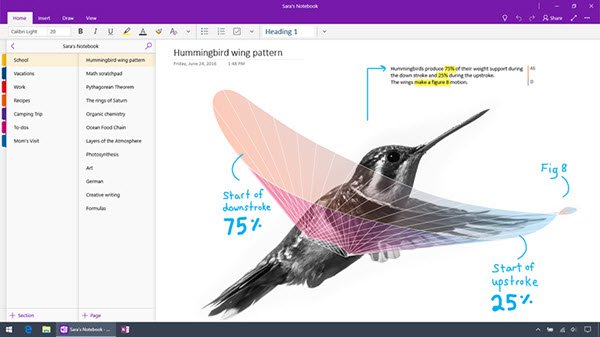 The OneNote app lets Cortana take notes for you with your voice and easily move across devices and platforms or share notes with any app via Share button. Besides, you can also write on a webpage in Microsoft Edge and save your annotations to OneNote.
Secondly, OneNote for Windows 10 arranges all your notes by date modified/when you last updated them and allows previewing the same without having to open the page.
Similarly, It enables more functional changes. You can add a type an equation and the app will help you graph or solve it step-by-step with the Ink Math Assistant. Support for animations like replaying your handwriting forward and backward to hide and reveal content to provide step-by-step instructions also exists.
Lastly, the app improves reading with Immersive Reader. Immersive Reader creates a reading experience that adds accessibility and comprehension for learners of all ages and abilities. (Researcher helps find relevant quotes, citable sources). Also, you can Jazz up your notes and annotations with new ink colors like rainbow, galaxy, gold, and more.