Printer and Scanner Drivers can be notorious. I remember having a lot of trouble with them in college, and even now when I have multiple printers at home. One of the common issues which we have cited in the forums is where the consumers were not able to print or scan documents. The error appears in the Windows 11/10 Settings page where it says — Printer or Scanner Driver is unavailable. In this post, I will share several tips to help you fix this problem for Epson, HP, etc. Printers & Scanner.
Cant Print or Scan documents

Printer or Scanner Driver is unavailable in Windows 11/10
These are some of the top suggestions available from forum users that have worked for them. You should know that even though people may have the same problem, solutions can be different.
Reset Firewall for Network Printers
Reinstall the Printer or Scanner Driver
Use Microsoft Driver
Install Driver in Compatibility Mode
Suggestions for an old Printer/Scanner
Some of the tips will only work when you have admin privileges. Make sure to check if the problem was resolved after each listed solution.
1] Reset Firewall for Network Printers
If its a network printer you have installed on the computer, it can get blocked by Firewall. It could be the IP address of the printer or the port number. The first thing you need to is to find the IP address of the printer using your router or another computer. Next, If you can manage Windows Firewall, then you can check if the port or IP has been blocked. You can either manually remove it or reset the Firewall.
2] Reinstall the Printer/Scanner Driver
The next is the obvious step to reinstall the printer/scanner driver. You can install the driver from the OEM website, or you can use the Device Manager.
Type devmgmt.msc in the Run prompt and press the Enter key
Navigate to Print queues, and locate the printer
Right-click on it and select Uninstall.
Restart the computer. Windows will then attempt to reinstall the driver.
During installation, it will check with the Windows Update Service, and look for an official driver to install.
Related: Application Isolation feature isolates applications from Printer drivers.
3] Use Microsoft Driver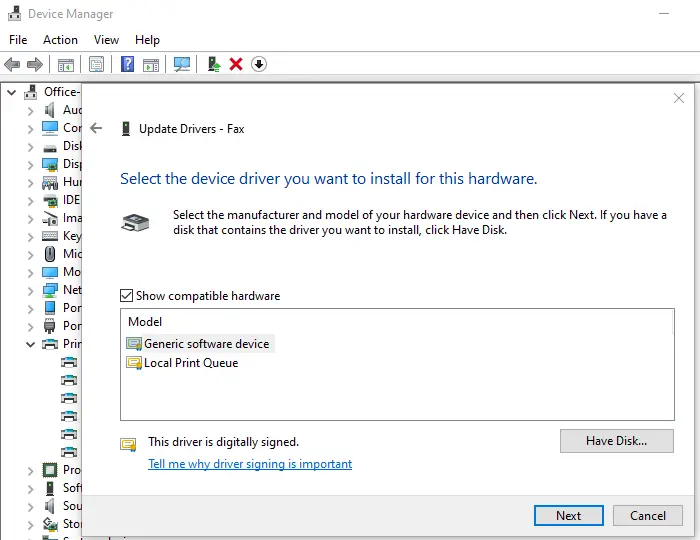 Some users reported that installing the generic driver has helped. These drivers are offered by Microsoft in case there are no official drivers available.
Open device manager (devmgmt.msc)
Locate the printer or scanner, and right-click on it
Click on Update Driver from the menu, and choose to browse manually
In the next screen, select "Let me pick from a list of available drivers on my computer."
Then select the driver that has a "Generic" name in it.
Install the driver and check if that works.
4] Install Driver in Compatibility Mode
If there is a compatibility issue with the driver and current version of Windows, you should install the printer/scanner driver using compatibility mode. To execute this method, you will need to install the driver from the OEMs website.
Right-click on the setup file, select properties.
Switch to the Compatibility Tab.
First, run compatibility troubleshooter, if that doesn't work, then check the box next to Run this program in Compatibility mode 
Apply, and then install the driver to see if it works as expected.
5] If it's an old Printer or Scanner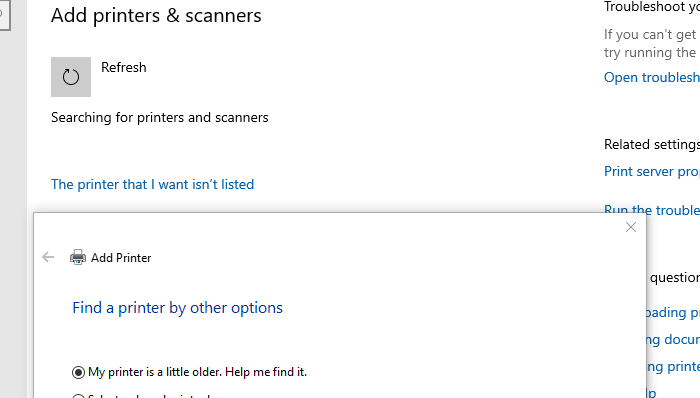 If you are trying to make an old printer or scanner work, then here is a neat trick that is available with Windows.
Go to Settings > Devices > Printers and scanners
Next click on Add a printer or scanner button
When it displays link which says—The printer that I want isn't listed, click on it
Select the radio button which says, "My printer is a little older. Help me find it."
It will then scan for older models, and might find it for you.
Since Microsoft maintains a massive database of drivers through the update service, it will install the driver as well.
That concludes our suggestions that can help you resolve the problem — Cant print documents, Printer or Scanner Driver is unavailable in Windows 11/10.