If you want to preview files in Windows 11/10, then this post can help. We have covered some good and free apps for you to do this. You won't have to open a file to check its content. Just use the hotkey or interface provided by the app and file preview will be visible to you. These apps support many file formats like PDF, TXT, etc. Some apps are also helpful to preview video files.
Though Windows 11/10 also provides a preview pane in File Explorer to preview a selected file, these apps seem to be a better option.
Preview files in Windows 11/10 without opening them
This post contains four free Microsoft Store apps and free desktop software that let you preview files without opening them. These are:
QuickLook
File Viewer Plus
One Commander
Seer.
Let's check these options one by one.
1] QuickLook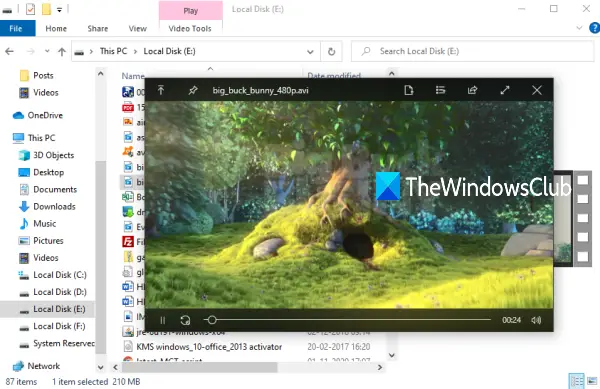 QuickLook app is one of the best options to preview files without opening them in Windows 11/10. It works similar to the Quick Look feature of macOS. This Microsoft Store app has some really interesting features. It lets you preview images, documents, and media files. Also, just a hotkey is needed to preview the content of a file. There is no interface for the app. Only a preview window is visible.
You can also expand the preview window to full size. Apart from that, it lets you keep the preview window on top of the other opened applications. For image files, it also provides the EXIF data.
After installing this app, just select some file that you want to preview, and press the Spacebar key. That's it! The preview window will open immediately to view the file content.
2] File Viewer Plus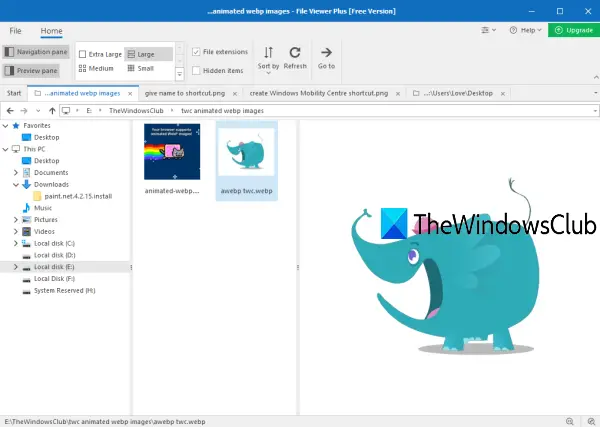 File Viewer Plus (free version) is a handy app to view common format files as well as preview a file without opening it. It provides its own file browser that lets you access files present on your PC. This app also supports tab view mode so that you can open different files by double-clicking to view them in separate tabs on a single interface.
Grab this app and install it. Launch the app and select Browse Files option. This will activate its File Browser mode. Now you can explore folders using the navigation pane and select any file that you want to preview.
After that, the file preview will visible on the right pane. You can also expand the Preview pane to the left side to preview the file in large size mode. Zoom in and zoom out options are also present to clearly see the file preview.
In addition to that, this app also provides other basic features like show file extension, hidden items, change thumbnail size, etc.
3] One Commander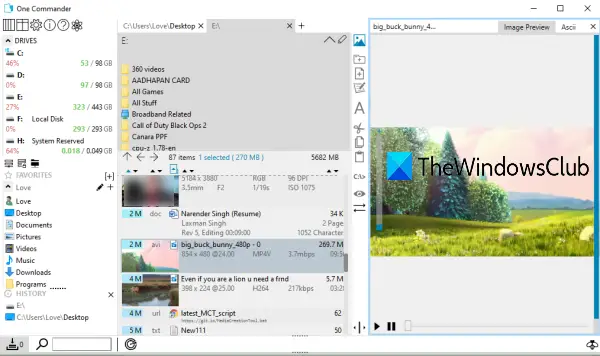 One Commander is a feature-rich File Manager app and it is also a good File Manager software. If you want, you can also download its installer or portable version. This app can also be used to preview PDF, TXT, and other files. Just a single key is needed to activate preview mode. The best part is that the video preview is also supported.
It comes with dual-pane view mode and columns mode layouts that make it very easy to explore files and folders. Like the File Viewer Plus app, it also supports a tabbed interface so that you can open files and folders in different tabs.
Launch the app and then select a layout. After that, you will be able to explore your files and folders. Select a file and then press the spacebar key. You will see that file preview is visible on the right-part.
Read: How to Preview EML files in Explorer.
4] Seer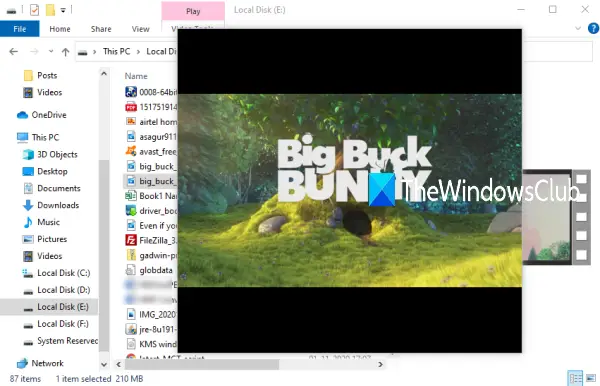 Seer (free version) software works similarly to the QuickLook app. It doesn't have its own interface. Only a preview window for the selected file is visible. It supports documents, images, and video files for preview. File information can also be seen using the preview window that will show information like file name, creation date, height & width, etc.
Get this tool and install it. When you will launch the software, it will start running in the background and will be ready to serve you. Access any folder and select a file. Press the spacebar key and the file preview will visible.
You can also adjust the size of the preview window as per your needs. To close this tool, simply right-click on its system tray icon, and use the Quit option.
I hope you like these options to preview files without opening them in Windows 11/10.