Windows File Explorer offers elementary functions, and to get things rather quickly is difficult. Most of the time is wasted navigating between folders and finding them. This calls the need for alternate software for Explorer, and today we are talking about One Commander.
One Commander alternate File Manager for Windows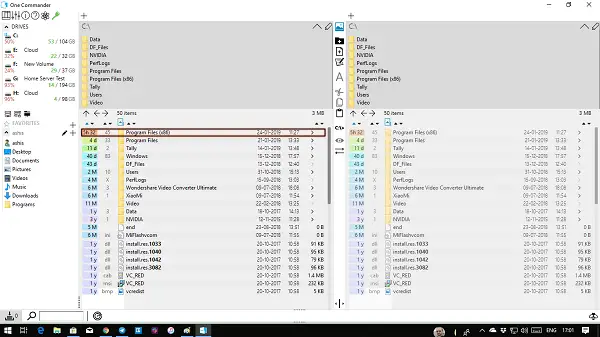 Instead of just being a dual window file manager, One Commander offers both double window view, and multi-column view. You can choose that when you launch it for the first time. Along with this, you can choose between white, dark and light theme.
One Commander Layout
While it's rather simple to use, the layout needs a bit of understanding. So when you select dual pane or columns mode, it looks like four windows. Each of the panes has two parts. The top part shows folders and drives only, while the bottom section displays files as well.
The left section gives you quick access to drives, favorites, and options to connect to a network computer, map network drives, and also connect to secure network drives.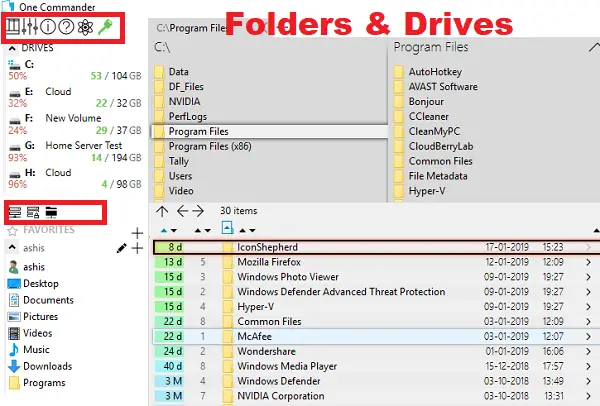 The top controls offer to switch pane modes, configuration, and open enhances file operations which will talk about in a bit.
If you see colors around in the interface, that's something to love, they refer to the size of the folder, files and drives, and also the modification date as well.
One Commander File Operations
It is a complete UI based interface where you can do a lot with your mouse and keyboard. Right-click on any file or folder, and you get quick access to file operations (cut, copy paste), rename files,  open folder in the tab, open in next pane, and so on.
The file operation is also built between the panes which reveal when you select any of the files. You can quickly copy files between them, open Command Prompt, rename and so on.
File Processor Feature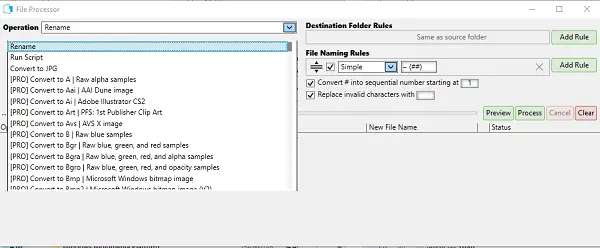 In the primary mode, which is entirely free to use, you can choose to bulk rename, run scripts, and convert images to JPG. It supports file renaming rules, turns # into a sequence number, and replace invalid characters from the file names. You can add multiple rules.
If you love the software, you can always upgrade to Pro mode to access other features which in my opinion are worth.
One Commander Configuration offers you to 
Change the look and feel
Metadata preview details
Control performance if it gets heavy on the system by reducing the number of threads which run parallel.
Enable the option to keep files at original location when copying files.
And more.
Overall it's a great Windows Explorer alternative and those who love UI and require added functionalities; it offers some excellent operations. And when you need, you can also open Windows Explorer context menu right being in the software.
Other Features of One Commander
File Age/Relative File Dates (hours/days from modification time)
File Preview
Tabs
Organize Favorites into project groups
Quick Filtering of Current Folder
ToDo Tasks and Notes in Any Folder
Drop List/Smarter Clipboard
Easy sorting to multiple destinations
Image/Audio/Video/Document metadata
Picture Preview with Metadata and GPS photo location
Monitoring folders for changes
Add an image called folder.jpg or cover.jpg, and it will become folder background image.
Lastly, it can unpack the archive files including  AR, ARJ, CAB, CHM, CPIO, CramFS, DMG, EXT, FAT, GPT, HFS, IHEX, ISO, LZH, LZMA, MBR, MSI, NSIS, NTFS, QCOW2, RAR, RPM, SquashFS, UDF, UEFI, VDI, VHD, VMDK, WIM, XAR and Z
Free download
It is available from the Windows Store, as an installer and a standalone version as well. The standalone version is not automatically updated unlike the other two. So unless you want a portable version, it's best to choose one of the first two versions. Download it from onecommander.com.