Sometimes, when you are working with Microsoft PowerPoint and are in the middle of a slide transition mode you realize the PowerPoint application has just stopped working. It not responding, freezes or hangs for an unusually long time. You may even receive a Microsoft PowerPoint has stopped working error.
Primarily, there are 3 reasons that can be attributed to this Program not responding problem.
Your Antivirus software is interfering or conflicting with PowerPoint.
An installed add-in is interfering with PowerPoint.
PowerPoint installation has got corrupted and needs to be repaired.
PowerPoint is not responding, keeps crashing, freezing or hanging
1] First, make sure that you have installed the latest update. Updates, as we know are necessary for adopting new and enhanced features of protection. PowerPoint is no exception to this rule. Windows notifies you about product updates at regular intervals via Action Center. So, if you find your PowerPoint application is not working as usual check if your system is up to date and try installing latest Office updates.
2] At times, your antivirus software includes integration with PowerPoint. This can trouble you and you may experience performance issues. To resolve this issue, the best option you can resort to is to disable all PowerPoint integration within the antivirus software. If this scares you about the security of your system, try disabling any antivirus software add-ins that are installed in PowerPoint.
3] Check the installed add-ins. This is a very common cause. Although add-ins add extra features and functions to an application they can also be a cause from improper functioning of the apps. For instance, they can occasionally interfere with PowerPoint. To avoid this situation,
Click the Start button in the lower-left corner of the screen (Windows 10 users).
Next, type PowerPoint /safe, and then click OK. This will open PowerPoint in Safe Mode without add-ins.
If the issue is resolved, then some add-in could be the reason.go to the File menu, chose Options, and then select Add-Ins.
Go to the File menu, chose Options, and then select Add-Ins. Then, select COM Add-ins, and hit the Go button.
Disable/enable each one and see if you can identify the offender.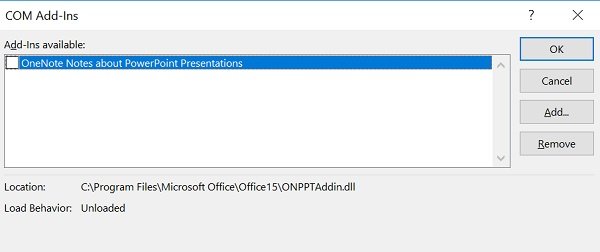 4] If all the above troubleshooting steps fail, go for 'Repair' option to repair Office. To do so,  close all Microsoft Office programs that are running.
Open the Control Panel (press Win+X) and locate 'Programs and Features > Uninstall or change a program. In the list of installed programs, right-click Microsoft Office, and then click Repair.
Restart your computer and see if it has helped.
See this post if Audio and Video does not play in PowerPoint.