Some of the problems that you may face while working with Microsoft's PowerPoint application can be audio and video problems. PowerPoint users report, sometimes, that when they send their presentation through e-mail, the recipients are unable to play the presentation. It just refuses to load. Although the problem is rarely experienced it can be a cause of concern in certain cases. If your Audio and Video does not play in PowerPoint then this post will walk you through the process of troubleshooting audio and video playback and compatibility in PowerPoint.
Audio and Video does not play in PowerPoint
First, you need to Optimize Media Compatibility. For this, go to the 'File' menu and select 'Info' option.
If the media format of your presentation has compatibility issues with other devices then, the Optimize Compatibility option will flash on your computer screen. If the option doesn't appear, it means the presentation is fully compatible and you can readily share the presentation.

Next, select Optimize Compatibility. When you confirm the action PowerPoint will run the process for improving media that requires optimization.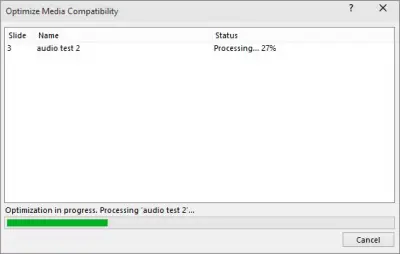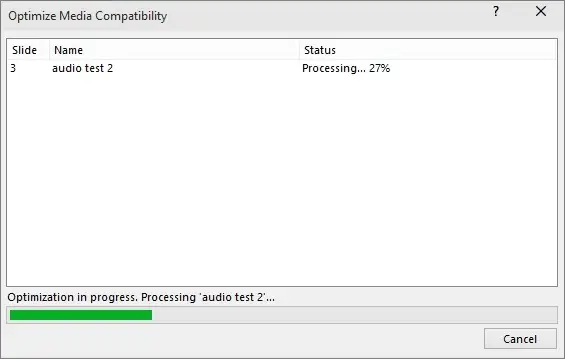 Thereafter, a complete summary of resolutions of potential playback issues will be displayed alongside, a list of the number of occurrences of media in the presentation. It will also list the causes of playback issues.
If you have linked videos attached to your presentation, 'Optimize for Compatibility' feature will request you to embed them. For doing so, select 'View Links. Then, to embed a video simply select Break Link option for desired links.
1] Check Codecs
You need to ensure that you have the requisite Codecs installed on your Windows system.
2] Clean out the TEMP folder
As you know, when you have a lot of files piled up in your TEMP folder, the PowerPoint app can slow down dramatically. To avoid this situation, check periodically for unwanted files and delete them in your TEMP folder. For locating your TEMP folder, try this!
Close PowerPoint and all other programs you are using. Now, click Start > Run. Then, in the Open box that appears to enter the following text, %temp% and hit OK. Select the .tmp files, and then press DELETE.
3] Getting trouble while inserting or playing media?
Verify if you have the correct codec installed. If not, install the required codec to run the media. You can even download appropriate third-party media decoder and encoder filter to let you decode and encode a variety of formats.
Source: Office.com.