If are facing issues downloading or installing Windows Updates on your Windows 10 computer, and you run the Windows Update Troubleshooter or the WU online troubleshooter to fix the issue – but instead of resolving the problem, the troubleshooter itself throws up a message Potential Windows Update Database error detected, Repair Windows Update Database Corruption! What do you do in such a case!? Here are some troubleshooting ideas that you might want to take a look at.
Potential Windows Update Database error detected, Repair Windows Update Database Corruption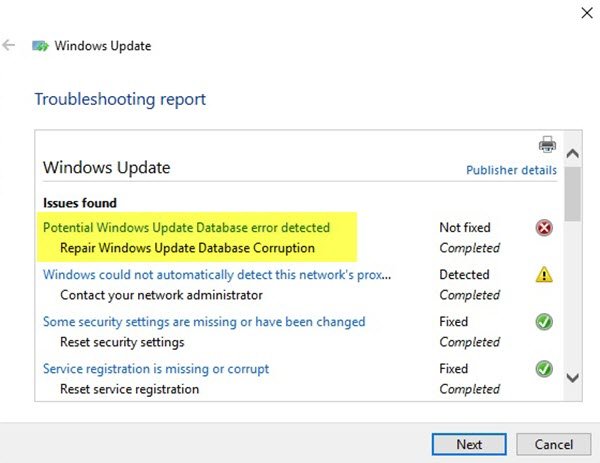 1] Run System File Checker
To run System File Checker, you need to open Command Prompt with administrator privilege. To do this, search for cmd in Taskbar search box, right-click on Command Prompt and select Run as administrator. Now you need to enter this command and hit Enter:
sfc /scannow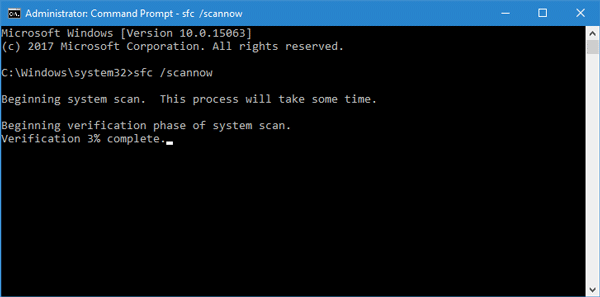 This scan will replace all corrupted or damaged Windows operating files. Once the scan is over, restart your computer.
Related: Windows Update fails to install or will not download.
2] Run DISM
The Dism.exe tool can be used in different situations, and one of them is to repair a corrupted Windows Update files.  Do note that you need to run a different command if you want to repair corrupted Windows Update System Files.  If you run the usual /RestoreHealth command, if may not necessarily help. DISM will replace potentially corrupted or missing system files with good ones. However, if your Windows Update client is already broken, you will be prompted to use a running Windows installation as the repair source or use a Windows side-by-side folder from a network share, as the source of the files.
You will then be required to run the following command instead:
DISM.exe /Online /Cleanup-Image /RestoreHealth /Source:C:\RepairSource\Windows /LimitAccess


Here you have to replace the C:\RepairSource\Windows placeholder with the location of your repair source.
Once the process is complete, DISM will create a log file in %windir%/Logs/CBS/CBS.log and capture any issues that the tool finds or fixes.
3] Reset Windows Update components, settings, etc, to defaults

The following links will help you if you need to restore Windows Update to default:
Now I know that this looks like a lot of work, but see what may apply to your case and try that suggestion first.
All the best!