The USB Storage device is a handy tool. It is capable of carrying large chunks of information in a small size chip. This not only makes it a favorable tool for transferring and storing information, as and when required but also a better and easy medium for malware/virus transfers. As such, these utilities should be protected thoroughly against misuse by any unauthorized person. Try Phrozen Safe USB! It is a tiny USB security software that allows you to control your USB Device Status. The free tool is very useful to avoid getting infected by malware.
Phrozen Safe USB
Using Phrozen Safe USB is simple. All you need to is visit the official website and hit the download link given there for downloading the software. It takes a while for the download to complete. Once the download is complete, you will see an icon on your computer screen.
Double click the icon to launch Phrozen Safe USB. When done, a settings window should appear.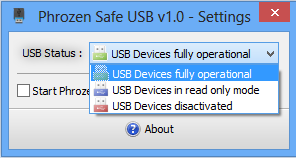 This is the main window of the program as it allows you to configure all the options/ status for a USB. If you see, it displays 3 main options,
Fully Operational Mode (FOM)
The mode is set as the default mode. The user has the freedom to copy, modify, move or delete files as normal, i.e. he can perform normal operations while the USB is inserted.
Read Only Mode (ROM)
This mode just allows you to read the contents of a USB. You cannot modify, transfer or delete the stored data. So, there is no chance of a virus/ malware infection getting spread to your computer.
Disabled Mode
This mode completely deactivates the USB detection ability by Windows. In this mode, you do not see USB Storage devices plugged in messages, even if the device is inserted. It is in stealth mode. It can be turned on/activated when you would not like anyone to be exporting important data or importing harmful content from your computer to USB Key.
You can make Phrozen Safe USB's functionality available via the right-click system tray menu too. On a personal note, I found one feature missing in this freeware – 'PASSWORD PROTECTION'. However, the developer is already working on integrating this feature, soon.
Phrozen Safe USB free download
Download link for Phrozen Safe USB.
USB Safeguard, USB Security Utilities, KASHU USB Flash Security, USB Disabler are other related freeware that you may want to check out.