If you are using the Outlook email client on your Mac computer, but it is not showing any notifications, then these suggestions will help you. No matter if you added Gmail or Outlook, or any other email account, these solutions will work for all of them. Outlook is one of the best email clients for Mac after the in-built app. However, if it has stopped showing new email notifications, read on.
Outlook notifications not working on Mac
To fix Outlook notifications not working issue on Mac, follow these suggestions-
Display an alert on my desktop
Verify Outlook Sounds settings
Check System Preferences
Use Outlook Reset Preferences Tool
Reset alerts in Outlook
Do not disturb.
To learn more about these tips and tricks, keep reading.
1] Display an alert on my desktop
The full title represents a setting included in the Microsoft Outlook app. This setting decides how you want to get the new message notifications delivered on your Mac computer. On top of that, it determines whether you want to get a notification for new messages or not. That said, if it is turned off by mistake, you won't receive notifications.
To verify that, open the Outlook app on your computer, click on the Outlook option in the top menu bar, and select the Preferences option. Next, go to Notifications & Sounds settings. Here you can see a checkbox saying Display an alert on my desktop.

It must be enabled. If not, make a tick in the respective checkbox.
2] Verify Outlook Sounds settings

If Outlook shows the notifications without playing a notification sound, it is time to check the Sounds settings. It is available in the same place as the previous setting does. Make sure you have a tick in all the checkboxes available in the Notifications and Sounds window.
3] Check System Preferences
Mac offers some options to tweak notifications for different apps, including Microsoft Outlook. You can open System Preferences on your computer and go to Notifications > Microsoft Outlook. From here, make sure the panel looks as it says below-
Allow Notifications from Microsoft Outlook must be enabled. If not, toggle the corresponding button.
You must choose either Banners or Alerts as the Microsoft Outlook alert style. If it is set as None, it won't show a notification.
Play sound for notifications must be ticked. If not, make a tick in the checkbox.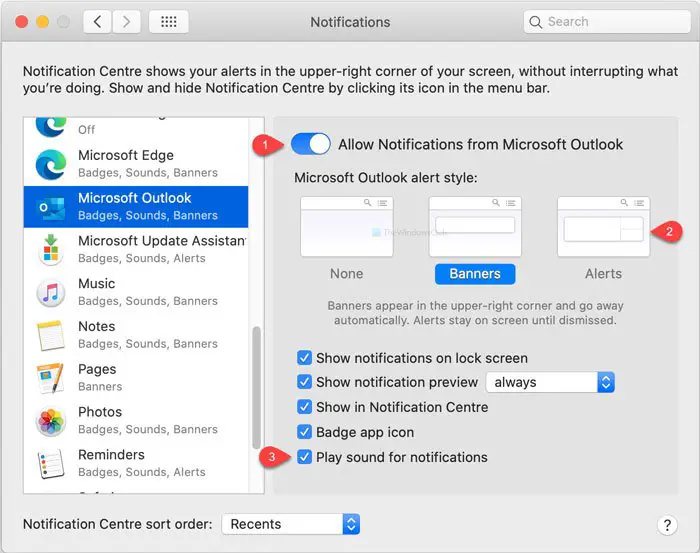 Once all these settings are set as said, restart your computer.
4] Use Outlook Reset Preferences Tool
As the name defines, it resets all the custom preferences settings of Outlook at once. Microsoft has developed this tool to fix common issues like this one. Therefore, click on this link to download Outlook Reset Preferences Tool. Once you unzip the file and open the app, it shows a Reset Now button.
Click on it. Once it completes the process (typically, it takes only one second), it shows a message like this-

Now restart the Outlook app.
5] Reset alerts in Outlook

There is a setting named Reset Alerts included in the Outlook Preferences settings. It clears all the "Don't show this message again" checkboxes. When you are not getting notifications for new messages, do use this option. For that, open the Notifications and Sounds panel and click on the Reset Alerts button.
6] Disable Do Not Disturb
If you have enabled Do Not Disturb on your Mac computer, you might not get notifications from almost any app. Therefore, it is better to ensure you do not have it turned on. For that, open the System Preferences window and go to Notifications. Here you can find an option called Do Not Disturb. Make sure it is not enabled.
These are some of the working solutions you can try out when you do not get any notifications from Outlook on macOS.
Hope they help!