While Microsoft Outlook is an excellent email client, it comes with its own set of problems. One such issue is when the users are unable to send emails in Windows with or without attachments. Many combinations could cause the problem, but there is one check you need to make sure you are aware of the attachment size limits offered by the Email Service you are using with Outlook. That said, in this post, we will show multiple ways to resolve the problem when Outlook is not sending emails in Windows 11/10 whether you have an attachment, or not.
Outlook not sending emails in Windows 11/10
One of the common scenarios is that emails do not work in Outlook, but they work on other devices, including smartphones. It could be working on a different PC, but not on one of the PCs. These are a few ways you can be aware of isolating the problem.
Repair Outlook Profile
Turn off the "Work offline" mode
Increase Outlook Attachment Size
Check Mailbox Settings
Check Add-ins
Turn of Antivirus Email Integration
Zip Files before sending
Blocked Files
Make sure to check if the problem was resolved after trying the listed solution.
1] Repair Outlook Profile
Open Microsoft Outlook and click on the File tab.
Under Info, click on Account Settings, and then click on account settings from the flyout menu.
Select the account which has the issue and then click on the Repair button.
The Repair Account box will open. Check your settings and fields and then click Next.
2] Turn off the "Work offline" mode
Outlook offers an Offline mode, which allows you to go through your emails without getting distracted. In this mode, while you can draft the emails, they will be available in the Outbox. If that's the case, then any email you try to send, with or without attachment, will be sitting in the Outbox until you disable it. Open Outlook, and then switch to the Send/Recieve section. Click on Work Offline mode to disable it.
Read: Outlook.com is not receiving or sending emails.
3] Increase Outlook Attachment Size
Outlook usually restricts attachment, which is closed to the maximum allowed size. So if your Email service offers 25MB of attachment size, Outlook will restrict any attachment, which exceeds 20 MB. Thankfully, you can increase the size by hacking the Registry. Once the Registry Editor is open, navigate to the following path depending on the version of your Office.
Outlook 2019 and 2016:
HKEY_CURRENT_USER\­Software\­Microsoft\­Office\­16.0\­Outlook\­Preferences
Outlook 2013:
HKEY_CURRENT_USER\­Software\­Microsoft\­Office\­15.0\­Outlook\­Preferences
Outlook 2010:
HKEY_CURRENT_USER\­Software\­Microsoft\­Office\­14.0\­Outlook\­Preferences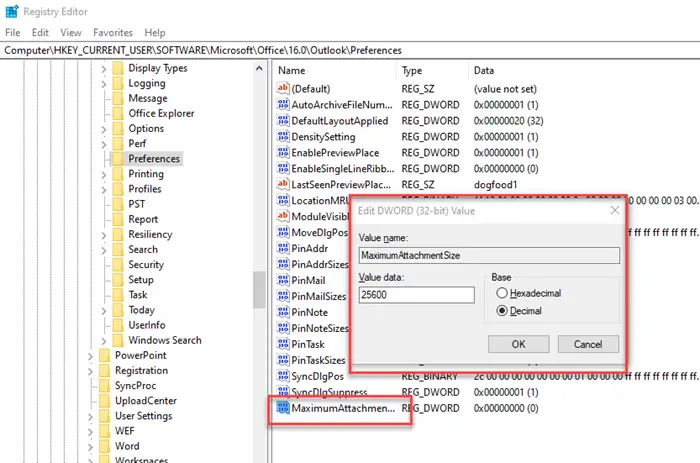 Under Preferences, create a new DWORD with the name MaximumAttachmentSize. If it's not there, then right-click and create it. Next double click on the DWORD and switch to Decimal. Set the value as 25600 (25.6MB)Registry Registry and start Outlook again. The attachment should not be an issue anymore.
4] Check Mailbox Settings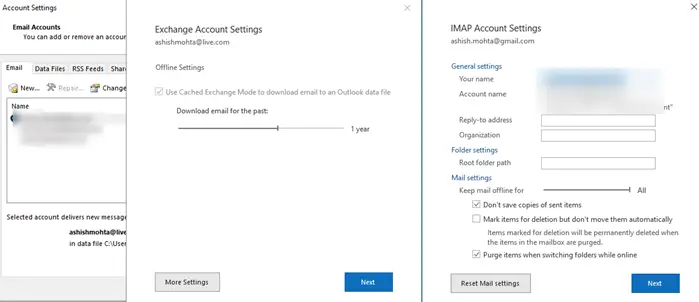 You must check the Mailbox settings for the email account that is causing the issue. Open Account Settings, and select the email account that needs a fix. Then click on the change button, and you will have options to check Mail settings, Reset Mail Settings, and so on. Use one of those options to fix the problem.
Read: Windows 10 Mail app not sending or receiving emails.
5] Disable Com Add-ins
At times, Com Add-ins, i.e., third-party plugins for Outlook, can cause issues, especially if they are related to attachments.  However, before trying to disable, make sure to open Outlook in safe mode (Type outlook.exe /safe in the run prompt) and check if Outlook is working as expected. If everything is working as expected, then you can choose to disable the plugins one by one and find out which was causing the problem.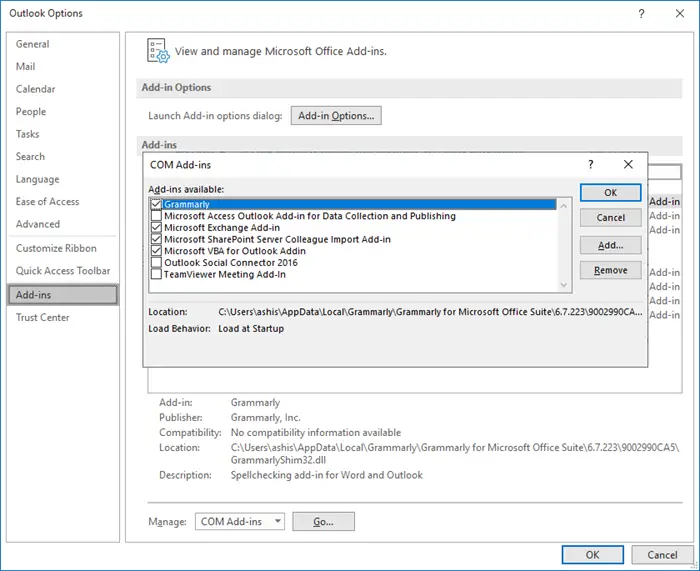 Open Outlook, and click on File > Options > Add-ins
Under Manage select COM Add-ins, and then click on Go Options, which is next to Manage.
Uncheck them one by one and see disabling which plugin resolves the problem.
6] Turn off Antivirus Email Integration
Many Antivirus and Security solutions integrate with Email clients and scan for any outgoing and income attachment. If you are using any such service, it would be a good idea to disable them and check if it is working as expected. If that is the problem, you may have to configure the settings to adjust it.
7] Zip Files before sending
Lastly, if your file is significant, you may want to zip the file on the computer before attaching it to Outlook. Windows offers to archive as an essential feature. Right-click on any file or folder and select Send To from the menu. Then choose the Compress folder, and it will create a zip file of that folder or file, which will be of smaller size. You should then be able to attach it and send it across.  It is, of course, applicable only inc case where you do not bale to send an attachment because of the size of the files.
8] Blocked Files
There are set of extensions or file types that are blocked by Outlook from uploading or sending as an attachment. You can better rename or use online storage to share those files instead of uploading them directly.
I hope the post was easy to follow, and you were able to send emails using Outlook in Windows, both with and without attachments.