If you notice that the Microsoft Outlook email client repeatedly prompts for a password when connecting to Microsoft 365 (formerly Office 365) on your Windows 10 device, then this post is intended to help you with the solution to resolve this anomaly. We will also identify the cause of this issue.
Let's take a look at the typical scenario where you encounter this issue.
When you try to create an Outlook profile or connect to a Microsoft Office 365 mailbox, you're continually prompted for credentials while the client displays a trying to connect… message. If you cancel the credentials prompt, you receive the following error message:
The connection to Microsoft Exchange is unavailable. Outlook must be online or connected to complete this action.
In this instance, this issue can occur if the Logon network security setting on the Security tab of the Microsoft Exchange dialog box is set to a value other than Anonymous Authentication.
Outlook keeps asking for password when connecting to Office 365
If you're faced with this issue, you can follow the instructions below to resolve the issue.
Note: Outlook 2016 and some recent builds of Outlook 2013 are not affected by this issue. Those versions have been updated to prevent the problem that has been described above. These versions have the Logon network security setting disabled or removed from the Microsoft Exchange email account settings.
However, if you're an Office 365 user who is experiencing this issue when you try to connect to an Exchange Online mailbox or you may also already be running newer versions of Outlook 2013 or Outlook 2016, you can run these diagnostics from Microsoft to troubleshoot issues in which Outlook continually prompts for a password.
If you have an older version of Outlook, you need to change the Logon network security setting to Anonymous Authentication to fix this issue.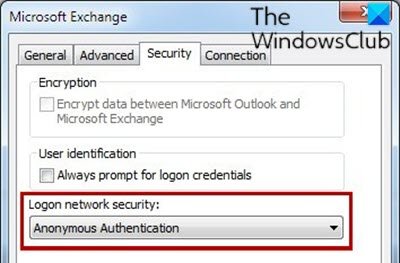 Do the following:
Exit Outlook.
Press Windows key + R to invoke the Run dialog.
In the Run dialog box, type control and hit Enter to open Control Panel.
In Control Panel, locate and double-click Mail.
Click Show Profiles.
Select your Outlook profile.
Click Properties.
Click E-mail Accounts.
Select your email account.
Click Change.
In the Change Account dialog box, click More Settings.
In the Microsoft Exchange dialog box, select the Security tab.
On the Logon network security list, select Anonymous Authentication.
Click OK.
Click Next.
Click Finish.
Click Close on the Account Settings dialog box.
Click Close on the Mail Setup dialog box.
Click OK to close the Mail control panel.
That's it!
Related read: Outlook cannot connect to Gmail, keeps asking for a password.