When upgrading Office or Outlook in macOS, you may receive an error — Outlook can't upgrade your database message, Please see the error file for more details. The problem occurs because of the version change of the Outlook, and the PST file needs to be compatible with the new version. In this post, I will show how you can resolve this issue.
Outlook can't upgrade your database in Mac
If you are not aware, the PST file is the database that holds every data of Outlook. Make sure to take a backup of the PST file before attempting any of the suggestions. In case of data loss, you can use the backed up PST file again.
Boot macOS into Safe Mode
Rebuild Outlook Profile
Create a new Outlook Profile and set as default
To what I understand, it's either the profile that has gone corrupt or the installation has its issues. Also, make sure to let the auto-updater to download, and install the latest version when you are upgrading. It usually works better compared to you downloading and installing the latest version.
1] Boot macOS into Safe Mode
Like in Windows, here we will make sure there is no third party plugin blocking Outlook. You should boot macOS in Safe Mode and see if it works. If it works, then its third-party plugin compatibility. Locate it, and disable to see if it resolves it. The safe mode prevents startup items and login items from opening automatically, and loads only required kernel extensions.
2]  Force Rebuild Outlook Profile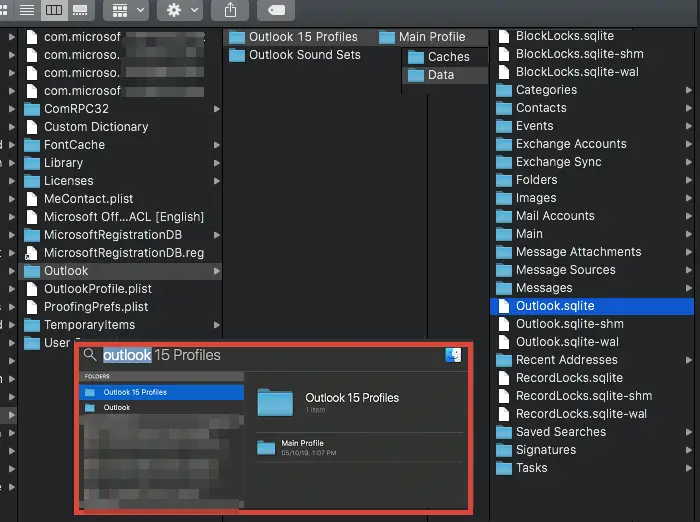 The steps below are assuming you have not changed or modified your default Outlook profile. The name of the default Outlook profile in macOS is Main Profile. Make sure to close or quit Outlook before going ahead.
Use the Command key + Spacebar to bring up the finder
Type Outlook Profiles, and click to open when it appears
Navigate to Outlook 15 Profiles > Main Profile > Data
Locat the mail database, which is the Outlook.sqllite file. Copy it to some other location, and delete it from the source.
Open Outlook, and it will prompt you that there is some problem, and Outlook needs to rebuild its database or profile.
Click yes, and it may take an hour or more for Outlook to fix it.
Once the repair is complete, Outlook may ask you to download a few things post, which the issue must be resolved.
3] Use Outlook Profile Manager to Build New profile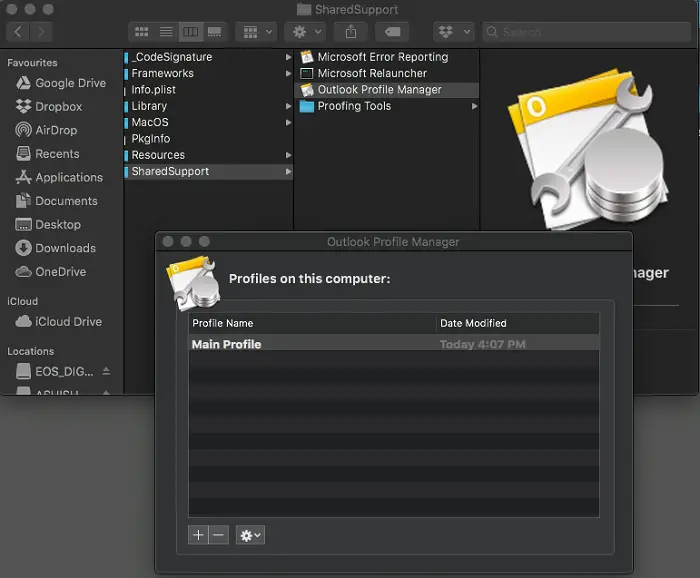 Open Finder, and Type Applications
You may find two applications folder. One with username, and one without out. Open the later one.
Inside it, locate Microsoft Outlook
Right-click on it and select "Show Package Contents."
Navigate to  Contents > SharedSupport
Finds and launch Outlook Profile Manager
If you are currently using Outlook 2011, then the profile manager is located at /Applications/Microsoft Office 2011/Office/.
Using this, you can create, delete, rename, or change the default Outlook profile. Select the profile, and then right-click or use the + and – buttons to do that. If you created a new profile, then highlight the profile, and use the cog icon to set as default. Restart Outlook so it can apply and start with the new change.
There are more chances of a user getting this error when moving from Outlook 2011 to Outlook 2016. Some users have reported that they had uninstalled Outlook 2011 when they should have upgraded, while others have talked about creating another user in the macOS, and everything worked on that user account. If you see that it is working for another user on macOS, you may want to reboot Macbook and run the repair utility.
I hope the post was easy to understand, and you were able to resolve the Outlook can't upgrade your database message.