The new Photos app on Windows 10 feels to be one of the most underrated components. I think it deserves a whole lot of traction just because of some many handy and smart features it offers. But sometimes when someone has made modifications to a photo like a filter, cropped it out or anything else and then tried to save it, it throws an error saying— Oops! We couldn't save that one. This error occurs only when trying to overwrite the changes to the existing file.
Oops! We couldn't save that one
The following fixes would be helpful in getting rid of this error for the Microsoft Photos app on Windows 10-
Change Folder Permissions
Use the Microsoft Store apps Troubleshooter.
Reset the Microsoft Photos app.
Use Microsoft Paint instead.
1] Change Folder Permissions
Open the File Explorer. Navigate to the path of the folder where the image is stored.
Right click on the folder and click on Properties. Navigate to the tab labeled as Security.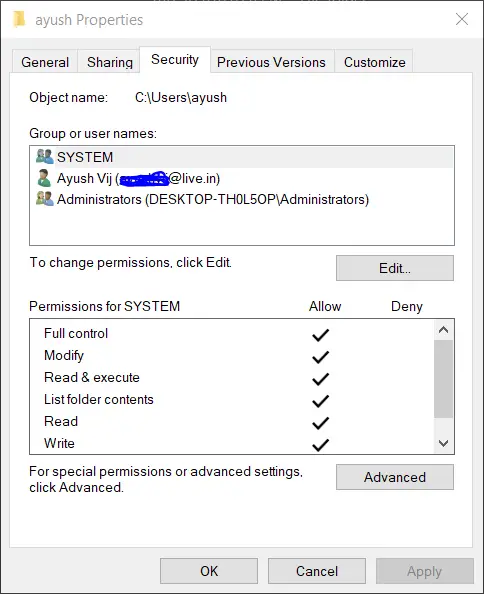 Under the section of Group or user names, select the entry for your user and click on the Edit button.
Check the box that says Full Control and click on OK.
Save the changes and check if that fixes your issue.
2] Use Microsoft Store apps Troubleshooter

Microsoft has released a dedicated Microsoft Store apps Troubleshooter. You need to download and run it.
Alternatively, you can find Windows Store Apps troubleshooter under Settings App > Update & Security > Troubleshoot.
Run it and see.
3] Reset the Microsoft Photos app
Start by opening the Windows 10 Settings with WINKEY + I.
Navigate to the following path: Apps > Apps & features. Look out for the entry of the Microsoft Photos app, select it and select Advanced Options.
Scroll down to select the button that says Reset.
4] Use Microsoft Paint
You can open the file in Microsoft Paint and save it to another file format.
Then open the new file in Microsoft's Photos App and try performing the same task.
The error should have gone now.
This will create a newly edited file for your use. But if the folder permission is an issue, you will not be able to save this file as well.
To fix that, you need to refer the method 1 in this post.
Hope this post helped you.