MusicBee is one of the most popular music players in Windows. It's free, easy to use, and comes with loads of accessibility features. However, MusicBee users have complained about one or two issues regarding the player.
The problem we will tackle in this guide is where MusicBee refuses to open when you attempt to launch it. The most common cause of this challenge is that it gives your antivirus software false positives, and the antivirus blocks it in turn. MusicBee could also fail to run due to compatibility issues or software conflicts.
In this tutorial, I'll explain the best solutions to fix your MusicBee and get it to run whenever you need it.
MusicBee won't open in Windows 11/10
If your MusicBee player won't open in Windows 10, there are a few solutions that have been confirmed to fix the issue. Try the methods in the list below:
Temporarily disable your antivirus software.
Turn on DEP for only essential programs and services only.
Use MusicBee in Windows compatibility mode.
Reinstall MusicBee
Use MusicBee Portable edition.
Troubleshoot in Clean Boot State.
Now, let's go into more in-depth explanations for the above solutions.
1] Temporarily disable your antivirus software
If your MusicBee application doesn't open, the first suspect is that your security software might've identified it as malicious and is blocking it from launching. We never recommend that you use your PC without antivirus protection.
However, to confirm that the antivirus isn't blocking the program, you can disable it temporarily. With the antivirus disabled, attempt to run MusicBee again and see if it now opens. Most antivirus tools allow you to add specific programs to their whitelist, and this is a better option than disabling the tool entirely. So, if you have this choice, you can do whitelist MusicBee and try to open it again.
2] Turn on DEP for essential programs and services only
Data Execution Prevention (DEP) could also affect MusicBee and stop it from running. In order to fix the issue in this case, you have to exclude MusicBee from DEP. Start by right-clicking on the This PC icon on your desktop or File Explorer and selecting Properties.
Go to Advanced system settings from the left-hand panel.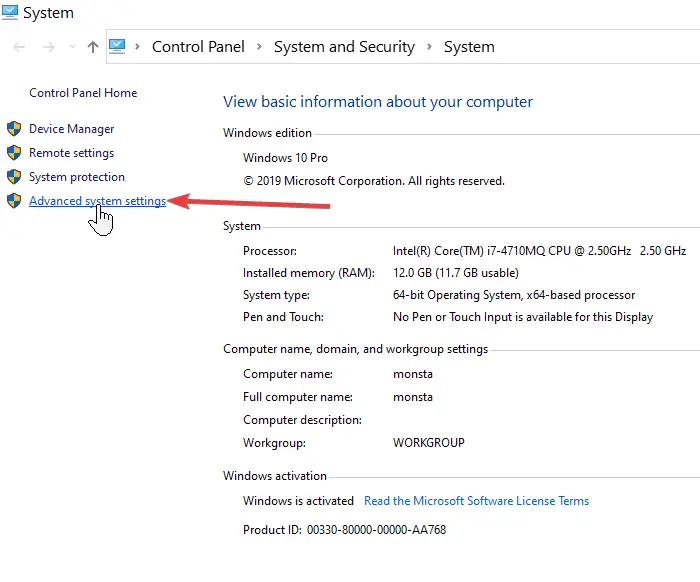 Select Settings from the Performance section.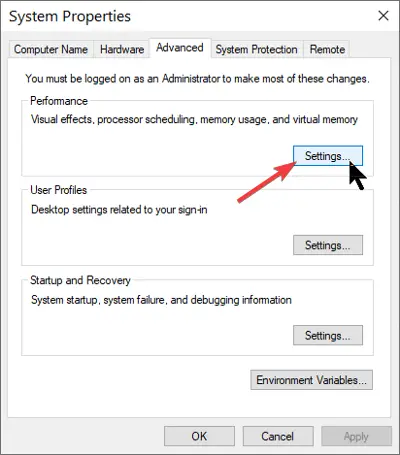 Switch to the Data Execution Prevention tab. Here, click on the Turn on DEP for essential Windows programs and services only option.
Hit the Apply button to save your changes, and click OK to close the window.
3] Use MusicBee in Windows Compatibility mode
Your MusicBee player may not be opening due to compatibility issues with your machine. Thankfully, Windows lets you run programs in compatibility mode. Right-click on the MusicBee icon and select Properties from the context menu.
In Properties, go to the Compatibility tab and click the Run compatibility troubleshooter button. Windows will now test the application and set the best compatibility settings for the program.
Alternatively, if MusicBee ran on an earlier edition of Windows, and you're sure of this Windows version, you don't have to run the compatibility troubleshooter.
Instead, check the Run this program in compatibility mode for: checkbox and select the Windows version from the dropdown menu there.
4] Reinstall MusicBee
Uninstall and then reinstall MisicBee software and see if it helps.
5] Use MusicBee Portable edition
If you try all the solutions on this page but haven't had any luck fixing MusicBee, you may want to use the portable version of the player. Simply visit MusicBee's download web page and get the setup for MusicBee Portable. Download MusicBee Portable on your PC and run it instead.
6] Troubleshoot in Clean Boot State
The final method we'll explore is to eliminate software conflicts that might be preventing MusicBee from starting by performing a Clean Boot. Press the Windows key + R combination to invoke the Run dialog box.
In the Run dialog box, type MSConfig and hit ENTER.
Go to the General tab and click on Selective startup.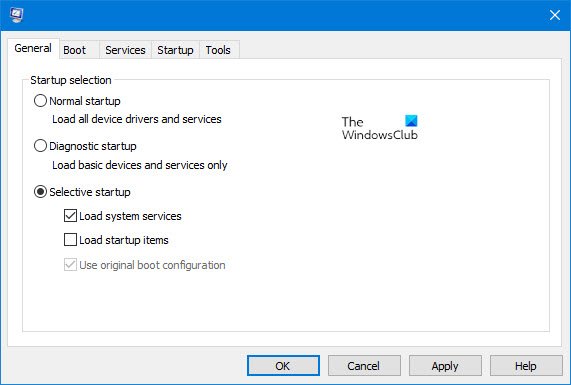 Unmark the Load startup items checkbox and mark the Use original boot configuration and Load system services settings checkboxes.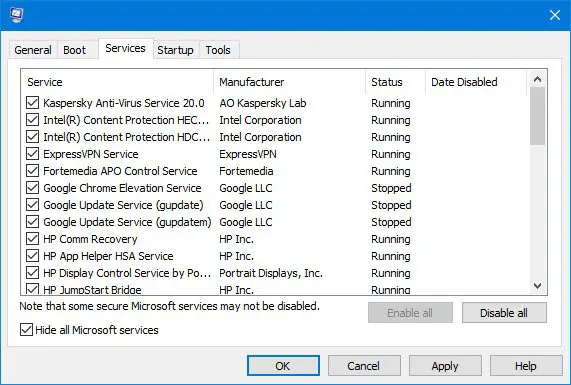 Switch to the Services tab and unmark the checkbox beside Hide all Microsoft services.
Under the list of services, click on the Disable all button and hit Apply and OK to save the changes.
Restart your computer now and try opening MusicBee after the machine comes back on.
If MusicBee works this time around, then a running process or application was the culprit. You need to identify it and remove it, if possible.
All the best.