The Xbox app lets you bring together your friends, games, and accomplishments together across Xbox One and Windows 11/10 devices. Normally, the app works as intended but sometimes fails against unforeseen circumstances. Blocked server connectivity is one such instance. The error may impact your ability to play multiplayer games.
The problem appears when you see a notification under the Settings > Network tab in the Windows Xbox app that reads Server Connectivity: Blocked. When you see this, it means your PC is unable to establish a Teredo IPsec connection to the Quality of Service (QoS) server.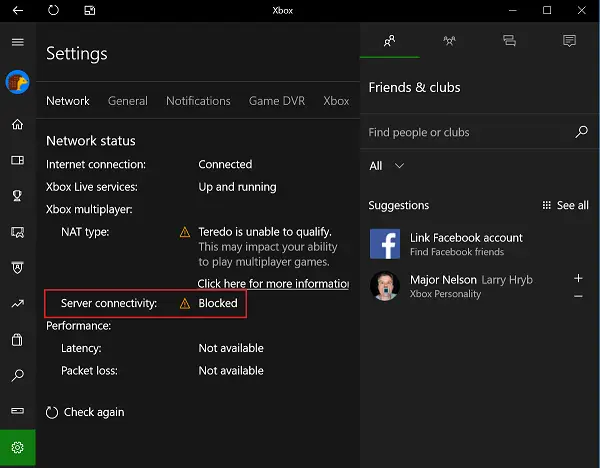 Failure to establish a Teredo IPsec connection to the QoS server is primarily observed when the required Windows Services have been disabled. To solve this problem, try these solutions.
Xbox App Server Connectivity is Blocked
Let us see the options you have to troubleshoot the problem.
1] Make sure you are connected to the Internet
If you are running Windows 11/10, launch the Xbox app.
Navigate to the 'Settings' option and select 'Network'.
Then, check the Network Status and ensure that you are connected to the Internet. Please note that if you don't have an Internet connection, you'll be required to enable it before proceeding further and trying different troubleshooting steps.
2] Ensure Windows Firewall is enabled & Default Policy is active
Often, improper functioning of certain features in Windows 10 can be attributed to the enabling or the disabling of Windows Firewall. This case is no exception to the rule. Enabled Windows Firewall is required to establish a Teredo IPsec connection. Even if there are any additional security software installed on your system, Windows will always use the Firewall as the first line of defense. So, if you find that for some reason your Windows Firewall has been disabled, enable it to resume Xbox Live party chat and do multiplayer gaming.
To find if the Windows Firewall is enabled, follow these steps.
Type Windows Firewall in the search field on your toolbar (Cortana) and choose Windows Firewall from the search results.
Once the main screen of the Firewall is visible, turn Windows Firewall on. Here, you may need to restart your PC to allow the change to take effect.
Next, check if the default policy of the Windows Firewall is enabled. For this,
Right-click the Start icon, select Command Prompt (Admin) and Run the following command:
netsh advfirewall show currentprofile
If you notice or see the following output present, it means the default policy is active:
Firewall Policy     BlockInbound,AllowOutbound
If the Inbound Policy is set to AllowInbound, Teredo will be unable to establish an IPsec connection to other PCs or Xbox One consoles. To make the changes and reset the firewall policy to the default, run the following command from the Admin command prompt:
netsh advfirewall set currentprofile firewallpolicy blockinbound,allowoutbound
3] Make sure that your security programs are updated
Verify the version of the installed software. It is always advisable to keep your security software regularly updated.
4] Check the status of some Windows Services
Check if the Windows services required for Xbox Live party chat and multiplayer gaming have been changed from their default values.
In general, four key services are required for Xbox Live party chat and multiplayer gaming to function on Windows 10. If any of these services have been disabled, you need to re-enable them right away.
To know if the required Windows services are enabled, Run services.msc to open the Services Manager and check the Startup Type for the following services to ensure they're set to their default values:
| | |
| --- | --- |
| Service Name | Default Startup Type |
| IKE and AuthIP IPsec Keying Modules | Automatic (Trigger Start) |
| IP Helper | Automatic |
| Xbox Live Auth Manager | Manual |
| Xbox Live Networking Service | Manual |
It is found that few applications reconfigure PC settings in an attempt to optimize performance. As such, they will disable Windows services in use, thereby impacting the list of services mentioned above. To solve this, simply revert back those settings to original to use Xbox Live party chat and multiplayer gaming.
5] Start 'Xbox Live Networking Service' and 'IP Helper' Services
These services are known to aid the Xbox server connection. So, naturally, their absence or disabling may cause trouble in connecting the Xbox app successfully to the server. Restart these applications by finding 'IP Helper' entry under 'Services' Window (via the Run dialog box) and restarting it.
6] Uninstall VPN software
VPN software can sometimes distort the communication path between the Xbox app and the Xbox server. A common example of this in Windows 10 is the LogMeIn Hamachi application. So, you need to uninstall it via the Control Panel.
Now open the Xbox app and check your connection again. It should be up and running.