MSI Dragon Center is software that comes pre-installed on all MSI gaming devices. It lets users monitor and optimizes their systems. If you uninstall MSI Dragon Center from your system, you can reinstall it by downloading its latest version from the official website. Some users have reported that they cannot install MSI Dragon Center on their systems. If MSI Dragon Center is not installing on your system, you can try the fixes described in this article.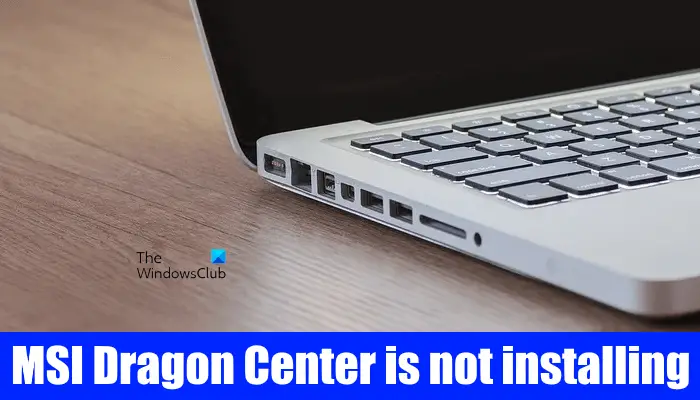 MSI package installation is not completed
MSI Dragon Center is not installing
When you install or uninstall software, it is necessary that you follow the correct method. Improper installation and uninstallation cause several issues. The main cause of this problem is an incorrect or improper uninstallation process. Therefore, it is necessary to remove all the traces of the software from your system and try again. Apart from this, there are other causes too that can trigger this issue. We have listed some possible solutions to resolve this issue. If you face this problem, go through these troubleshooting methods to fix the problem.
Run as administrator
Remove all residues and try again
Disable your antivirus temporarily
Create a new user account
Let's see all these fixes in detail.
1] Run as administrator
Some programs require administrative privileges to get installed or to work on a Windows device. Therefore, we suggest you try running the installer file as an administrator and see if it gets installed this time or not. To do so, right-click on the MSI Dragon Center installer file and select Run as administrator.
2] Remove all residues and try again
When we uninstall software, its residues are left on our system. Sometimes, these leftovers cause problems while installing the software again. According to the feedback of the users who experienced this issue, the problem was occurring due to the residues of MSI Dragon Center.
You can use any third-party tool to completely uninstall MSI SDK from your system. Revo Uninstaller is free software that will help you uninstall MSI SDK and remove all its residues from your system including the entries in Windows Registry. Install Revo Uninstaller and run it to completely remove MSI SDK and Dragon Center from your system.
After the Revo uninstaller completes its task, close it and restart your system. Visit the MSI website and download the latest version of MSI Dragon Center. Now, you should be able to install it.
3] Disable your antivirus temporarily
Sometimes, antivirus prevents genuine software from getting installed on a Windows computer. This happens when the antivirus considers the program a threat to your system. If you have installed a third-party antivirus, it might be conflicting with the MSI installer due to which it is not getting installed on your system. In this case, turn off your antivirus and then install MSI Dragon Center. If the installation gets completed successfully, you can turn on your antivirus again.
4] Create a new user account
You can try one more thing. Create a new user account on your Windows 11/10 system and then try to install MSI Dragon Center from that account. It may help.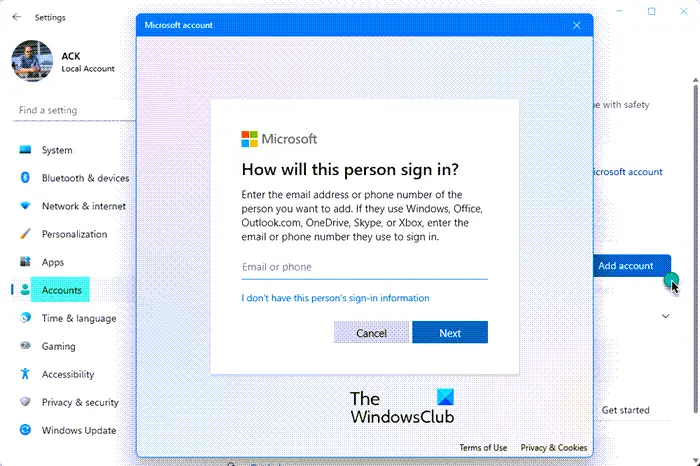 To create a new user account, follow the instructions provided below:
Open Windows 11/10 Settings.
Go to "Accounts > Family & other users."
Under the Other users section, click on the Add account button and follow the on-screen instructions. When you are prompted to enter the person's email ID, click I don't have this person's sign-in information.
Now, click Add a user without Microsoft Account.
After creating a new user account, right-click on Start and go to "Shut down or sign out > Sign out" and log into the new user account. Now, run the installer file.
Read: MSI Afterburner not detecting GPU on Windows 11/10.
Why can't I install Dragon Center?
The major cause of this problem is the MSI SDK residue or leftover. To resolve this issue, you have to completely remove MSI SDK and Dragon Center from your system. To do so, you can install free program uninstaller software that looks into your Windows Registry and deletes all the entries created by the MSI Dragon Center. After removing all the residues, your MSI Dragon Center should get installed.
Where is MSI Dragon Center installed?
MSI Dragon Center is installed on your C drive inside the Program Files (x86) folder. To locate it, open File Explorer and go to the following path: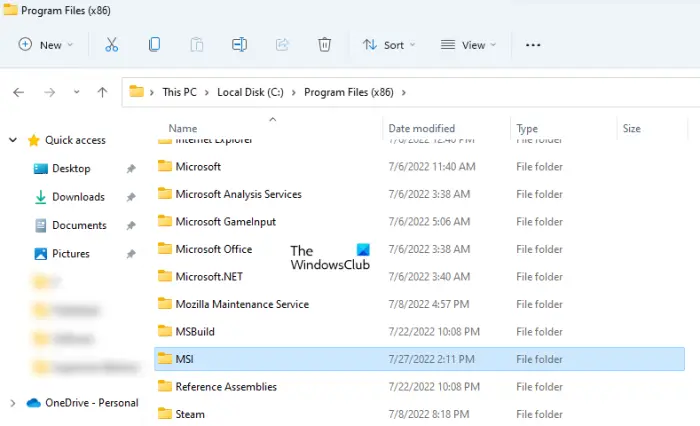 C:\Program Files (x86)
There, you will find the MSI folder.
I hope this helps.
Read next: How to download & install MSI Motherboard drivers for Windows.