This post features solutions to help you if the MSI Afterburner Fan Speed Control is not working. MSI, or Micro-Star International, is the world leader and most trusted name in gaming PCs. It offers a utility software named MSI Afterburner with its devices that allows users to monitor and overclock hardware usage of their device in real time. But recently, many users have been complaining about having some issues while increasing or decreasing the fan speed of their devices. Fortunately, you can follow some simple steps to fix this error.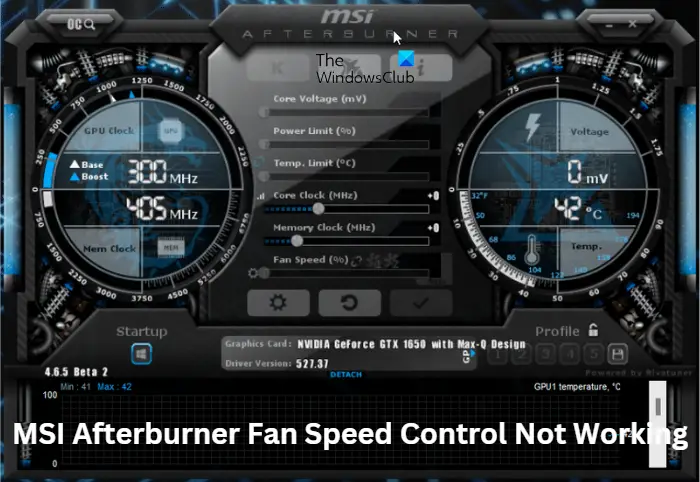 Why is my fan control not working?
Usually, this issue occurs if the fan speed control feature is disabled on the application. However, incompatible GPU or corrupted system drivers are also known to be the culprits.
MSI Afterburner Fan Speed Control not working on Windows 11/10
If the MSI Afterburner Fan Speed Control is not working on your Windows 11/10 computer, follow these suggestions to fix the issue:
Enable Fan Control
Run MSI Afterburner as an Admistrator and in Compatibility mode
Manually Change Fan Speed Settings
Troubleshoot MSI Afterburner in Clean Boot Mode
Reinstall MSI Afterburner
Use an Alternate tool to change fan speed
Now let us see these in detail.
1] Enable Fan Control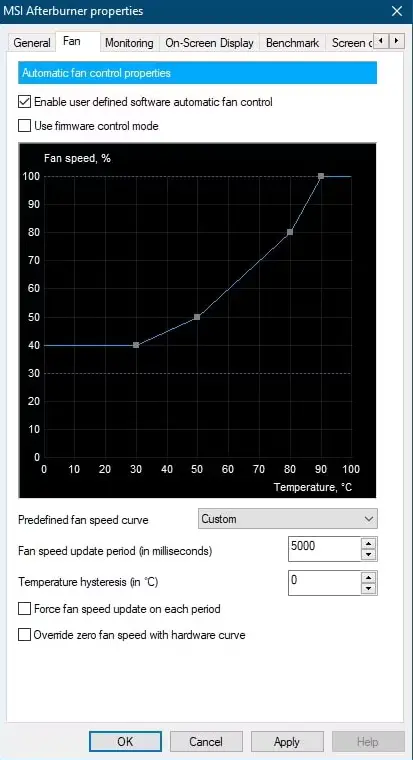 Before getting started with different troubleshooting methods, check if the fan control service is enabled. One of the most common reasons users cannot use this feature is that it's disabled. Here is how you can enable it:
Open MSI Afterburner and click on the gear icon to open Settings.
Navigate to the Fan tab and check the box beside Enable user-defined software automatic fan control.
Now select Custom beside Predefined fan speed curve.
Click on Apply and then and an Ok to save the changes.
2] Run MSI Afterburner as an Admistrator and in Compatibility mode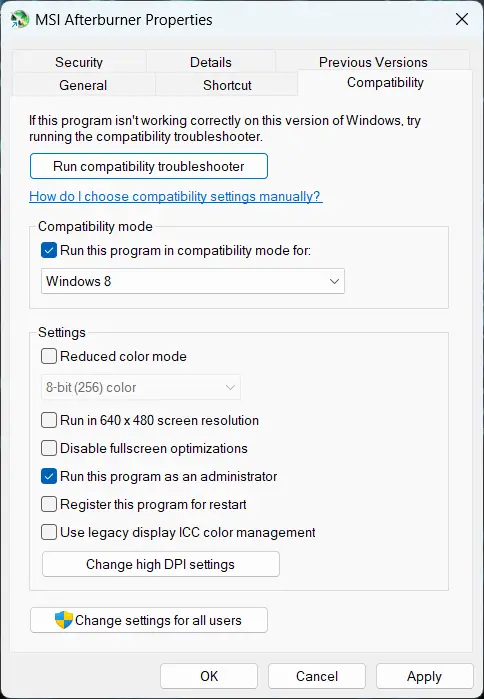 It's possible the error keeps occurring due to a lack of permissions and due to compatibility issues. Running the application as an administrator in the compatibility mode can help fix it. Here's how to do it:
Right-click on the MSI Afterburner.exe shortcut file on your device.
Click on Properties.
Navigate to the Compatibility tab.
Check the option Run this program in compatibility mode for and select Windows 8 in the drop-down below.
Now check the option Run this program as an administrator.
Click on OK to save changes.
3] Change Fan Speed Settings Manually
If you are still unable to fix the issue, try changing the fan speed manually. Doing so will set the fan speed according to your requirements. Here's how:
Open File Explorer and navigate to the following path:
C:\Program Files (x86)\MSI Afterburner
Open on the MSIAfterburner.cfg file.
Search for FanSpeedReadBackDelay and set its value, i.e., the fan speed according to your requirement.
Now press CTRL + S to save the file.
Restart your device once done, and the MSI Afterburner application will run your device's fan automatically at the entered speed.
Note: These steps can only be executed if your user account has administrator privileges.
4] Troubleshoot MSI Afterburner in Clean Boot Mode
Third-party applications can sometimes cause apps to malfunction. To fix this, perform a Clean Boot to ensure the operating system loads with minimal system files and device drivers. Here's how you can perform a clean boot:
Click on Start, search for System Configuration and open it.
Navigate to the General tab and check the Selective Startup option and the Load System Services Option under it.
Then navigate to the Services tab and check the option Hide all Microsoft services.
Click on Disable all at the bottom right corner and hit Apply then Ok to save changes.
If MSI Afterburner runs smoothly in Clean Boot State, manually enable one process after the other and see which culprit creates problems for you. Once you have identified it, you need to disable or uninstall the software that uses this culprit process.
5] Reinstall MSI Afterburner
If none of these troubleshooting methods were able to help you, consider reinstalling the MSI Afterburner application. This has been known to fix this error for most users.
6] Use an Alternate tool to change fan speed
If reinstalling the app didn't work, try using a different fan speed controller software. There are lots of applications that can help you control the fan speed of your device.