This post features solutions to fix MSI.CentralServer.exe is abnormal error on MSI devices. MSI.CentralServer.exe is an executable file that runs MSI Center. It is a platform with all exclusive features offered by MSI. Using the app, you can choose among different gaming modes, adjust the fan speed, turn on/off Gaming mode, and so much more. But recently, many users have been complaining that MSI.CentralServer.exe is abnormal error. Fortunately, you can follow some simple steps to fix this error.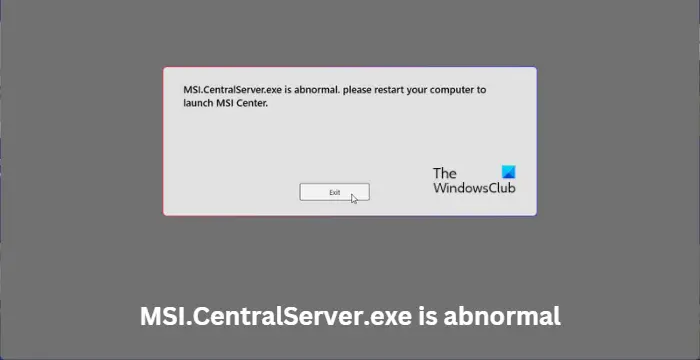 Fix MSI.CentralServer.exe is abnormal error on MSI devices
To fix MSI.CentralServer.exe is abnormal error on your MSI device, follow these steps:
Restart MSI Center Service
Repair MSI Center
Run MSI Center as an Admin
Troubleshoot in Clean Boot Mode
Reinstall MSI Center
Now let us see these in detail.
1] Restart MSI Center Service
If the error still isn't fixed, restart the MSI Center Service. Doing so will establish a new connection to the servers. Here's how you can do it:
Click on Start, search Services, and open it.
Scroll down and search for MSI Center Service.
Right-click on the service and select Restart.
2] Repair MSI Center
The error may likely lie within the app's core files. To fix this, repair the MSI Center app. Here's how you can do it:
Press the Windows key + I to open Settings.
Navigate to Apps > Installed Apps > MSI Center.
Scroll down and click on Repair.
3] Run MSI Center as an Admin
Running MSI Center as an administrator makes sure the app doesn't crash due to a lack of permissions. Here's how to do it:
Right-click on the MSI.CentralServer.exe shortcut file on your device.
Click on Properties.
Navigate to the Compatibility tab.
Check the option Run this program as an administrator.
Click on OK to save changes.
4] Troubleshoot in Clean Boot State
Third-party applications can sometimes cause apps to malfunction. To fix this, perform a Clean Boot to ensure the operating system loads with minimal system files and device drivers. Here's how you can perform a clean boot:
Click on Start, search for System Configuration and open it.
Navigate to the General tab and check the Selective Startup option and the Load System Services Option under it.
Then navigate to the Services tab and check the option Hide all Microsoft services.
Click on Disable all at the bottom right corner and hit Apply then Ok to save changes.
If MSI Center runs smoothly in Clean Boot State, manually enable one process after the other and see which culprit creates problems for you. Once you have identified it, you need to disable or uninstall the software that uses this culprit process.
5] Reinstall MSI Center
If none of these steps can help you, consider reinstalling MSI Center. Use the MSI removal tool to uninstall it and then download the latest version of MSI Center and install it.
TIP: This MSI Collect Log Tool will help you collect MSI Center/Dragon Center/Creator Center log file for troubleshooting.
What is MSI Dragon Center and do I need it?
MSI Dragon Centre is a pre-installed application that comes by default on every MSI device. Users can use this app to use different laptop features and make it more performance-centric. You can monitor the functions of your device include including used RAM and memory, CPU and GPU temperature, Gaming modes, etc.
Fix: MSI Dragon Center is not working on Windows
Is MSI best for gaming?
MSI offers the best gaming pcs and laptops packed with performance for every gamer out there. These devices are built keeping in mind the requirements of gamers; they are gaming characteristics and skills. MSI offers all products, including gaming PC, Gaming laptops, tower PCs, RGB PCs, etc.