One of the issues that a few users have reported is that Microsoft To-Do doesn't sync, which is why we have this guide to help you fix it. Microsoft To-Do is an intelligent to-do list that makes it simple for users to organize their days, weeks, and months for professional, home, or individual projects. Microsoft technology allows users to sync their apps across devices and the web. However, there have been reports of a failed sync of some apps, but the good thing is that it's simple to fix this issue.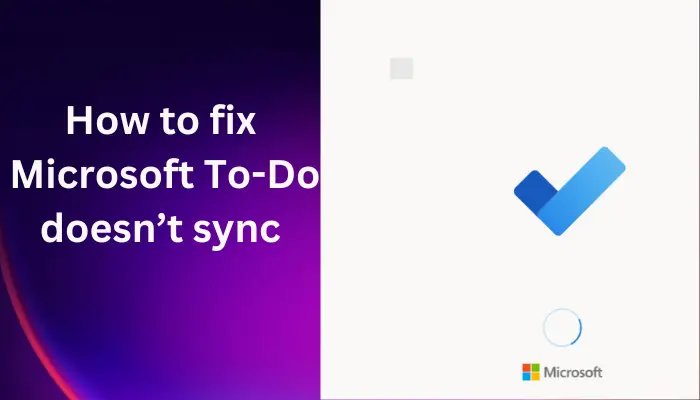 The Microsoft To-Do list should sync with Outlook, phone, laptop, web, OneNote, or any other Microsoft service signed with the same account. If this doesn't happen, then there is a problem that needs to be fixed. There have been reports from some users indicating that MS To-Do syncs with phones and laptops but not with Outlook.
Why is my To Do list not syncing?
There are several reasons why the Microsoft To-Do list is not syncing, but the most common ones are an outdated app, temporary bugs, a corrupted MS To-Do account, or incorrect sync settings. An outdated app, on the phone and on the PC, can lead to sync issues. Also, ensure your OS is updated. If the bug is caused by your Windows OS, you need to scan the system to rectify the issue.
For now, only personal Microsoft accounts using an Outlook.com domain are able to sync between Microsoft To Do and Outlook. If your personal Microsoft account uses a domain such as @outlook.com, @hotmail.com, @live.com or @msn.com, then your tasks should sync automatically between Microsoft To Do and Outlook 2016 on Windows.
Microsoft To-Do not syncing between devices or with Outlook, iPhone, etc.
When Microsoft To-Do doesn't sync, it means there is a problem with either your PC, the app, your phone, or the web. So, before you begin making changes, make sure your devices are connected to a reliable internet connection and that automatic sync is turned on. Also, ensure that the same account credentials are used to sign into the MS To-Do list on your devices. If those preliminary tweaks don't work, then read on.
If Microsoft To-Do is not syncing with Outlook, iPhone, Planner, etc,, or between devices, follow these suggestions to fix the issue:
Log out and log in
Check for app updates
Restore Firewall settings to default
Repair Microsoft To-Do app
Let us look at these solutions in detail
1] Log out and log in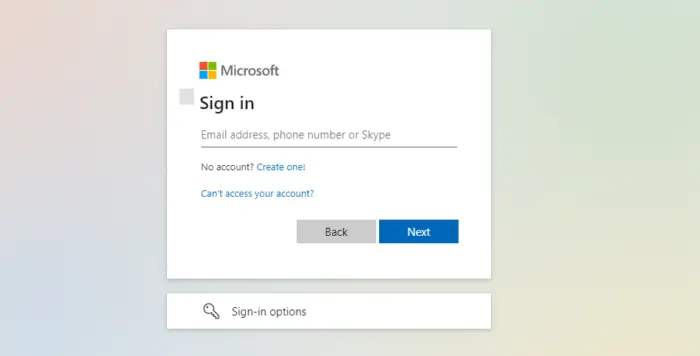 At times, Microsoft To-Do may fail to sync when using the web app. This can be caused by a simple, temporary bug that can be solved by signing out and signing in again. This is possible on both your computer and your phone apps. This solution has worked for many users, and that's why we recommend you try it out too. Here, you can also remove your account completely and re-add it.
2] Check for app updates
Microsoft is always updating its apps to fix bugs and polish their exterior functionalities. So, if the issue is not with the To-Do app on your computer, then you need to look for updates on your smartphone and update. There are some users on iOS, who reported the sync issue was caused by a bug, and they fixed it just by updating the app. It is also a good idea to check your PC To-Do app, and head to the Microsoft Store to check for updates.
3] Restore Firewall settings to default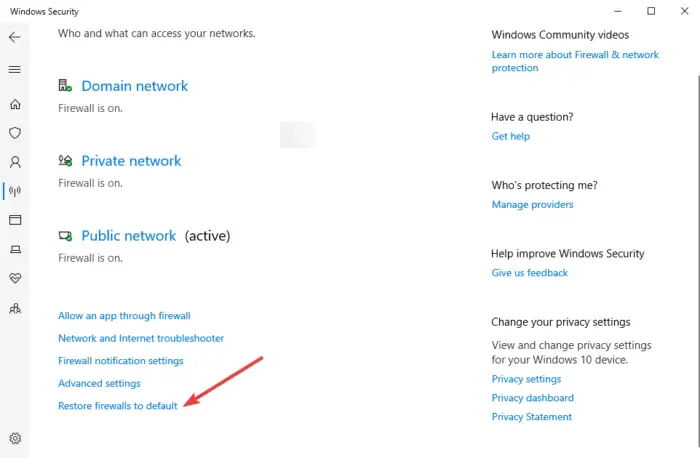 Some users reported that changing firewall settings resolved the Microsoft To-Do not syncing issue. You can turn off the third-party antivirus firewall, but we don't recommend turning off the Windows Firewall. You can disable your antivirus and see if the issue is resolved. If not, you can go ahead and restore your firewall settings. Here is how:
Launch Run Dialog by pressing Winkey+R.
Type ms-settings:windowsdefender and then press Enter.
A new window will appear – Select Open Windows Security.
You will see various options on the panel, select Firewall & network protection.
At the bottom, you will need to select Restore firewalls to default.
4] Repair Microsoft To-Do app
Repair the Microsoft To-Do app and see if that helps. Repairing will ensure that your data is not lost. If you choose the Reset option, you data may get lost.
We hope this article helped you fix the Microsoft To-Do list that's not syncing.
Does Microsoft Outlook Sync with To-Do?
Microsoft Outlook syncs with To-Do. It is one of the best Microsoft To-Do features that allows users to integrate with Outlook Tasks. If you want to view your To-Do tasks on Outlook.com or the Outlook desktop client, you only need to sign in using the same account credentials in both Outlook and Microsoft To-Do. Microsoft saves all tasks on Exchange Online Servers, where they automatically sync and appear in both To Do and Outlook.
How to sync Microsoft To-Do when using Gmail or Yahoo?
If you're using a personal Microsoft account registered to a different domain, like @gmail.com or @yahoo.com, your To-Dos won't sync automatically. In this case, you'll need to create a new alias for your account by registering a new outlook.com email address.
Once the new alias has been added to your account, just select the option to Make primary.
Next, you'll need to update your Microsoft account within Outlook 2016:
Remove your initial Microsoft account.
Add your new @outlook.com email address as an Office 365 account to Outlook 2016 by heading to File > Add Account.
Enter your new @outlook.com email address and then select Connect.
Your tasks should then sync between Microsoft To Do and Outlook 2016 automatically.
Hope this helps.