The Microsoft Surface range of devices is impressive and it's a clear sign that Microsoft knows how to create really good laptops that can compete with bigger players on the market. However, problems do pop up now and again. A few days ago, we came across a situation where some users are having problems with the brightness keys on the Surface device. Apparently, the brightness keys are not working when pressed (F1 and F2). You see, the indicator comes up showing the brightness level is increasing and decreasing, but it is not actually happening.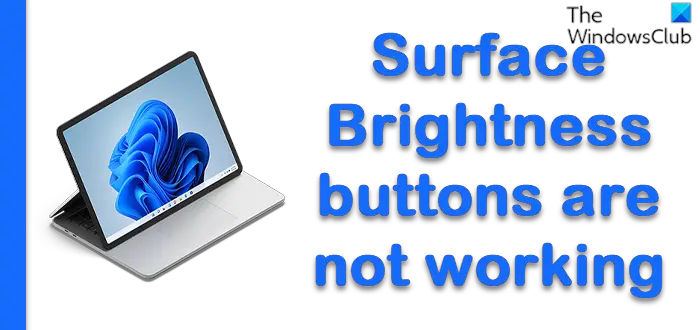 Now, it is our belief this problem has everything to do with the driver, therefore, we will focus on the main fixes first, and then some secondary ones if it fails to work.
Surface Brightness buttons are not working
If Surface Book, Laptop or Pro Brightness buttons are not working as expected, then try the following suggestions:
Uninstall & reinstall the graphics card driver
Run the Hardware and Devices Troubleshooter
Update the drivers and firmware
Reset your Surface device.
1] Uninstall the graphics card driver
OK, so the first thing we need to do here, is to uninstall the display driver on your Surface device. To do this, we must venture off to the Device Manager, which is super easy to do. Just go to the search box and type Device Manager.
Once it comes up, just click on it, then go to Display Adapter. After doing all of that, select Display Adapter, then right-click on Intel Graphic UHD 620, then Uninstall.
Finally, restart the Surface device and it should automatically reinstall the driver.
2] Run the Hardware and Devices Troubleshooter
To run the Hardware and Devices Troubleshooter, you will have to use the command line. To invoke the troubleshooter, all you need do is to launch the command prompt, then type or copy and paste the command below and hit Enter.
msdt.exe -id DeviceDiagnostic
In the end, restart your Surface device, and check if the keys are working correctly.
3] Update the drivers and firmware
You will need to make sure that all your Surface drivers, software and firmware are fully updated to the latest versions. Finally, restart your computer twice to complete the changes.
4] Reset your Surface device
OK, so resetting Surface is very easy to accomplish. Just to go to Start > Settings > Update & security > Recovery.
Under the section that says Reset This PC, please select Get Started and follow the instructions from there and you should be just fine.
More ideas here: