When installing applications from Microsoft Store on Windows 10 PC, if you receive the following error, then this post will help you resolve the problem:
0x80073D01, ERROR_DEPLOYMENT_BLOCKED_BY_POLICY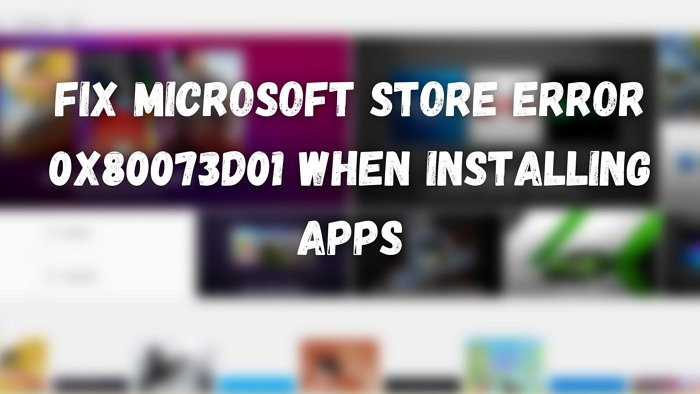 What is Microsoft Store error 0x80073d01 about?
The error message also says—
The package deployment operation is blocked by policy. Contact your system administrator.
It means that a group policy has been by the IT admin in such a way that you are not allowed to install the application or certain applications using the Application Control Policies or the Allow deployment operations in special profiles policy.
Microsoft Store error 0x80073d01 when installing apps
Follow these suggestions to Microsoft Store error 0x80073d01:
Setup Roaming User Profile
Sign-in using a Permanent user account
These solutions serve as a guidance that you can ask your IT admin to complete.
1] Setup Roaming User Profile
Windows offers a Roaming User Profile feature that allows users to carry their profile settings and data on any virtual desktop or a device when connected to a corporate network. However, if the user doesn't have a user roaming, he will not be able to install applications on that computer.
You will need to connect with your IT admin and get it enabled, i.e., enable roaming profile for your account.
Once done, you can logout, and then log in again to install the app.
2] Configure Allow deployment operations in special profiles Policy
If you already have a Roaming Profile and are still facing the problem, you are restricted by a policy.
According to the Microsoft Deployment guide, IT admin needs to enable the Allow deployment operations in special profiles Group Policy setting.
That said, if there is no such policy restricting you, then it is possible that you are using a temporary user account or signed in locally.
Log in with your permanent User Account, and you should be able to install apps from Microsoft Store in a regular way.
I hope the post was helpful, and now you are able to download or install apps from Microsoft Store, and there is no error 0x80073d01.
Be aware that solutions such as App Troubleshooter, Windows Store Reset, and any fix will not work because it's a policy or user account issue.