Microsoft Acess is a database management system developed by Microsoft Corporation and this database comes with Microsoft 365 office suite. It adds Microsoft's relational Jet Database Engine with software development tools and a Graphic User Interface (GUI). Enterprise users, use this software to manage data and analyze vast amounts of data efficiently. If Microsoft Access is not responding when you try to access the shared database on Windows computers, this article is for you.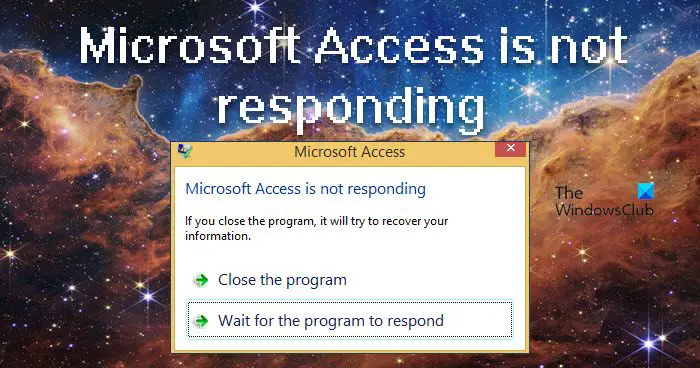 Fix Microsoft Access is not responding
There are many reasons for this said error and we can resolve this error by using different methods. Mostly, MS Access won't respond if you are using a corrupted add-in. There are some other causes, such as conflicting third-party apps, viruses, and malware, and corrupted MS Office. We will talk about each one of them hereinafter.
If Microsoft Access is not responding on your computer then use the following prescribed solutions to fix this error.
Start Microsoft Access in Safe Mode
Open Microsoft Access in a clean boot
Check your system for virus
Repair Office Repair to repair Access.
Let's fix this error by using these methods.
1] Start Microsoft Access in Safe Mode
If Microsoft Access is not working, there is a high possibility that some of the mods, add-ins, and extensions are corrupted. Opening the app in Safe Mode will allow Access to open without any of them.
Follow the prescribed solution to run Access in safe mode.
To open a Run dialog box, Press the Windows + R
Type "msaccess/safe" in Run and press Ctrl + Shift + Enter to run the command with admin access.
When prompted, click Yes to continue.
After running Microsoft Access in safe mode now you should run the access query to check whether the problem is fixed or not.
Here you have checked that Microsoft Access is opening in safe mode means the problem is coming due to add-ins. In order to identify open MS Access in normal mode and go to File > Options > Add-Ins > COM Add-ins. Now, remove these extensions one by one to find out which one is causing the issue.
2] Open Microsoft Access in a clean boot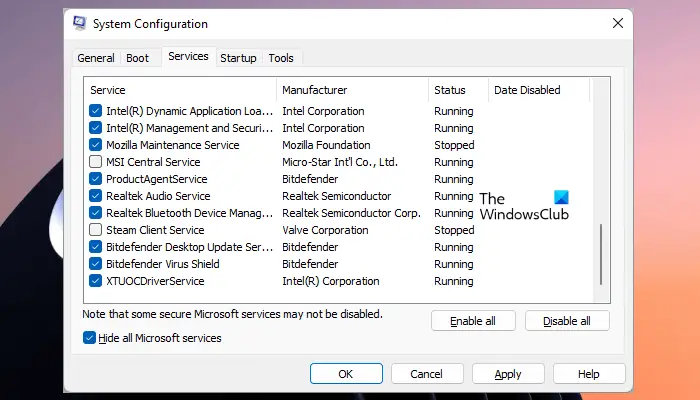 We can use Clean Boot technique to identify the application or service causing an issue. It is generally used when third-party products cause software conflicts. Running a clean boot will help in the easy start-up of your system with essential files and programs. To run Clean Boot, follow the prescribed steps.
Press Windows + R key.
Write msconfig in the Run dialog box and click Ok, this will load the system configuration.
Here, click on the Service tab and check the option Hide All Microsoft service and click on Disable All > Apply, and then click on OK.
It will prompt you to restart, select Restart.
Once the Windows boots up, open Microsoft Access and see if the issue persists. If the MS Access launches without any error, enable services manually to stumble upon the culprit. once you know which app was triggering this error, go ahead and remove it.
3] Check your system for virus
The said error may occur if you have the virus in your system. If using the above two methods did not resolve your issue then you should check if the system hosting Microsoft Access is not affected by viruses. You can scan your system for viruses by using any of the mentioned free anti-virus software or Windows Defender.
Once the security scan is completed, delete all the infected files. After scanning and removing the virus from the system, reboot the system and check if the Microsoft Access is now resolved. If the issue was due to some virus, this solution will resolve it.
4] Run Office Repair to repair Access
In case, there was no virus, no corrupted extension, or conflicting app, it is very likely that your issue is a result of corrupted MS Office or Microsoft 365. Since, Microsoft Access is a part of MS Office or Microsoft 365, corruption or an issue in the service can result in this kind of issue. Microsoft is well aware of this conundrum and has included an option to repair Microsoft 365 or Office. All you need is to follow the prescribed steps and you will be good to go.
Open Control Panel by searching it out of the Start Menu.
Go to Programs.
Click on Programs and Features.
Right-click on Microsoft 365 or Office (it can have a different name depending on the version you are using) and select Change (or Modify).
You will get two options, either select Quick Repair or Online Repair and then click on Repair.
Finally, follow the on-screen instructions to complete the process.
Hopefully, after using this method the said error will be resolved.