While Windows 11/10 is one of the most loved operating systems today, there are some issues still bothering the users. The internal Skype Microphone issue is one of such common issues faced by Windows 11/10 users.
The microphone of your Windows can stop working due to many different reasons, and some of the very commonly reported reasons are incorrect settings, broken or obsolete drivers, or some hardware issues. If your built-in Microphone or Skype Audio is not working in Windows 11/10/8/7, then this post shows how to fix the Mic.
Skype Audio or Microphone not working
If you are having trouble with the audio for your headset, and if you cannot hear audio during Skype calls, then before you begin, open Skype Settings. Under Speakers as well as under Microphone, make sure that Microsoft LifeChat Headset is selected. The suggestions to fix this issue are:
Check if Microphone is ON
Broken or outdated driver
Adjust the Microphone Setting
Restart Windows Audio Service.
1] Check if Microphone is ON
If your microphone is not working after upgrading to Windows 10, probably it is turned OFF.
Go to Windows Settings by using the shortcut Win+I and click on the Privacy & Security tab.
Select Microphone from the left panel and turn it ON.
You can also choose the apps you want to use on your Microphone.
Also, make surer that Skype has access to the Microphone.
2] Broken or outdated driver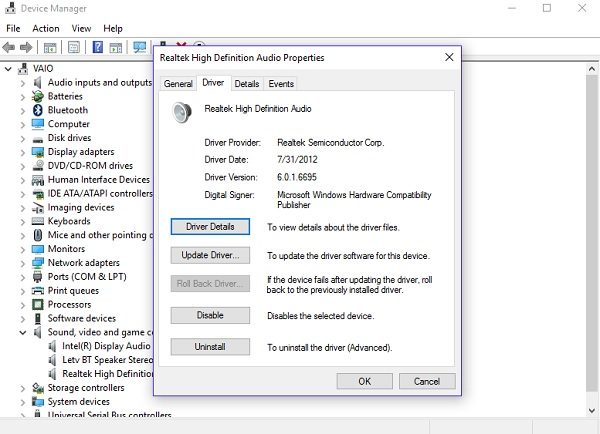 This is one of the most common reasons for any malfunctioning in a PC. Your Microphone won't work properly if the drivers are broken or outdated. So you need to install or update your device driver.
Run Device Manager and go to "Sound, video and game controllers".
Click on it and select "Realtek High Definition Audio" (In my case)

Double click and you will get a new pop-up window with program properties and driver settings.
Go to the Driver tab and click on Update Driver.
This will then point to Windows Update where you can look into Advanced Options > Optional updates and then look for a driver update.
3] Adjust the Microphone Setting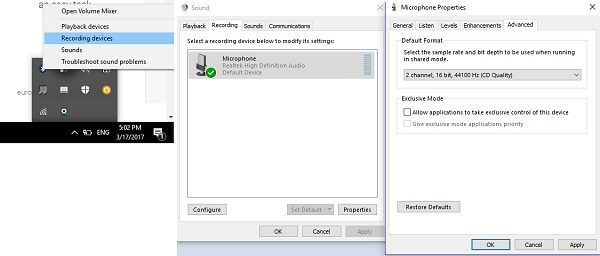 Go to the audio icon in your taskbar, right-click, and select Recording devices.
Select a microphone and double-tap to open the properties.
Here you can adjust the levels and adjustments like Noise Cancellation, DC Offset Cancellation, Echo Cancellation, and more.
Disabling all the sound effects also fixes the Microphone issues sometimes.
Under the Advanced tab, disable the checkbox Allow applications to take exclusive control of this device.
4] Restart Windows Audio Service

Some minor issues in your Windows Audio Service can also be the reason of microphone bugs and restarting it is the best possible fix. Follow the steps below to restart your Windows Audio Service.
Open Run command and type services.msc. 
This will open the entire list of Windows Services on your PC.
Select Windows Audio, right-click, and select Restart.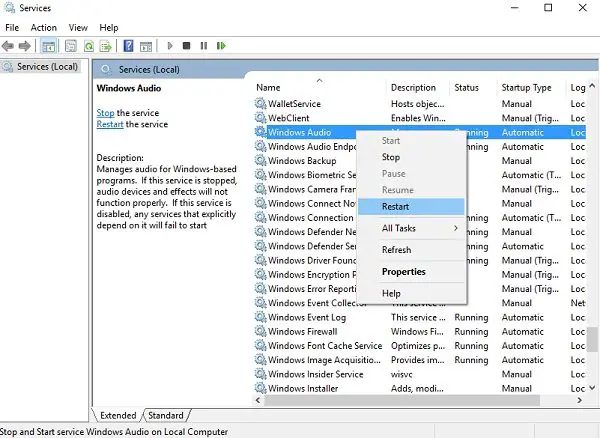 Skype Microphone problems are usually device-oriented. This means, one solution might not work for all. Try the fixes mentioned above and see if they help you, but if your microphone is still not working with Skype, try restarting the Skype app.
This post has some additional tips to fix Skype audio and video problems.
Do leave your comment below if you have any other fixes to be added to this list.
What to do when your mic is plugged in but not working?
If you have followed the above tutorial, and the mic still doesn't work even though it is connected, then it's a hardware issue i.e. you should get it to the service center, and get a replacement. If not, then get a new microphone, and set it up again.
Why did my mic suddenly stop working?
If you are using a Bluetooth microphone, then you need to check on the battery level. It is possible that you have been using it for too long, and the battery needs a recharge. If that's not the case, check if the Bluetooth is not acting up dropping the connection.
Why does my mic cut in and out?
It is usually reported for microphones that use wire to connect to a PC. if your voice is sometimes heard and sometimes it doesn't, then you need to change the cord. If that is not a problem, make sure to are close enough to the microphone and not moving your head too much that that causes the voice to cut in and out.