MTP or Media Transfer Protocol, a is part of the Windows Media Framework, allows media files to be transferred from one portable device to another automatically. It was earlier called PTP or Picture Transfer Protocol.
We often transfer files to or from mobile or digital camera to another device and vice versa. You might not know, but when you transfer pictures from a digital camera, you use an MTP connection to make the transfer. There are mainly two options you get after connecting a mobile device to the computer using a data cable. The first option lets you transfer any kind of file including documents, videos, or audios. The second option is MTP, which allows users to move images from one device to another quickly.
In case Media Transfer Protocol is not working and you are facing difficulties in using MTP in Windows 11 or Windows 10,  then this suggestion may help you fix the issue.
Media Transfer Protocol is not working
Since the Media Transfer Protocol is not functioning correctly, your device won't be detected by the computer, and as a result, you cannot transfer images quickly to or from the digital camera and mobile phone to your Windows computer. At times you may even get to see the following error messages:
MTP USB device not installing
MTP USB Device driver failed
MTP not recognized
If Media Transfer Protocol (MTP) is not working on Windows 11/10, follow these steps:
Check if your mobile does support MTP
Update the existing MTP Device Driver
Install the MTP Device Driver
Enable MTP manually
Enable USB debugging mode
To know more about these steps, continue reading.
1] Check if your mobile does support MTP
Most mobiles with cameras have the MTP support to transfer images from or to the device, but nevertheless it's a good idea to check.
2] Update the existing MTP Device Driver
Open the WinX Menu, select Device Manager and then search for your mobile device. Right-click on it and select Update Driver Software to update the device driver software.
3] Install the MTP Device Driver
If the Driver is not installed, then connect the device. After connecting the new device to your computer, it installs the necessary driver automatically. Ensure that you haven't interrupted the installation. If the device manager displays a The drivers for this device are not installed message, you should consider reinstalling the driver.
4] Enable MTP manually
You need to enable Media Transfer Protocol manually in some cases. Different mobile manufacturers have different procedures, so check the method for your manufacturer.
5] Enable USB debugging mode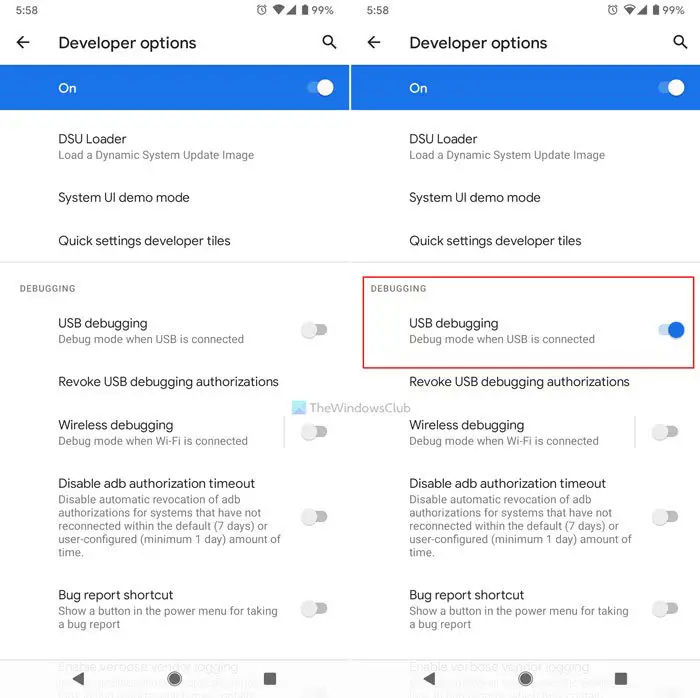 If you have an Android mobile and MTP is not working, make sure you have enabled USB Debugging Mode. This will help you troubleshoot further.
If installing a new Driver or updating your existing one has not helped, open File Explorer and navigate to the following path:
C:\Windows\INF
Here you will get a file called wpdmtp.inf. Right-click on that file and select Install.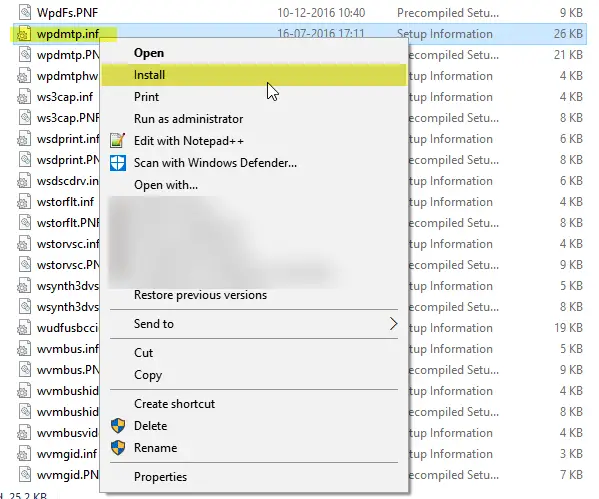 Microsoft provides a set of class drivers to support the Media Transfer Protocol (MTP). If your device supports MTP, you can use one of these drivers. In addition to the class drivers, Microsoft provides a setup information (.inf) file to install a class driver. This file is named WpdMtp.inf.
After you click Install, it should not take more than a few seconds for the process to be completed. After that, MTP should be working as usual. If not, try to restart your machine and check whether it is working or not.
Once the process is completed, restart your computer and see if MTP is working normally.
How do I enable MTP in Windows 11/10?
Enabling MTP or Media Transfer Protocol is not possible on Windows 11/10 computers. All you can do is installing the MTP driver on your computer and enable MTP on your Android phone. To do that, you need to find the Media Transfer Protocol option after connecting it to your computer.
Why is my MTP not working?
There could be various reasons why MTP is not working on your computer. From an unsupported phone to incorrect settings, it can cause due to any reason. However, if you face this issue, you need to follow all the guides mentioned in the article. For example, you need to check if your mobile supports MTP or not. If yes, you can check the MTP driver, enable MTP manually, etc.
Hope something helps.