While most photo editors come with a built-in resize tool, the majority do not allow the user to batch resize multiple images in bulk simultaneously with a pre-determined size. Luckily, there's an app called Icecream Image Resizer for Windows PC, and it is awesome.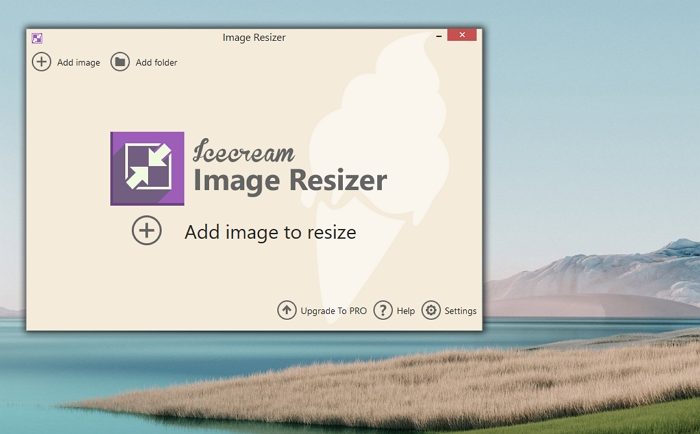 Icecream Image Resizer for Windows 11/10
The Windows freeware was designed with resizing images in mind, hence the name. This is the primary focus of the app, which is one of the reasons why it is so good at the job. It supports image size presents and batch image resizing. It comes with a simple-to-use interface, along with advanced options.
Users can even resize an entire folder filled with images. Just imagine wanting to upload a bunch of pictures to Facebook at a certain size. Icecream Image Resizer will make this task much more accessible, not to mention how fast it gets done. However, we suspect the speed will vary due to some computers being faster than others.
The app also supports drag-and-drop and doesn't require an Internet connection to get things going.
We also like the presets it brings to the table. For example, there's a preset for Facebook Timeline cover, one for Email, and many more. We should also point out that Icecream Image Resizer supports JPG, JPEG, PNG, and TIFF images. Other image formats are not supported, but that shouldn't be a problem since it is not an image manipulation tool.
Batch resize multiple images
Click the add image button and choose the images you want to resize. Once they are up and ready, they will appear on the right side of the program with options t change the aspect ratio. Click the green button that says Resize, and that's it.
See how easy that was? No complexity, just a few clicks of the mouse, and the job is complete.
So what about the problems?
The problems here are not a deal-breaker, but if there's another app like Icecream Image Resizer that solves the following issues, we will make the switch in a heartbeat.
For some strange reason, the developers chose not to allow users to create custom presets. In our minds, this is unacceptable, but still something we could live with if the competition fails to solve it. Furthermore, users cannot minimize the tool to the system tray, something else we can live with but would rather not.
Overall, the app is solid, and it is what I use now to resize images for The Windows Club. So far, there are no underlying problems that might cause concern. We've scanned the app with VirusTotal and found no viruses or malware, so it is good to go.
Icecream Image Resizer can be downloaded from the official website for free.
Take a look at Icecream Password Manager, Icecream eBook Reader, Icecream PDF Converter, Icecream Slideshow Maker, and Icecream Media Converter.
Does Windows have an image resizer?
No, but you can use tools such as PowerToys to resize multiple images. All you need to do is right-click and choose Resize. Then set the image size, and let the process complete. If you only need to resize a single image, then the Paint app is more than enough.
How do you reduce the MB size of a photo in Windows?
You can do it by reducing the size or using a compressor (online or offline). In both cases, the quality of the image will drop by a little. However, it will ensure you can upload it anywhere or places with a limit on the upload size.