PowerToys is a powerful open-source tool for Windows 11/10, which brings in useful features such as multi-zone for monitors, file renamer, and so on. This software has been updated and now offers four more utilities – Markdown and SVG Preview pane extension, Image Resizer and Windows Walker.
We have already taken a look at the following Windows PowerToys:
FancyZones to improve multitasking when using multiple windows
Power Rename which can rename multiple files with a right-click
Shortcut Guide to learn essential Windows shortcut.
FancyZone zone flipping works between multiple displays and replaces the hot-swap and flashing feature. It is good to see an active development for PowerToys and bringing so many useful features. File Renamer or 'Power Rename' has been incredibly helpful, and now with Image resizer in place, it's going to get better.
Now let us take a look at the new additions.
Image Resizer Window Shell extension
Window Walker, an alt-tab alternative
Markdown and SVG pane extension
1] Image Resizer Window Shell extension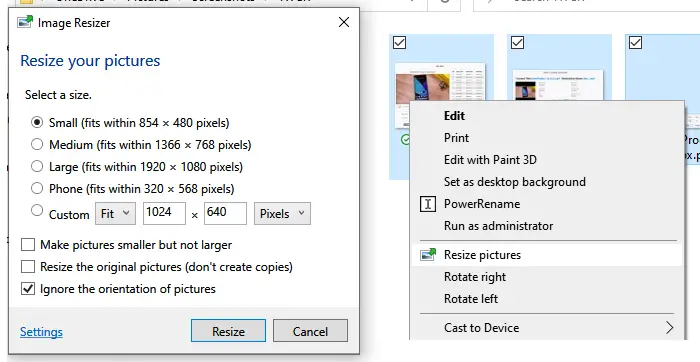 Right-click on one or multiple images, and choose to Resize Pictures from the context menu. Then you can select from predefined resizing options (small, medium, large, phone). If the requirement is different, you can choose the Custom option. To change the preset sizes, click on Settings, and you can change each of them. You can also create new dimensions, change the encoding, and file name settings.
Along with the Resize option, you also have the option to change orientation to left or right for all the images in one go.
To keep the quality, check the box, which makes sure pictures remain smaller, and don't get more substantial. Similarly, I chose to skip creating duplicate copies and ignore orientation.
2] Window Walker: Search & switch open windows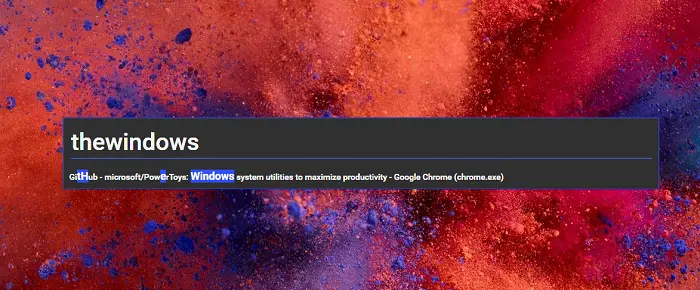 It lets you search, and then switch between windows that are open in the system. That includes browsers, explorers, and even apps. It looks like the search bar that is available in macOS but only for open windows so you can find them faster.
So instead of Alt+Tab, you can use Win+Ctrl to open the search box. PowerToys plans to merge this into the Launcher project in the future.
3] Markdown and SVG pane extension
If you need to deal with MD and SVG files a lot, then you can preview them in File Explorer using PowerToys. Once enabled, then you can click the View tab in the ribbon and then click "Preview Pane."
PowerToys is working on the auto-update feature as well, so you don't have to update from the next version manually. The next release will also include keyboard mapping, Win + R replacement, and improvement in fancy zones.
You can download the latest PowerToys version from Github.com.