There can be a problem with your printer if it displays a Printer validation failed error message while trying to get a print from it. There can be no best answer as to why this problem occurs but we can try a few workarounds and check if one of them works.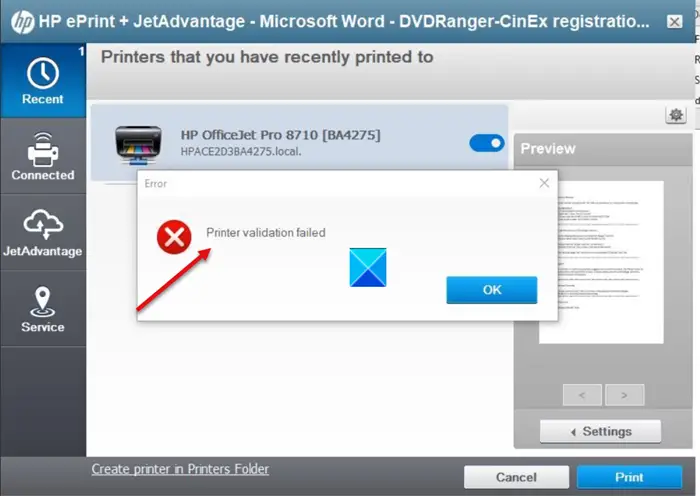 HP Printer validation failed
Normally, the printer setup works fine on other days but just when you need it the most, it fails to work. So, if there are any jobs in the queue that can't be delayed, you can be in a real problem. Try these workarounds and see if it solves the problem for you.
Run Printer Troubleshooter
Use HP Print and Scan Doctor for Windows
Remove and re-install the driver
Let us now cover the above methods in a bit of detail1
1] Run Printer Troubleshooter
Type Troubleshoot in Windows 10 Search bar and select Troubleshoot settings.
From the left panel, select Troubleshoot entry and then click the Additional Troubleshooters link on the right.
Scroll down to Printer and hit the Run the troubleshooter button to fix problems with printing.
Fix: HP Printer Failure error; There is a problem with the printer or ink system.
2] Use HP Print and Scan Doctor
HP Print and Scan Doctor for Windows is an automated tool that automatically diagnoses and resolves printing and scanning problems.
Once you download and install the program, run it to select your printer and hit the Fix Printing button to scan and fix the issue.
Fix: HP Printer error code 0xc4eb92c3.
3] Remove and re-install the Printer driver
Win+R keys in combination to open the run dialog box.
Type cmd hit Enter.
In the Command Prompt window that opens, type the following and press the Enter key:
printui.exe /s
In the Printer Properties box that opens, switch to the Drivers tab.
Look for the Printer driver. If you see it click on it, click Remove.
Hit the OK button when done.
Select Apply and OK on the Print Server Properties windows.
Then, go to the Printer manufacturer's website and search for the latest Windows 10 drivers.
Download and install the Printer driver.
Reboot the computer.
Hereafter, you should not see the HP Printer validation failed error message.
Related: Printer is in Error State.