There are many ways to back up data on your PC. SyncBack Free is one such free Windows software that performs better with low memory usage. In this guide, we show you how to use SyncBack free on Windows 11/10.
SyncBack Free is the free version of SyncBack backup application that is available for personal, educational, charity, government, and commercial use. It does not require any signup to use it. Everything that happens on SyncBack free is in your control. You can just use it to back up data to cloud or local device and relax. Let's see how to use SyncBack free.
SyncBack Free backup software for Windows PC
One thing you need to note is that SyncBack requires no signup. It only works with profiles. You can create different profiles for different aspects like backup, synchronize, or mirror.
To get started with SyncBack-
Click on New
Enter Profile name and click next
Select type of account
Choose locations of your files
Set the folders
Let's get into the details of the process.
To create a profile on SyncBack free, click on the New button. You will see a window of New Profile. Enter the Profile Name and click Next.
Then, you have to choose which type of profile you want to create from Backup, Synchronize, or Mirror. Select one from the three and click Next.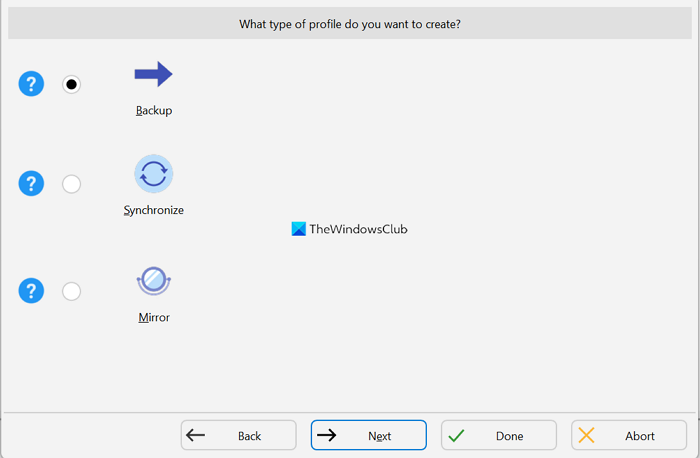 If you have chosen Backup, you will be asked to select Source and Destination folders. Either you have to select FTP or local folders from the drop-down menu. Select Internal/external drive, network, path, etc, if you are going for local backup. Then, click on Done.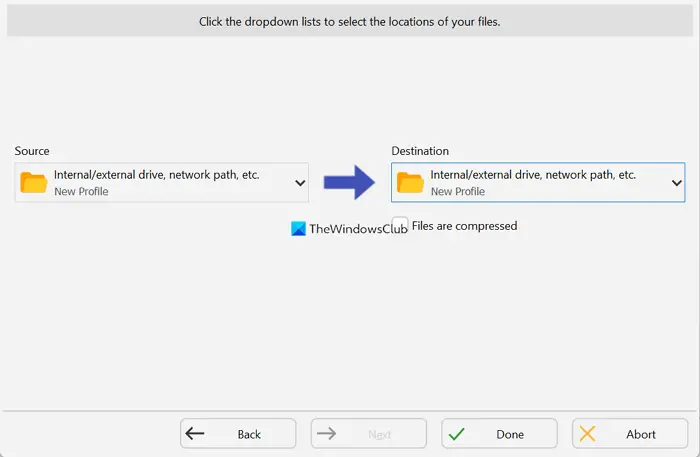 You have to select the exact source and destination folders. Select source and destination folders and click on OK to complete profile setup.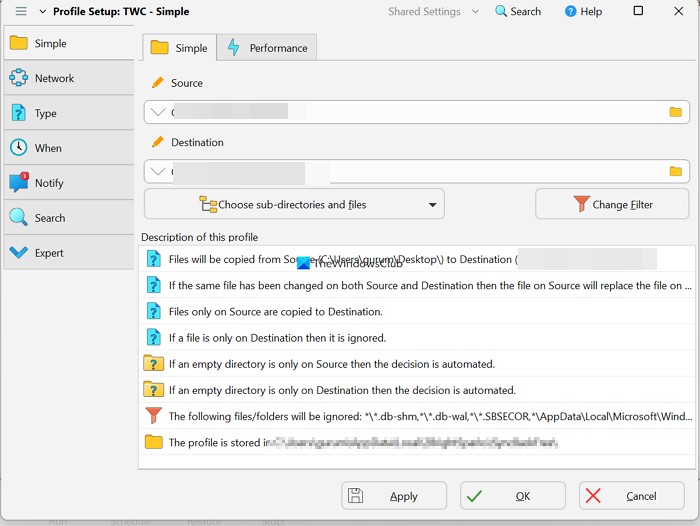 You can modify the folders anytime you want just by right-clicking on the Profile and by selecting Modify.
This is how you can create a profile on SyncBack free.
Read: Free Driver Backup and Restore software.
How to create a backup using SyncBack Free
It is a very easy process after creating a profile. Select the profile you want to run the backup and then click on Run at the bottom of the window.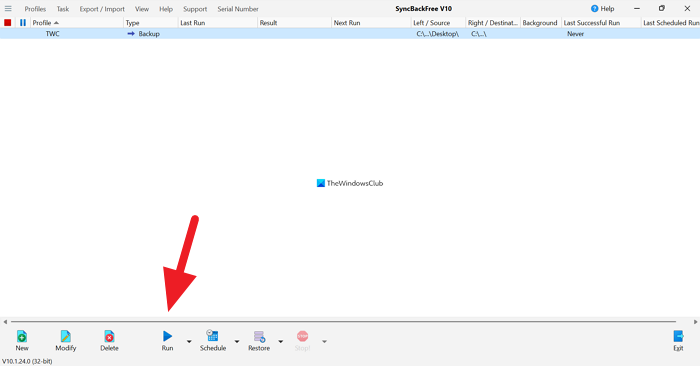 Then, you will see the list of files on the Source folder to be backed up to the destination folder. Verify them by clicking on the Continue Run button.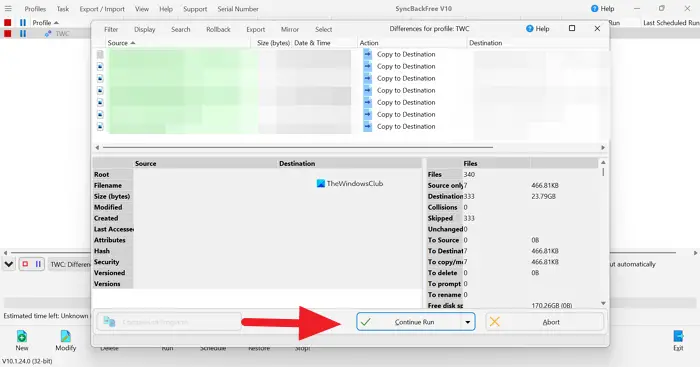 It will create a backup of files from the source folder in the destination folder.
Read: Free Imaging, Backup and Recovery Software.
How to schedule a Backup on SyncBack Free
Scheduling a backup on SyncBack free is an easy process. It can be done in the same way you run the backup. To schedule a backup on SyncBack free, instead of clicking on Run, you have to click on Schedule.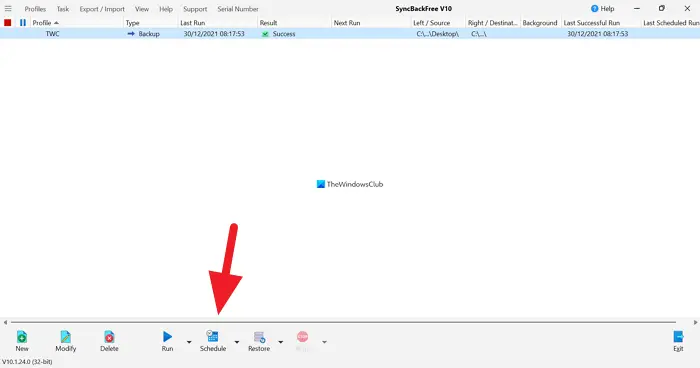 To continue scheduling, you have to give your administrator password to let it run in the scheduled time and create a backup. After entering the administrator password, you will have to choose a time interval to back up. SyncBack Free will run the backup at the scheduled intervals and protect your data.
This way, you can use SyncBack free on Windows 11/10. You can download SyncBack Free from the official website and install it on your PC.
Related: Free Email Backup software.
Does Windows 11 have backup software?
Yes, Windows 11 has built-in backup software. File History lets you back up your files to the selected hard drive partition or an external storage device. But File History is limited to creating backups only for Libraries, Desktop, Contacts, ad Favorites. On the other hand, the Windows Backup and Restore Tool lets you create a backup image file for your files or folders located on any hard drive partition.
Related: Free Backup software for VMware and Hyper-V virtual machines.
How do I transfer files from an external hard drive to Windows 11?
The simplest way to transfer files from an external hard drive to Windows 11 is to use the Copy and Paste command. The same can also be done by using the Cut and Paste command but this command will move the files from your hard drive to Windows 11 instead of copying them. If you have a large data on your external hard drive, it will take time to copy it to Windows 11. In such a case, you can use free fast file copy software.
Related read: Free Game Backup software for Windows PC.