Keeping a backup of VMware and Hyper-V virtual machines is as important as backup up Windows 11/10 from time to time. Many need to use virtual machines to test, develop software, and even use a different version of Windows to test. In this post, I will share a list of best free backup software for VMware and Hyper-V virtual machines.
Free Backup software for VMware & Hyper-V
Veeam Backup Free Edition
Nakivo Backup & Replication Free edition
Altaro VM backup free
Unitrends Backup Free version
Vembu BDR Suite Free Edition
Azure Backup
Bacula.
While we haven't compared VMware backup solutions one to one, it is easy to understand based on features.
1] Veeam Backup Free Edition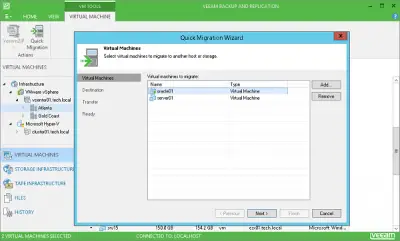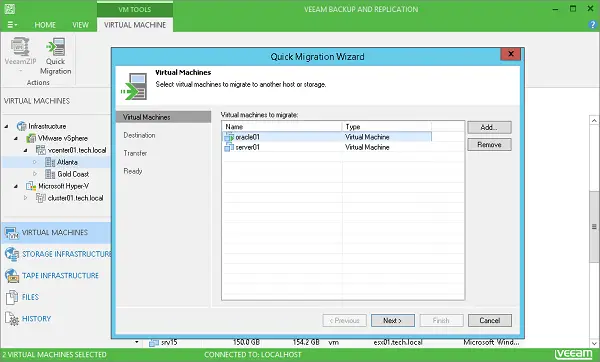 Veeam Backup Free Edtion is a powerful software which offers a fast, flexible and reliable operational experience for no price at all. Here is the list of features:
Enhanced native tape support
Ad-hoc backup of an active VM
Parallel processing and virtual tape libraries for consulting usage
End-to-encryption adds another level to the security
Export Hyper-V Virtual Machines
Quick VM Migration for VMware machines
It backs up all your configuration files as well. The backup is one single compressed file which you can easily export to another host.
You might want to check it out.
2] Nakivo Backup & Replication Free edition
Offers native backup and replication for VMware, Hyper-V, or AWS environments, i.e., work over browser.
All backups are incremental which improves performance, especially when it is over NAS
Does not include swap data, global deduplication, and variable backup compression.
Backup verification, recovery of VMs, files, Exchange objects, MS SQL objects, Active Directory objects; DR with VM replicas
The Free Edition of NAKIVO Backup & Replication is free, forever. The Free Edition includes a license for two VMs.
Download the free edition of Nakivo Backup from its download page.
Read: How to take a Snapshot in VMware Workstation Player
3] Altaro VM backup free
While Altaro offers professional VM Backup software, it also provides a free version which can backup or restore two VMs per host, forever. If you are a micro business, then it's a great solution.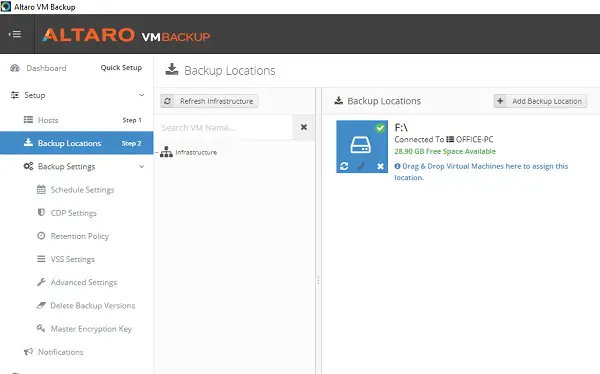 It also offers:
Manual mode for Backup Retention
Flexible Backup Scheduling
Hot/Live Backups
Fast & Small Backups – Compression.
The download also includes a 30-day trial of Altaro VM Backup – Unlimited Plus Edition. When the trial expires, you can choose to keep backup of two VMs forever.
Download it from its homepage.
4] Unitrends Backup Free edition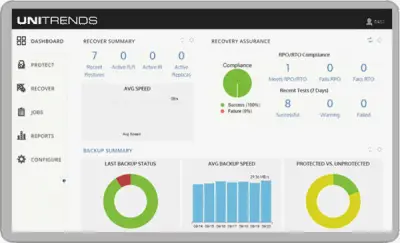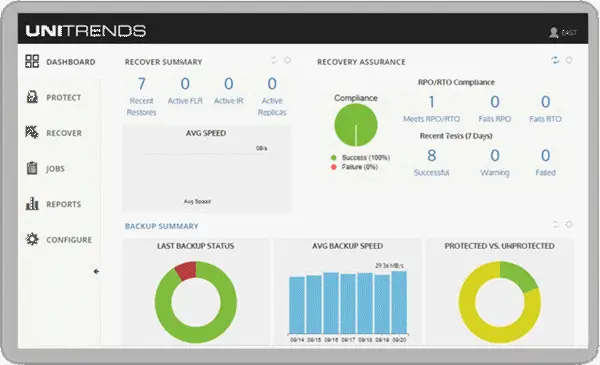 Unitrends Backup Free edition can not only it can back up on a local drive, but it can also back up in the cloud.  It offers all the advantages of their physical backup appliance solutions, but with the flexibility of a software-only deployment
Ability to protect the virtual environment as well as physical servers
Instant recovery of virtual machines & VMware guests
File-level recovery of files and folders.
Clone, copy, export, and manage VMs.
Rotational archiving to disk, tape, NAS and SAN. Ability to file data to tertiary storage for long-term retention
Automatic backup scheduling with flexible strategies.
Includes File-level, block-level, and appliance-level protection.
It can protect RDM's.
Unitrends Enterprise Backup supports Hyper-V,  VMware virtual appliance, Windows Server 2012. The Free Edition protection to up to 4 VMs.
5] Vembu BDR Suite Free Edition
Similar to the above tools, you first get a 30-day trial period with no restrictions. Once the trial is over, you can keep using the free edition. Here is the list of features in the free edition.
Backup virtual machines running on VMware and Hyper-V.

You can also physically backup machines with Windows, Linux, and Mac Operating Systems

Flexible backup configuration.
Multiple recovery options.
Vembu's filesystem, VembuHIVE brings in inbuilt compression, encryption, error correction, and version control
Continue running the backups even after the expiry of the trial period, without any license involved
Backup unlimited virtual and physical servers irrespective of testing or production environment
Download from Vembu download page.
6] Microsoft Azure Backup Server
Officially from Microsoft, MABS or Microsoft Azure Backup Server is a cloud-first backup solution. It offers data protection across wide-ranging and diverse IT environments of enterprises. While the application is free, your cost on Azure will be calculated so choose wisely.
7] Bacula
Bacula is another free Open Source VMware Backup Solution for your Windows computer.
Web-based backup clients are getting more common these days. While the software works fine but installing and using a web-based solution is rather easy.  Let us know which solution do you use.
Now read: Free backup software for Windows Server.