Windows Server is very popular in the marketplace and rightfully so. It is secure and based on the most popular consumer operating system in the world. However, when it comes down to backing up contents from the server, this is not a straightforward affair. Not everyone wants to use the WSB backup tool Microsoft has on offer, so with that in mind, we have decided to look into several free backup software for Windows Server that should work quite fine. These programs were free at the time of writing, so if changes were made, please let us know in the comment section.
Best free backup software for Windows Server
The information below will help you pick the best free backup software designed for backing up your Windows Server data:
Windows Server Backup
Bacula Enterprise Backup Software
AOMEI Backupper
Hasleo Backup Suite
Enterprise-grade Backup PC
Iperius Backup.
1] Windows Server Backup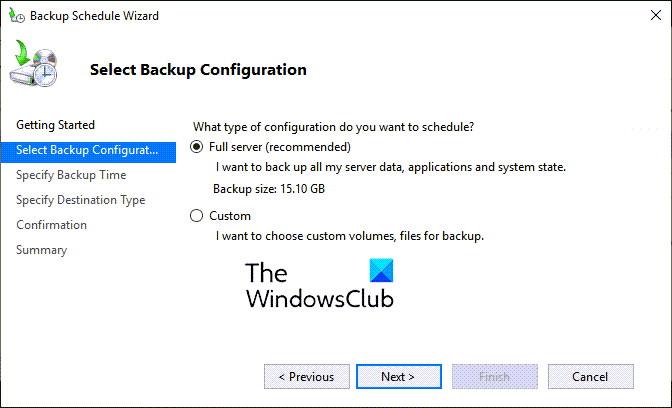 You always have the default backup tool from Microsoft known as Windows Server Backup (WSB). This comes as a built-in tool, but it is not automatically configured, therefore, you will have to do it the first time opening.
With this tool, then, folks can back up their entire drive on a server with ease. Furthermore, the backup can be created on a local drive or a network drive. Also, when restoring data, you have the choice to only restore Exchange data. This data, according to Microsoft, can be restored to either its original or an alternate location.
2] Bacula Enterprise Backup Software
One of the best free backup software out there for Windows Server is a tool called Bacula. From what we have gathered, Bacula has a lot of users, but not only that, it is open-source, though that doesn't mean it will stay free forever.
Now, when it comes down to databases, the following are supported by Bacula:
MSSQL
Oracle
MySQL
Exchange
PostgreSQL
SAP, and many more.
What about virtual servers? Yes, the Bacula tool does support these, and they are as follows:
Hyper-V
VMware
Red Hat
Xen Server
KVM
Proxmox
Bacula also supports cloud storage providers deduplication technology, and a lot more. You should feel right at home with this tool, but know this, some users have stated the program is not the easiest to use on Windows, but much better on Linux.
Download Bacula from SourceForge.
Related: Best free Backup software for VMware and Hyper-V virtual machines.
3] AOMEI Backupper
Another option to look at here is the standard version of AOMEI Backupper that is available free of charge. You can use it to backup an entire hard drive if you wish to do so, but not only that, but the option is there to clone the operating system for use on another hard drive.
Folks who want to backup to a Network Attached Storage (NAS) can do this well. So, as you can tell, AOMEI Backupper free version is a competent tool, but it isn't perfect. If you want more features, then you'll have to pay.
4] Hasleo Backup Suite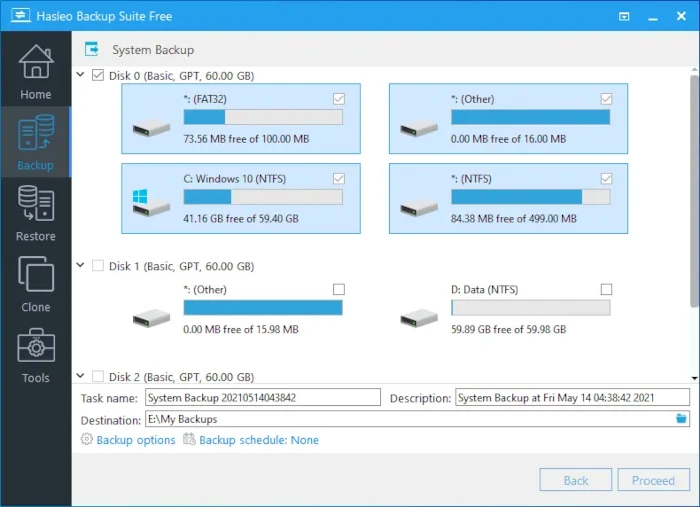 This program is compatible with all versions of Windows Server. Now, the program is not overly large, and that's a good thing for those who do not have a lot of space on their hard drive or SSD.
In terms of features, well, you can back up an entire drive, and the same goes for cloning as well. Additionally, if you want to encrypt your backup, then go ahead and get it done with little to no fuss at all.
Want to split backups into chunks instead of an entire file, then so be it, the option is there for that. Not to mention, we find the Hasleo Backup Suite to be simple to use, more so than the ones above.
Download Hasleo Backup Suite via EasyUEFI.
Read: How to Backup Network Drive to Local Drive in Windows.
5] Enterprise-grade Backup PC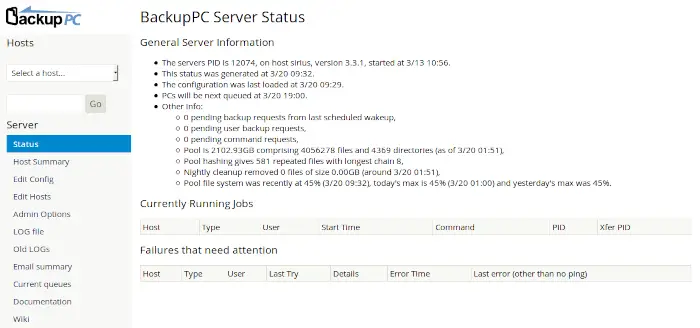 Have you ever heard of Backup PC? Probably not, but it is quite useful and definitely a tool you should check out.
So, what are some of the features you should look forward to? Well, Backup PC has a web interface that allows administrators to easily view log files, current status, configuration, and more. Not only that, but it has a data deduplication feature that stores identical files once if they are found across multiple computers.
Users who want file compression are in the right place. The company claims there is only a modest impact on CPU process when compression is in use, but we cannot officially say if this is true or not. Furthermore, the tool is open source and currently hosted on Github.
Bear in mind that Backup PC is also available for Linux computers as well. Download this tool from Github.
6] Iperius Backup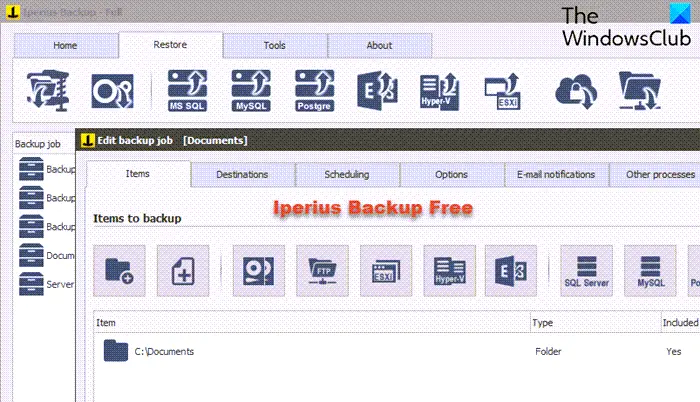 Iperius Backup is a free backup software for Windows PC and Windows Server. The freeware version allows you to back up to any mass storage device, such as external USB hard drives, RDX drives, NAS and networked computers.
If you are looking for more options, read our post about the best free backup software for Windows PC.
Does Windows Server have backup software?
Yes, and it is called Windows Server Backup. It's a powerful tool, and since it comes as the default, most users have little reasons to download a third-party backup program.
TIP: If you are looking for cloud options, you might want to check out these Free Online Backup Services.
What is a full Server backup?
OK, so when it comes down to what this is, it's basically a complete backup of all data on a hard drive for future use. A full backup means if the server fails, then the owner will have a full backup for restoration as soon as possible.
Related link: Best professional Backup and Data recovery software for Windows.