If you have some sensitive data then you must make a copy or a backup of it and save it to some other place but what if the data keeps on changing frequently, then the backups should also change automatically. Iperius Backup is yet another free backup software that can do it for you. It lets you automate the process of data backup and is available in both free and premium versions. In this post we will discuss about the freeware version only.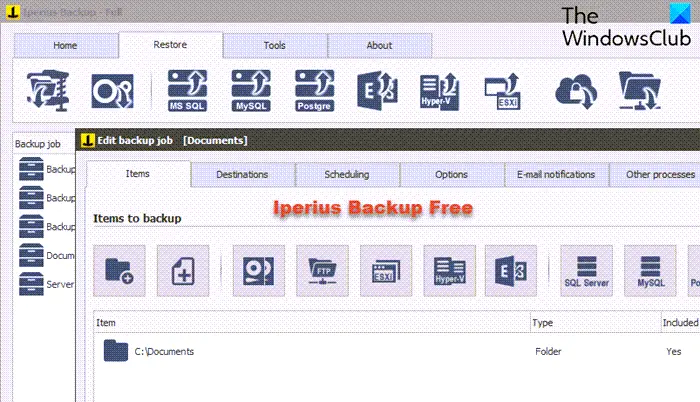 Iperius Backup for Windows 11/10
To get started you need to create a new backup job, in this backup job you could see the following steps:
1. Items to Backup: In this step, you need to add the files or folders that should be preserved and backups should be performed frequently. This is the very basic and the first step of the Backup Job.
2. Destinations: In this step, you need to choose the destination where the backups are to be saved. Here you can even choose the backup type, whether it is a full backup, incremental backup or a combination of both. You can even enable Zip compression to reduce the size of backup files.
3. Options: This step includes configuring various options, you can choose whether you want to include hidden and system files or not.  You can even choose to shut down the computer after backup completion. You can even enable log files and you can even choose the ZIP compression level.
4. Schedule: You can enable scheduled backups so that the backups are performed automatically. You can choose to run the backup after every one month, week, day or you can add a custom time frame. Schedules make it easy to backup dynamic data.
5. Email Notifications: This feature allows you to get notified by email on completion of the backups. You can choose to get notified every time or only in a particular situation.
6. Other Processes: In this step, you add a list of processes that should be run before the backup or after the backup. You can add wait timings for both After Backup and Before Backup processes. After Backup Processes can be enabled to run always or in a particular case only.
You can restore previously created backups by simply opening the restore tab. You can restore from a ZIP file, or an FTP folder. Iperius Backup also supports the import and export of Backup Jobs.  You can edit more settings by opening the options dialog from the toolbar.
Iperius Backup is a good backup utility with amazing features. The freeware version allows you to back up to any mass storage device, such as external USB hard drives, RDX drives, NAS and networked computers. The UI is nice and easy to operate, everything is properly aligned and the tabbed interface also helps a user to find the features and options easily.
Click here to download Iperius Backup free. It is compatible with Windows 11/10 and Windows Server as well. The free version has some limitations though.
Also read: Iperius Backup & Virtual Machines: Backup Software for Hyper-V, VMware ESXi, vCenter.