Microsoft OneDrive is one of the best cloud storage platforms available right now for Windows, Android, and iOS devices. Despite OneDrive being a cloud storage solution, there are other things you can do with it, especially on the Android operating system. We are going to discuss some of these things you can do using the OneDrive app for Android because there is a high chance you may have no idea they even exist in the first place.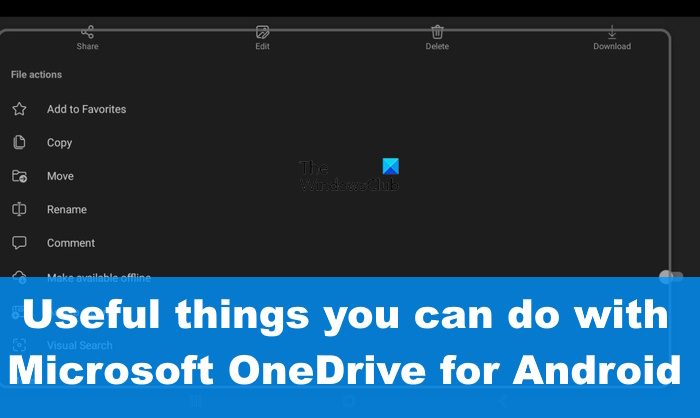 How to use OneDrive app for Android
If you've downloaded the OneDrive app for your Android smartphone, then we urge you to make sure you're getting the most out of it by using the following features:
Upload files from your device
Securely share your files
Hide private files and folders
Edit your photos
Gain access to all synchronized Microsoft Office documents
Scan your documents
Useful things you can do with Microsoft OneDrive for Android
1] Upload files from your device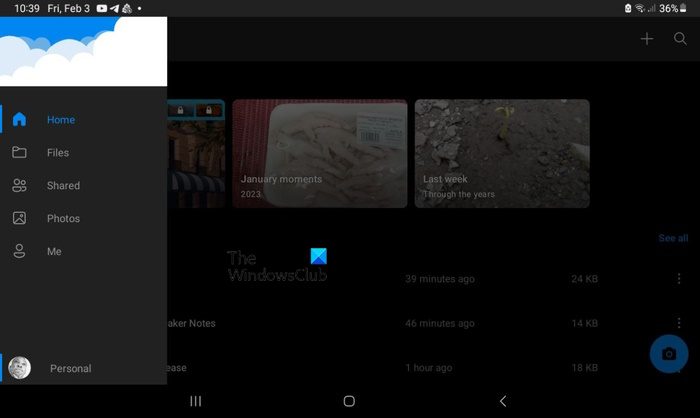 The first thing you should learn how to do is to upload files located on your smart Android device to your cloud storage account. The free plan comes with 5GB of storage, but if you get yourself a Microsoft 365 subscription, you can significantly add to that number.
In order to upload files, please open the OneDrive app.
Tap the Files option, then choose the + icon.
Go to Upload, then select the preferred files you want to upload.
Once added, simply wait for the files to be uploaded, and that's it.
2] Securely share your files
Microsoft has made it possible for a long time now for users to share files stored on OneDrive with others.
To do this, locate the OneDrive folder with the file you want to share.
Tap the three-dotted button, then choose Share.
Select the Can View option, then share or copy the link.
Choose Can Edit if you want the recipient to edit the shared files.
3] Hide private files and folders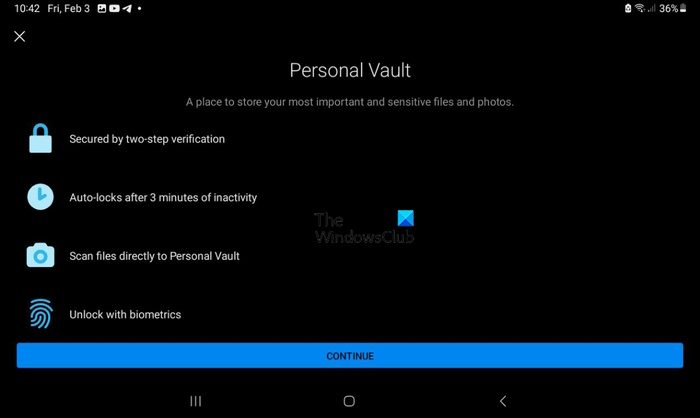 For those who might be unaware, your OneDrive account comes with a Personal Vault. This is where users can encrypt their files that are too sensitive to be stored as normal.
You can make use of this feature by opening the OneDrive app.
Tap the Personal Vault option.
When asked to verify your identity, please do so using the credentials of your Microsoft account.
Choose a six-digit PIN, then confirm your selection.
Once done, you can move important files to the Personal Vault for safer keeping.
4] Edit your photos
When a photo is uploaded to OneDrive, the user has the option to edit it by using the inbuilt tool. The tool is only capable of basic edits so do not expect anything impressive at this time.
To use this feature, then, you will have to launch the OneDrive app and go to Photos.
From there, tap the Device option.
Select the image you want to perform basic edits on.
Tap the Edit button and select where you want to make changes.
You can use options such as Adjustment, Crop, Filter, and Markup tools.
5] Gain access to all synchronized Microsoft Office documents
All documents you've worked on in the past that have been uploaded to the cloud can be accessed directly from your Android device. To locate these files, you must navigate to the Document folder or wherever else you might have manually chosen for the files to go.
Microsoft ensures that all files are listed in alphabetical order, which means, documents should be easy to find when called upon.
6] Scan your documents
If you check the Google Play Store, it will become apparent that there are a wide variety of document-scanning apps for Android, but you may not require their services if OneDrive is already installed on your device.
That is because OneDrive comes packed with its own document-scanning feature. You'll find that there are three scanning modes in the form of Whiteboard, Document, and Business card. Select the scanning mode that is best for your needs and right away OneDrive will automatically detect the edges of each scanned document and highlight them by the means of a blue line.
Finally, hit the camera button to complete the scan. From there, you can share the files with whomever you want, or simply store them in the cloud for future usage.
READ: OneDrive Camera Upload not working on Android
What does OneDrive do on my Android phone?
The OneDrive app for Android is capable of automatically uploading photos and videos to your cloud storage account. The app also makes it possible for users to open their important files in Word, Excel, and PowerPoint for the purpose of viewing or editing.
READ: Best Microsoft Office Tips and Tricks for Android
What happens if I don't use OneDrive?
There is nothing to worry about here since you won't lose files or any other data. The same goes if you choose to uninstall the OneDrive app from your Android device.