If the Camera Upload is not working on the Android version of OneDrive, you can follow these tips to get rid of the issue. You need to check a few settings and options OneDrive provides to Android users.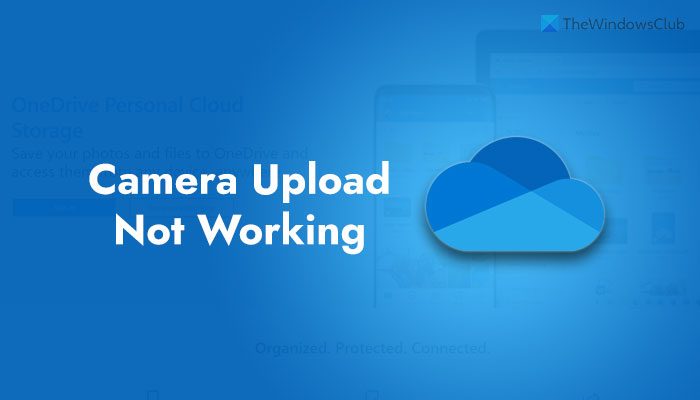 The OneDrive app for Android has an option called Camera Upload. It lets you automatically upload your images from your mobile to the OneDrive storage. However, you must comply with some filters and settings to get it started. If one of them is not working or you have set an incorrect setting, the automatic upload won't work. In this article, we are about to mention such settings so that you can verify them to fix the issue.
OneDrive Camera Upload not working on Android
If the automatic OneDrive Camera Upload is not working, and the Camera Roll is not syncing on Android, then here are things you need to take a look at:
Available storage
Network selection
Selected folders
Upload when charging
Include or exclude videos
Reset OneDrive app.
Turn on Camera Upload on OneDrive for Android
1] Available Storage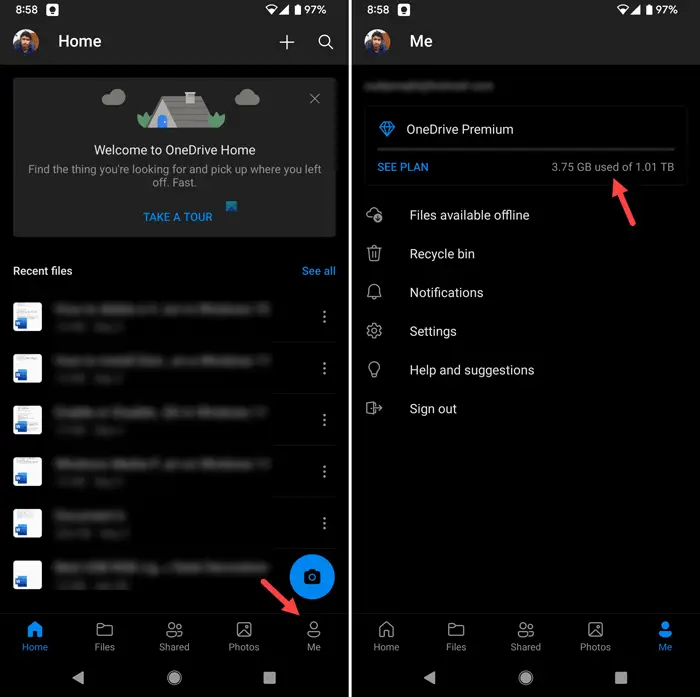 It is the first thing you need to check before heading to other solutions mentioned on this list. If you do not have any free space left, none of the images will be uploaded to your OneDrive storage. Therefore, it is mandatory to check if you have sufficient storage left on your cloud account. For that, you can open the OneDrive app on your mobile and tap on the Me button visible in the bottom right corner.
Here you can find your subscription status and available storage information. If you do not have any free space left, you need to upgrade your subscription or delete some existing files to make the space for new images or videos.
2] Network selection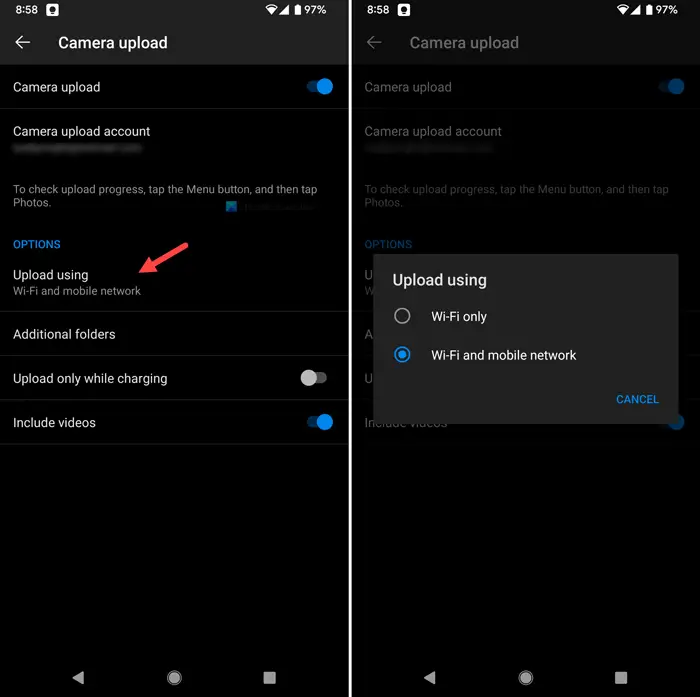 As image upload may consume a lot of bandwidth, OneDrive uses a Wi-Fi connection to upload them by default. In other words, if you are on the cellular network, the automatic image upload policy won't work here. Now, you have two options in your hands. One – you can connect your phone to a Wi-Fi network. Two – you can change the network settings in OneDrive. For that, do the following:
Open the OneDrive app on your mobile.
Tap on the Me option.
Select the Settings option.
Go to the Camera upload.
Tap the Upload using option.
Choose Wi-Fi and mobile network.
After that, your phone will upload images and videos via Wi-Fi as well as a mobile network.
3] Selected folders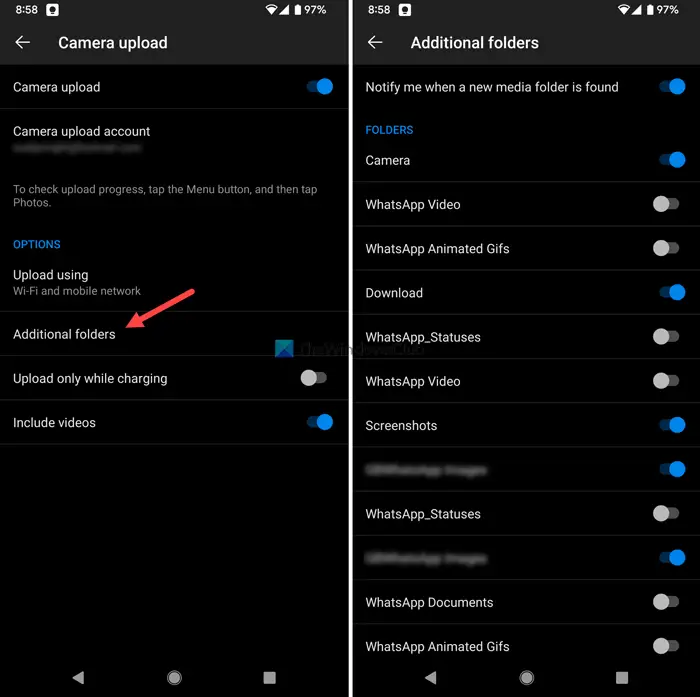 It is another setting you need to check. If your images are not on the predefined folder that OneDrive uses to fetch contents, you cannot find your new media file on the OneDrive storage. For that, open the Camera upload settings and tap on the Additional folders option.
Then, toggle the desired folder as per the requirements.
4] Upload when charging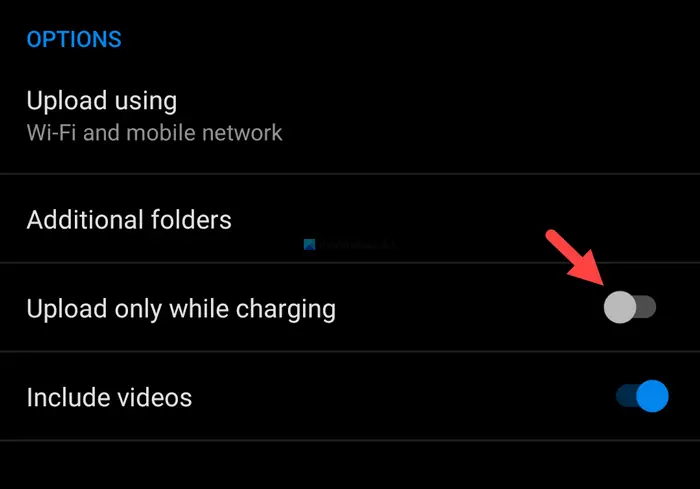 When you upload files in bulk to any cloud storage, it consumes some battery power as well. Therefore, OneDrive has an option called Upload only when charging. In other words, if you activate this setting, it will upload your contents only when your phone is connected to a power source. Therefore, you need to disable this setting in order to continue the uploading process irrespective of the charging condition.
5] Include or exclude videos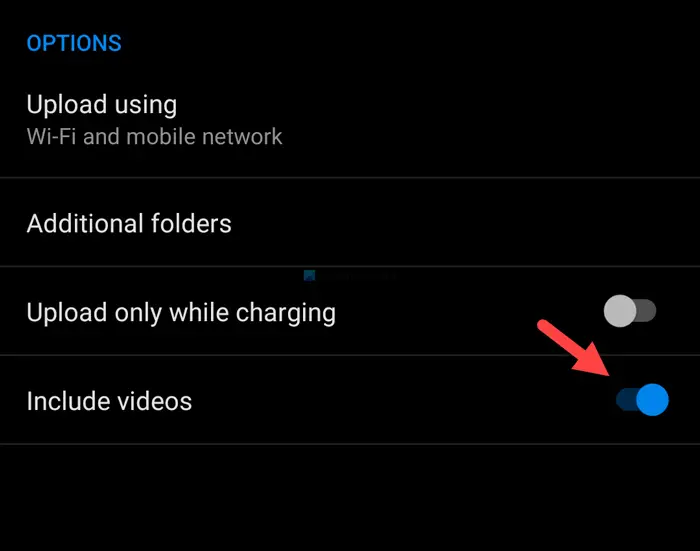 By default, OneDrive doesn't upload videos because they consume a lot of storage and bandwidth. Although it is possible to upload videos, the default setting doesn't allow you to do so. Therefore, you need to turn on this setting to include or exclude videos. For that, you need to open the Camera upload setting and toggle the Include videos button to turn it on.
6] Reset OneDrive app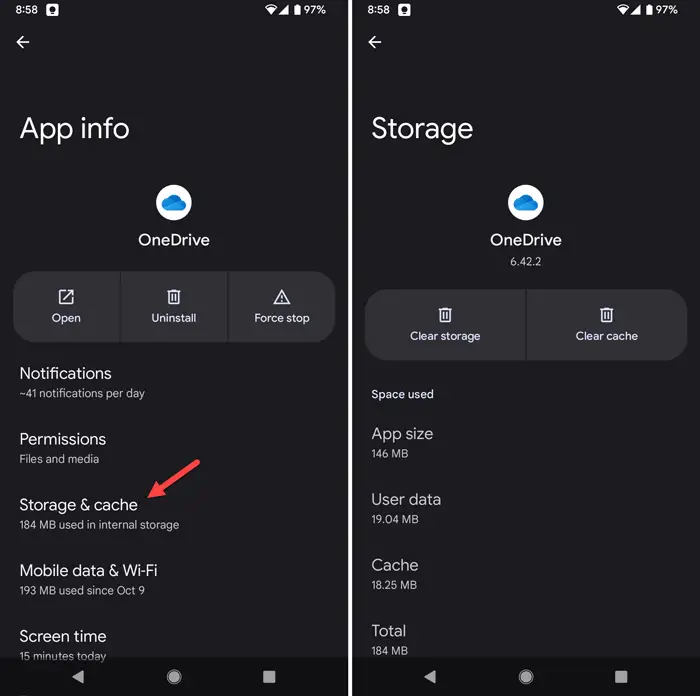 It is the last thing you need to do to fix the issue. If nothing else is working, you need to reset the OneDrive app on your mobile. For that, tap and hold the OneDrive app icon and select the App info option.
Then, tap on the Force stop button to terminate all the processes.
Following that, go to the Storage & cache section. Tap on the Clear storage and Clear cache button one after one.
After that, re-open the OneDrive app and sign in to your Microsoft account.
How do I enable Camera upload on Android?
To enable camera upload on Android, you need to open the OneDrive app and tap on the Me option visible in the bottom-right corner. Then, tap the Camera upload option and toggle the Camera upload button to enable it. Following that, you need to choose various settings and set things up as per your requirements. For your information, you can follow the same method of iOS as well.
Why is my Camera upload paused on OneDrive?
There could be several reasons why camera upload is paused on OneDrive on your Android mobile. For example, it can happen due to the network selection (Wi-Fi or mobile network), folder selection, charging condition, etc. You need to check the internet connection and account subscription (if any) in order to get it fixed.
That's all! Hope this tutorial helped you fix the issue.
Read: How to stop OneDrive from automatically saving Photos from Phone.