In this article, you will learn how to update driver or firmware on Xbox gamepad on Windows 11/10 PC, including a simple way to update an Xbox One Controller wirelessly. Microsoft does not update its Xbox controllers as frequently as they do for Windows and Xbox software. However, it is sometimes necessary to update the firmware to address bugs or improve connectivity on the existing hardware. A firmware update could make the console work better with the controller.
Updating gamepad firmware is a relatively straightforward procedure. You will be notified when there are new updates available on the console. When they don't notify you, you can install the updates manually. For this, simply navigate to Settings > Device & Streaming > Accessories and install them. So, let's figure out how to update firmware on the Xbox gamepad on Windows 11/10.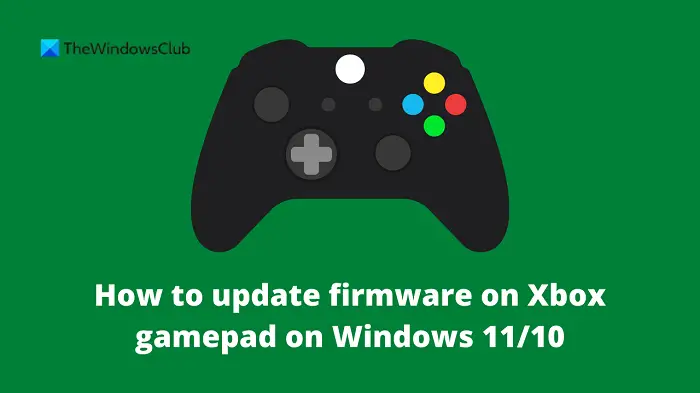 How to update firmware on Xbox gamepad on Windows 11/10
If you want to update the driver or firmware for your Xbox gamepad, go through the steps below. But before you start, you will need to download the Xbox Accessories app from the Store app. After you download the file, proceed with the following steps.
Open the Store app first and then download the Xbox Accessories App.
You will then need to connect the gamepad via USB and turn it on. Firmware updates cannot be performed wirelessly.
Locate your gamepad in the list, and click the horizontal three dots (…).
On the next page, click on the button stating No update available.
You will then see the "Continue" button, click on it.
You need to wait until Windows updates the firmware.
After you update the firmware, connect the controller to your computer.
In the case where there's no update option, then the controller is updated with the latest version, which is fine.
Here's something you should be aware of:
During the update process, make sure not to touch the controller, as this could result in an accidental disconnect.
Furthermore, if your gamepad has additional accessories attached, do not remove them and leave them connected.
How to Update an Xbox One Controller wirelessly
On Windows 11/10, Xbox One controllers can be used for PC games, and the Xbox One controller can also be updated using a computer. The following steps will assist you in updating an Xbox One controller wirelessly:
Start your Xbox One and sign in to your Xbox Network account.
On your controller, press the Xbox button to view the guide.
Open the System menu, then select Settings.
Click Kinect & devices from the Settings panel, then choose Devices & accessories.
For further options, select three dots (…) at the bottom of the page.
You will see the Firmware version next to the version number in a box, click on it. The controller is already up-to-date when there is no update available in this box.
On the next screen, click on the Update now button.
The update process may take some time, so wait for it to complete.
Click the Close button once it has been updated.
This way you can update your Xbox One Controller Wirelessly.
Read:
What is an Xbox gamepad?
Xbox gamepads are game controllers for Microsoft's Xbox game console. They can also be used on Windows-based PCs for playing games that don't require any other input device. There are several different versions of this controller, but all of them have the same basic functionality and design.
Gamepads are designed specifically to fit the ergonomic needs of gamers, providing maximum comfort with minimum fatigue. The modern gamepad has evolved from early forms, which essentially just controlled pads that featured a few dozen buttons or less. There are many different types of gamepads available on the market today including Sony PS4, Xbox One Controller, Nintendo Switch Pro Controller, and so on.