If Firefox opens automatically when your Windows computer turns on then this post shows how to stop Firefox from opening on startup, it usually happens in a couple of scenarios. It's possible that there was an abrupt shutdown of the computer or you may have set it to open it automatically as soon as you log in with your account.
Stop Firefox from opening on startup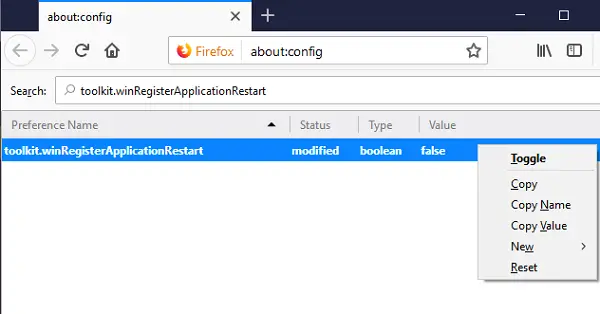 Before we go ahead and disable some features, you should know that sometimes it's helpful. This kind of restart also reopens the previously opened tabs which you were working on earlier. Before you begin, do check if Windows 10 is set to open programs after a restart.
1] Disable Firefox Application Restart
Open Firefox, and type about:config in the address bar of the new tab. Hit Enter.
You will receive a notice which says "This might void your warranty!" warning page may appear.
Click 
to continue to the about:config page.
In the search bar, type 

toolkit.winRegisterApplicationRestart

 and double-click on it to set its value to false.
The changes apply immediately.
There is no need to restart Firefox. It will make sure to prevent Firefox from starting automatically.
2] Remove Firefox from Windows Startup
Many a time we set programs to launch as soon as we login to Windows automatically. While it does increase the startup time, but its useful for many. However, if you did not do it, here is how you can remove Firefox from Windows Startup.
Right-click on the taskbar, and click on the Task Manager.
Switch to Start-up, and find Firefox.
Right-click on it and select disable.
You may also use a Startup Manager app to stop apps from opening at startup.
3] Remove Firefox from Startup via Group Policy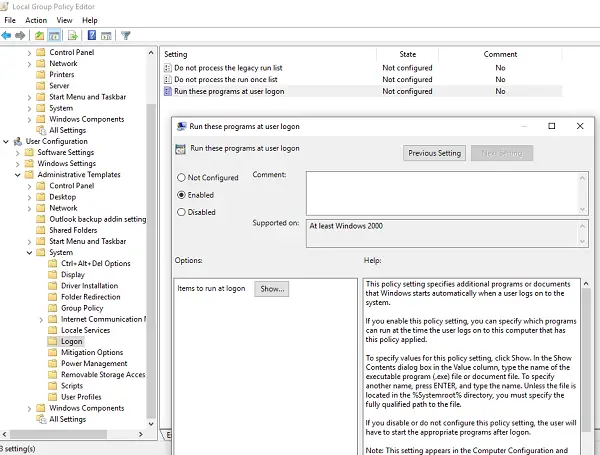 Type gpedit.msc in the run prompt, and hit enter.
It will open the Group Policy Editor.
Navigate to User Configuration > Adminstrative Templates > System > Logon.
Check if Firefox is part of the list of programs which can start with Windows Logon.
If yes, remove it.
Save and Exit.
It's relatively easy to remove programs from Windows Startup, but make sure you understand that you might lose tabs with which you were working.