Most of us are aware of the procedure to manage startup items via MSCONFIG or Task Manager. Now if you are using Windows 11 or Windows 10, then these versions offer you an additional way to manage startup programs or apps via Settings as well.
Stop apps from opening at startup in Windows 11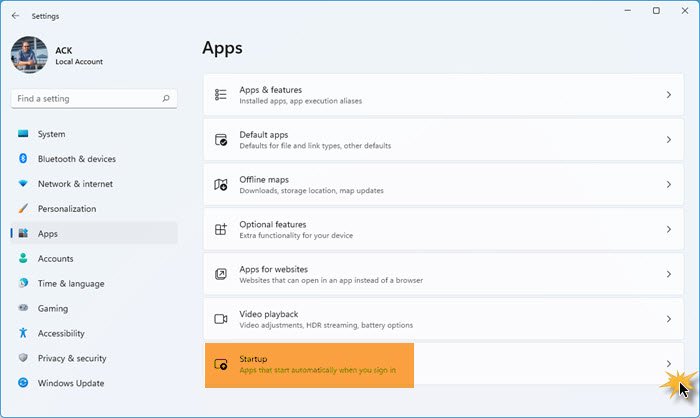 To disable or stop programs and apps at startup in Windows 11, do the following:
Launch Windows 11 Settings
Select Apps settings
Click open Startup
You will see the list of all your apps populated
Toggle the switch to Off to disable the app from starting up at every boot.
That's it.
TIP: Get notified when a program adds itself to the Startup list in Windows 11
Disable apps from opening at startup in Windows 10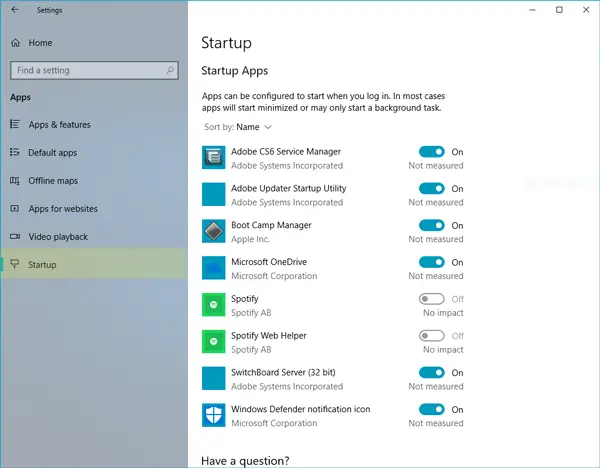 Some installed software and apps start automatically when you log in, and that is because they add items to the startup list. This can slow down your computer, and so it is always a good idea to disable the ones you do not need. In this post, we will see how you can manage the startup apps via the Settings panel.
From the WinX Menu, open Windows Settings and head over to Apps > Startup.
On your right-hand side, you will find some apps which start automatically when you log in to your system. Every app comes with a toggle button that you can use to enable or disable its startup status.
You can also find the impact of these apps on system startup. For example, you can see High, Medium, Low, No impact under the toggle button. If your system has not measured the impact, it will display Not measured.
It is to be noted that this is an additional way to control the startup programs – and you can still manage the startup programs using the Task Manager, WMIC, MSCONFIG, GPEDIT or Task Scheduler in Windows 11/10.