If you want to set up and use Surface Dial, here is how you can do that. It lets you control Windows 11 and Windows 10 without any lag or hang. Here is everything you need to know about Surface Dial and how it works.
If you're not familiar with Surface Dial – it's a tool for the creative process that can be used to control Windows 11/10. It can be used to navigate menus, control volume, and other similar tasks. In this post, we will show you how to set up and use the device.
To use Surface Dial, your PC needs to have Bluetooth 4.0 LE. Surface Dial works on-screen with Surface Studio (1st Gen), Surface Studio 2, Surface Book 2, Surface Pro 4, Surface Pro (5th Gen), and Surface Pro 6. If you're using another type of PC, use Surface Dial on a desk or other flat surface.
How to set up and use Surface Dial
Do the following to set up Surface Dial-
On your PC, select the Start button, then select Settings > Devices > Bluetooth & other devices.
Turn on Bluetooth.
Pull the bottom off your Surface Dial to open the battery compartment. Make sure there are two AAA batteries inside.
Remove the battery tab from the underside of your Surface Dial.
Press and hold the button by the batteries for 5-7 seconds, then let the button go. The Bluetooth light will flash – it's opposite the button on the other side of the batteries.
Go back to the Bluetooth settings page on your PC, then select Bluetooth or other device > Bluetooth.
Choose Surface Dial from the list of devices. Follow additional instructions if they appear, then select Done.
Remove the protective film from your Surface Dial.
You have now successfully set up Surface Dial and it's ready for use!
How to use Surface Dial
Surface Dial helps you create in a way that's natural and ergonomic, and, when you use Surface Pen with it, Surface Dial keeps you in the creative flow.
1) You can use it in the Windows Ink Workspace.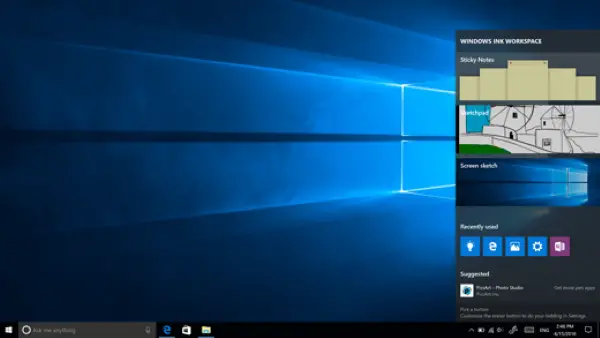 Do the following:
Select the pen icon, and then open Sketchpad. Or, just click the top of Surface Pen.
Open Sketchpad, and the Pens tool is automatically selected.
Rotate your Surface Dial to switch between pen, pencil, highlighter, and eraser.
Press and hold your Surface Dial to see other tools in the wheel menu.
Turn the dial left or right to highlight the tool you want to use.
To select it, press down and release, and then start drawing.
2) You can also use Surface Dial with apps.
Surface Dial works with apps that come with Windows 10, like Paint 3D, Groove Music, Microsoft Edge, and Maps. It also works with professional-grade software, like Adobe Photoshop and Adobe Illustrator.
Here are just a few things of the things you can do with Surface Dial:
Volume: Rotate left to turn it down or right to turn it up. Click to mute and unmute.
Scroll: Rotate left to scroll up, or right to scroll down.
Zoom: In Adobe Photoshop and Adobe Illustrator, rotate left to zoom out, or right to zoom in. Click to fit to screen.
Undo: Rotate left to step through the undo history, or right to step through the redo history. Click to perform a single undo.
Brightness: Rotate left to make the display less bright, or right to make it brighter.
To customize your Surface Dial functions, go to your Surface Book and open Start, then select Settings > Devices > Wheel.
Some other recommended apps that work great with Surface Dial and available on Microsoft Store are:
Drawboard PDF.
Sketchable.
StaffPad.
How do I set up Surface Dial in Photoshop?
To set up Surface Dial in Photoshop, you need to connect it first and open the Photoshop application. Then, you can use the brush icon and hit the dial button. Next, you can choose size, opacity and make other adjustments as per your requirements. For your information, it mainly works with Brush in Photoshop.
Can you use the Surface Dial on any computer?
Yes, you can use Surface Dial on any computer to control most of the essential things. However, you must have at least Windows 10 Fall Creators Update or a later version. In simple terms, if you use Windows 11, you can certainly use it after connecting it via Bluetooth.
I hope you find this Surface Dial guide helpful!