Surface Dial is a simple yet very elegant tool to navigate, access, customize and reimagine physical tools in the digital world. The accessory may not appeal to non-creatives much; it intrigues anyone who sees it.  Its primary function is to act as an aide for drawing or creative shortcuts and is compatible with any Windows PC running the Anniversary Update.
When placed on the Studio's screen, it produces a radial menu that acts as another form of input and lets a user call up pen, brush or measuring tools without lifting and moving the pen off the display. It's observed that Surface Dial is far more useful when an app is optimized for it.
Generally speaking, Office apps optimized for Surface Studio and Surface Dial. Specifically speaking the following apps work well with Surface Dial:
Adobe Photoshop
Adobe Illustrator
Bluebeam Revu
Drawboard PDF
Microsoft Excel (Office Win32 version)
Groove Music
Mental Canvas Player
Microsoft Photos
MohoTM 12
OneNote (Universal Windows App version)
Paint
PewPew Shooter
Plumbago
Microsoft PowerPoint (Office Win32 version)
Sketchable
Sketchpad
Spotify
StaffPad
All Windows apps
Windows Maps
Microsoft Word (Office Win32 version)
Let's cover some of the optimized apps here.
Apps optimized for Surface Dial
Drawboard PDF
It is a Modern UI PDF annotation tool for Windows. This app is mainly designed for architecture, engineering and construction professionals. When you place Surface Dial on the Surface screen, a radial menu of Drawboard PDF tools magically appears on your digital canvas. After that, you can use your Surface Dial to draw perfectly ruled lines, use a calibrated protractor to accurately measure angles, complete line, and area measurements to suit your writing position.
For professionals, often working with large-format files, the Surface Studio transforms itself seamlessly between monitor and drawing table via Drawboard PDF.
Mental Canvas
This App enables drawing in a new dimension. It lets your Surface Pen and Surface Dial interact simultaneously. This aids your drawing process as you can adjust all the controls via simple rotation. What makes it special is that you can move around the drawing space in 3D, choosing the angle of your layer before you start drawing. Moreover, instead of the sketch being fixed, all paintings and sketches you make exist in a 3D world that you could move through.
Placing the Dial near where you're drawing lets the app control stroke width, etc. whereas moving it to the other end of the screen trigger action like 'undo' or different positions in 3D space. So, immerse yourself in hand-drawn three-dimensional content that brings artists' sketches to life with Mental Canvas.
Staffpad
With the Surface Dial support for Staffpad, composing music has become a lot easier. You can use the Surface Dial as a tool for Staffpad to manipulate the notes on your music on StaffPad or use it to Undo/Redo a change you made. In addition to the above, there's a neat feature which lets you copy paste certain parts of your music using the Surface Dial.
Please note that this app requires a Windows 10 device with an active digitizer. Most of the tablet devices these days are equipped with active digitizer technology, however, please check with the manufacturer that your device supports true active pen input before purchasing StaffPad. A passive stylus or capacitive touch-only device is not compatible with StaffPad.
Bluebeam Revu
This app allows PDF creation, editing, markup, and collaboration technology to Windows desktop and tablet users. To use Bluebeam Revu, place Surface Dial on screen and use its location to split screen and zoom to magnify a portion of your PDF for enhanced detail and navigation.
Moho
Moho is an app used for creating complex animations. Its integration with Surface Dial makes it easier for users to make tedious work of traditional animation into a faster, more streamlined digital experience.
Moho features enabled for Surface Studio and Surface Dial includes:
Rigged Characters:
New Overlay Timeline:
Frame-by-Frame Animation
Rotating Canvas
Sketchable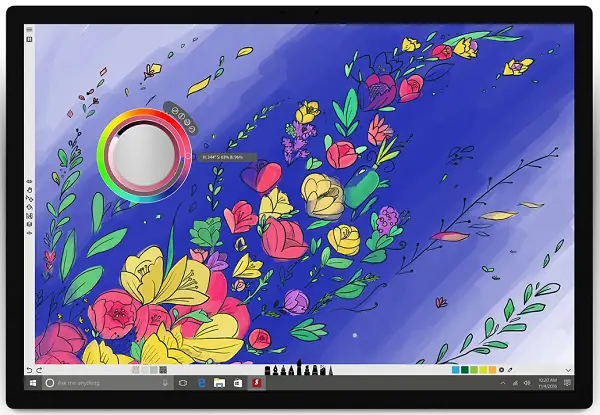 When used with Surface Dial, this app gives you quick and intuitive access to the brush settings you use most. This allows to make fast and fluid color adjustments, and rotate or scale your canvas to achieve a finer level of control.