When we open a document say a Word file, Excel, or TXT file, an image file (PNG, JPG, etc.), audio video, etc., Windows automatically keeps a track of such opened files. This helps to easily access or re-open a particular file later. So, if you want to see recently opened files in your Windows 11 computer, then there are multiple ways to do so. Using these options, you can view recently opened files for all applications or a specific app individually.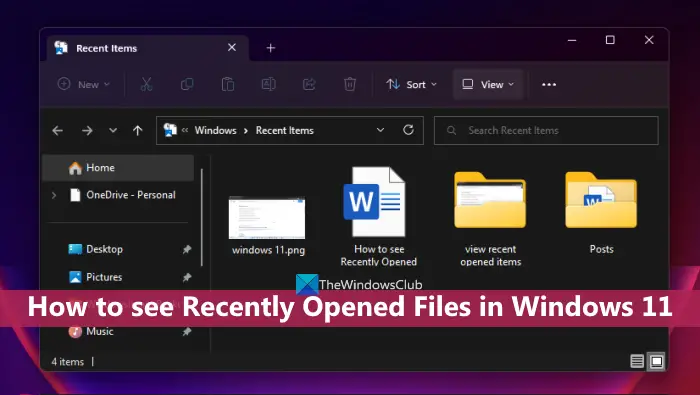 How to see Recently Opened Files in Windows 11/10
To see a list of recently opened files in Windows 11/10, you can use any of the following options:
File Explorer Home
Taskbar
Recent Items Folder
Start Menu
Search box
RecentFilesView tool.
Let's check all these options.
1] See Recently Opened Files using File Explorer Home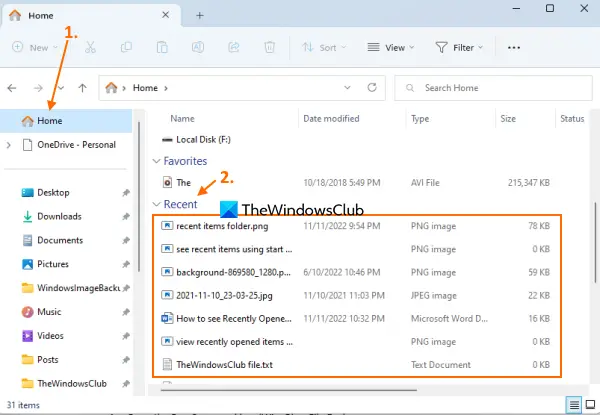 Home (previously known as Quick Access) is the default homepage of Windows 11 File Explorer where you can see Quick access items (such as Desktop, Pictures, Downloads, Documents, etc.), Favorites, and Recently opened items.
You can first open File Explorer (Win+E) and click on the Home option available in the navigation pane. After that, expand the Recent section to see different files (ZIP, DOCX, MP4, TXT, etc.) opened by you on different applications. Further, you can change the View mode to Details to see file type, size, date modified, etc., or some other view mode using the command bar or ribbon menu.
You can also click on the Recent section to select all items in the list and view the total number of recent items in the Status bar.
2] View Recently Opened items using Windows 11 Taskbar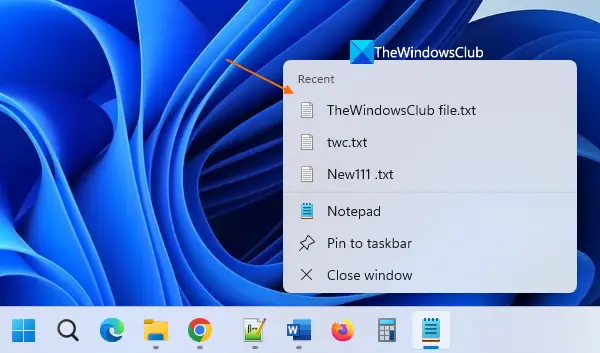 This option is helpful to see a list of recently opened files for a specific app separately. What you need to do is right-click on the taskbar icon of an opened application say Notepad or MS Word and a Recent section will be visible in the right-click menu for that app. For each recent item in that section, a Pin to this list option is also visible on mouse hover which helps to keep that item in that list so that it won't be replaced by other items if more and more items are opened by you.
This option works for pinned taskbar items as well. You don't have to open any pinned item. Just right-click on the pinned app and recent files will visible.
3] Open the Recent Items folder in Windows 11
This option shows a list of all the recently opened folders as well as items for all apps. Here are the steps:
Open the Run Command box (Win+R) or File Explorer
Type shell:recent in the text box or address bar (if you're using File Explorer)
Press the Enter key
The Recent Items folder will open. It will also show the total number of recent items in the Status bar.
Alternatively, you can also open the Recent Items folder using the following path:
%AppData%\Microsoft\Windows\Recent\
Just paste the path in the address bar of File Explorer or the Run Command box and use the Enter key. In the Recent Items folder, you can also use the View menu and Sort menu to switch to Details view mode, and sort recent items by date modified, type, etc.
Related: How to delete Recent Files and Folders in Windows 11/10
4] Use the Start menu to see Recently opened items in Windows 11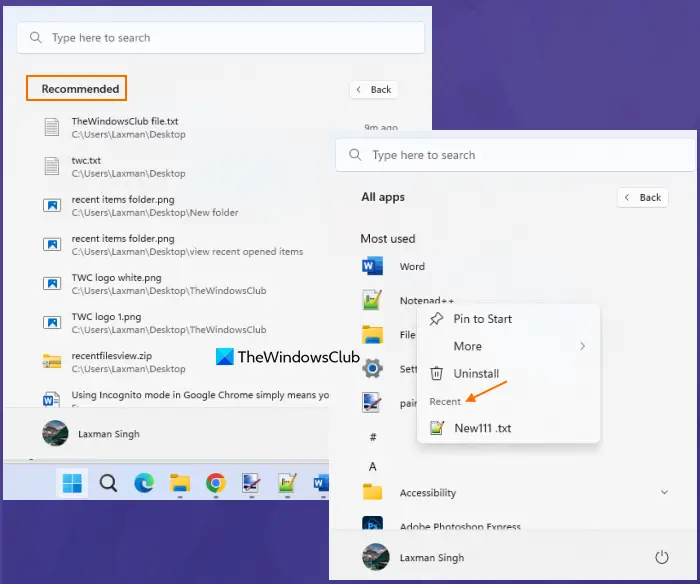 There are two ways to use the Start menu to view recently opened items in Windows 11. These are:
You can open the Start menu and then click on the More button available for the Recommended section to see recent items opened by you in different applications. You will see the item path and the time since you accessed that file. This option won't work if you hide Recommended list or Recommended section is disabled in the Start menu
View recently opened items for an individual application. For this, first, access the All apps section in the Start menu, and then right-click on a supported application. You will see a Recent section containing a list of recent items opened by you in that application.
5] View Recently opened items for an Individual app using the Search box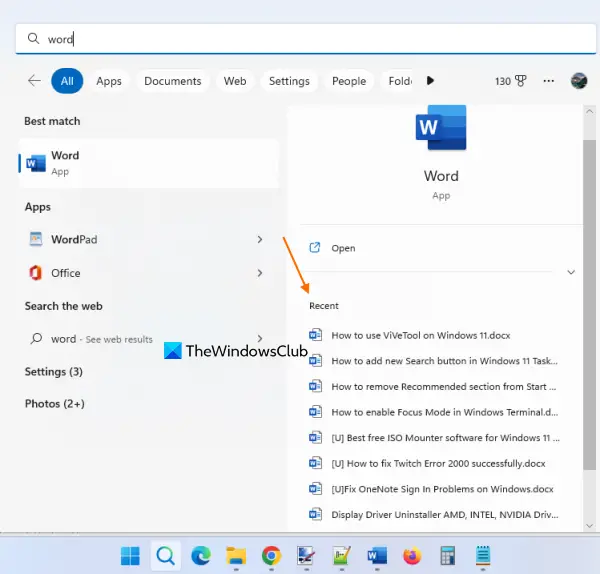 Windows 11 Search box can also be used to view recent items opened in an individual app. However, this option works for limited apps only. What you need to do is search for an app say MS Word, and then you will see a Recent section on the right part of the Search panel for that app.
6] RecentFilesView tool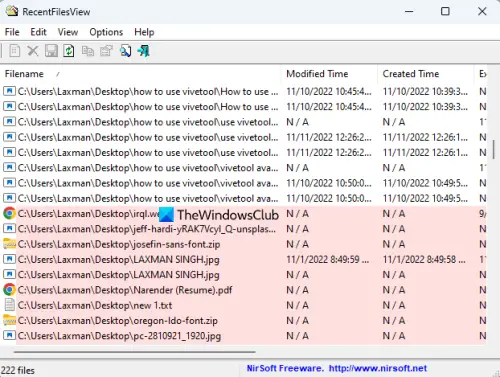 You can also use a portable and free tool called RecentFilesView for this purpose. You can get this tool from nirsoft.net. There are some important features of this tool that makes it a good choice to view recently opened files for all supported applications. These are:
It lets you view items present in the Recent folder as well as files stored in the Registry
Missing files can also be viewed on its interface in a different color
For each recently opened file, you can see created time, modified time, file name and path, stored in the Registry or Recent folder, etc.
You can select items and export all the information of selected items as a TXT, XML, CSV, or HTML file.
Hope this is helpful.
Also read: How to increase the number of Recent files in Word, Excel, PowerPoint
How do I find recently opened documents in Windows 11?
If you want to see a list of recently opened documents or programs in Windows 11, then click on the taskbar Search box. When the Search panel is opened, you will see a Recent section on the left part. It shows 10 recently opened programs in chronological order. On the other hand, if you want to see the most used apps, then open the Start menu and click on the All apps option in the top right part. It will show the Most used apps section.
Is File History available in Windows 11?
Yes, the File History feature is available in Windows 11 as well as Windows 10. You can either create a shortcut for File History or open it using the Search box. But you won't be able to turn on File History unless a usable drive is found for it. So, you should first connect a drive (an external drive is recommended) and then you can use File History to backup and restore files in Windows 11/10.
Read next: Recent items not visible under Taskbar icons in Windows.