Our world now is filled with QR codes. While some of its more common uses like scanning to make online payments are privy to most people, one can also use them to connect to an active Wi-Fi network. In this article, we will be discussing how you can connect to a Wi-Fi connection using its QR Code on Windows 11/101.
How to scan a Wi-Fi QR Code in Windows 11/10
Typically, there are two ways in which you can connect to Wi-Fi. You can either enter the pre-configured password or if you don't know what that is, then you can scan a QR code to connect to it. This QR code can be conceived from any mobile phone that is already connected to the said Wi-Fi.
Wi-Fi QR Code Scanner Microsoft Store app
While the process is remarkably simpler to connect a smartphone to a Wi-Fi network using a QR code, since most smartphone cameras are equipped with a QR code scanner in their camera app, the Windows Camera app isn't, which necessitates the use of a third-party QR code scanner. For the purposes of this article, we will be using the Wi-Fi QR Code Scanner app which you can get from the Microsoft Store. There are several features that this app provides like:
You can scan a QR Code generated live at the moment
If you are connected to a Wi-Fi connection, you can generate a QR Code on it and use that to connect other devices to the said Wi-Fi
You can scan the saved image of QR code, in case you aren't able to generate one at the time
It also keeps a log of the Wi-Fi profiles that you connected your computer previously, making it easier for you to establish connections with them again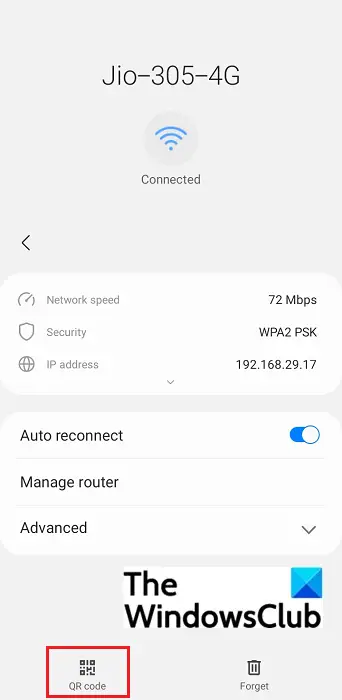 The Wi-Fi QR Code Scanner allows you to scan and generate standard Wi-Fi QR Codes. The process with it is very straightforward. If you want to connect to a Wi-Fi using a QR code from some other device, you have to get to that QR code first. In the case of a smartphone, open your Wi-Fi settings. At the bottom of this page should be an option that says QR Code. These QR codes are often provided by your ISP or in public settings that offer Wi-Fi.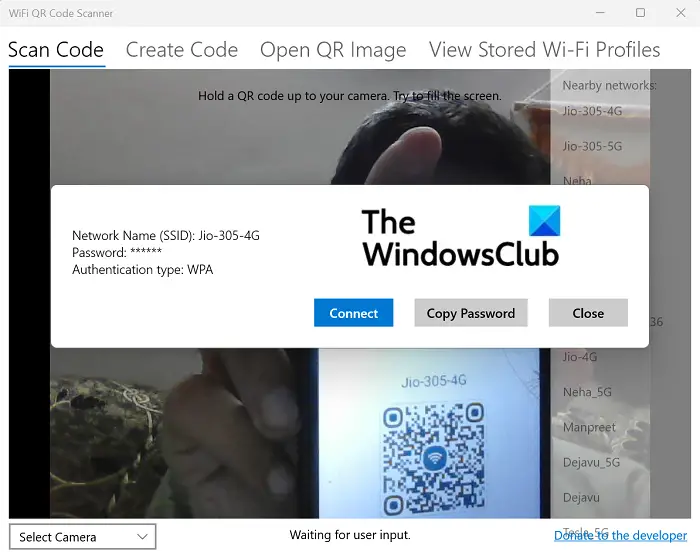 Now, open the Wi-Fi QR Code Scanner app on your PC. If you have the 'Scan Code' option selected here, this would automatically open the webcam integrated into your computer. Now place the QR Code you just generated in front of the webcam and once scanned, you'll find that a connection has been established.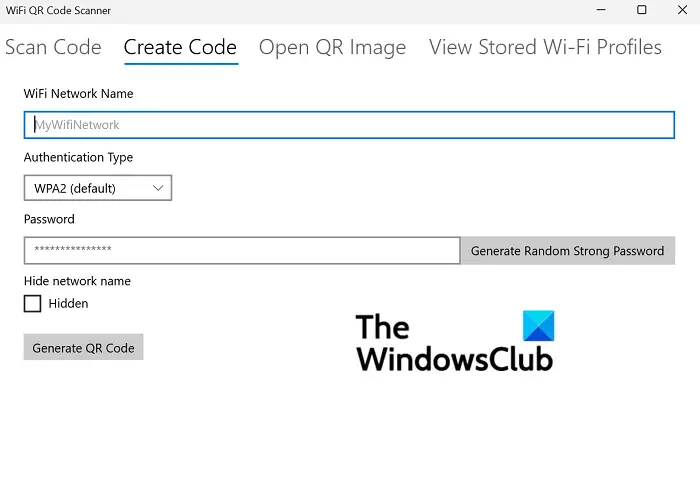 You also get an option to generate a QR Code from the Create Code option. Simply put in the credentials of your Wi-Fi network like its name, generate the password and you'll create a code that can then be used to connect to other devices.
If you're using a separately attached webcam on your computer, then on the bottom-left corner of the 'Scan Code' setting is an option to select the camera. The View Stored Wi-Fi Profiles is where you can see all the Wi-Fi networks that you'd previously connected to. Their information is saved for you to reconnect with them later with ease.
The app uses de facto standards for your code scanning and generating experience, which is what's normally used for apps of this kind. This allows you to scan QR codes generated by other apps as well as use the QR codes generated on it elsewhere.
We hope that this was of help to you and that you'll now find it easy to connect your Wi-Fi to your computer using a QR Code. You can download the Wi-Fi QR Code Scanner from the Microsoft Store.
How to create a QR code?
After reading all of that, you may now want to create your own QR code for whatever reason. There are many options out there – you can create QR codes using PowerPoint & Excel, Microsoft Word, Free software, Microsoft Edge, or even use the Bing search engine.
How can I transfer Wi-Fi password from my phone to my laptop?
If you ever forget the password to your Wi-Fi, here is how you can retrieve it on your Windows or Android device.
On Windows, you can find the password to the Wi-Fi network you're currently connected to from the Control Panel. Passwords for other networks can be retrieved using relevant commands entered in the command prompt. While there isn't a direct way to get a Wi-Fi password on Android, generating a QR code can do the job for you.
On Android, you can view all your passwords in the Wi-Fi settings and share passwords using a QR code.