In this post, we will talk about some free QR Code generator software for Windows 11/10 PC. A QR Code (Quick Response) is very helpful to store and share some short information like text, links, email addresses, payment addresses, phone numbers, etc. If you want to create your own QR codes using Windows OS, then this post can help you.
These software let you generate QR codes as PNG, JPG, or another image format supported by them. Some of these require an internet connection as these QR code generator tools fetch data from the server. Once the QR Code is generated, you can use your smartphone scanner or some other barcode scanner tools to fetch the information stored behind a QR Code.
Free QR Code generator software for Windows 11/10
We have included 5 free tools to generate QR Codes. Most of these free QR Code maker software also supports error correction feature that helps to recover or restore data from damaged QR Code.
Zint Barcode Studio
qikQR
ByteScout BarCode Generator
Free QR Creator
QR Code Generator.
1] Zint Barcode Studio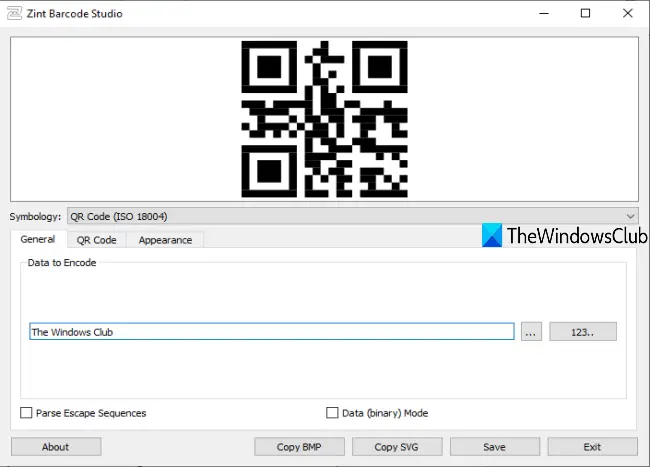 Zint Barcode Studio is a portable and open-source QR Code generator software. It supports a lot of symbology or different types of codes. For example, you can generate a regular QR Code, Code One, Code 39, DAFT Code, Ultra Code, VIN (Vehicle Identification Number) code, etc. You can also set a size for QR Code, set error correction level, background and foreground color, change height n width, encoding mode, add borders or no border, etc. When QR Code is ready, you can save it as SVG, BMP, PCX, EMF, TIF, EPS, PNG, or GIF image.
Download its zip and extract it. After that, execute the qtZint.exe file to launch this software. Using the drop-down menu available for symbology, you can select the QR Code (ISO 18004).
Now generate your QR Code. Use the General tab to enter the text or a sequence, QR Code tab to set encoding mode, preset sizes, error correction level, and Appearance tab to add custom height n width, borders, colors for QR Code. Finally, you can click on the Save button to save the QR Code as an image file.
2] qikQR
qikQR is a cross-platform and open-source QR Code generator software. It lets you generate QR codes in JPEG, JPG, SVG, GIF, and PNG format images. You can also use 5 different colors for the QR Code and its background. The feature to set error correction level (high, low, quality, and medium) is also there. Apart from that, you can set the size of the output QR Code.
Download this software from its GitHub page. After installation, use the available text box to enter the information and it will generate QR Code immediately with default settings. If you want, you can use the Settings icon and then change error correction level, output format, color, etc.
To get the QR Code, hover the mouse cursor on it, and press the download icon. It will save QR Code image to the default folder and also open that folder automatically.
3] ByteScout BarCode Generator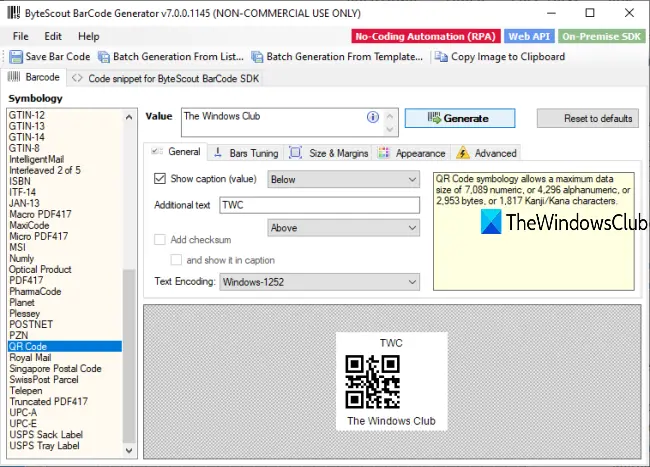 ByteScout BarCode Generator supports more than 50 types of barcodes. You can save the QR Code as BMP, GIF, TIFF, PNG, or JPG image. One unique feature that makes it better than other tools is you can batch generate QR Codes. The features to set QR Code size and margins, background and foreground color, add caption text, caption font, additional text, set error correction level, bar height, etc., are also available.
This software is free for non-commercial use and you can download it using this link. Open its interface and select a QR Code from the left section. After that, you can enter the main text for QR Code, additional text, size n margins, etc., using the available bars and options. Use the Generate button to preview the QR Code. Finally, you can save your QR Code using the given button.
To generate multiple QR Codes, use Batch Generation From List button available on the top part of its interface. A new box will open as visible in the image below.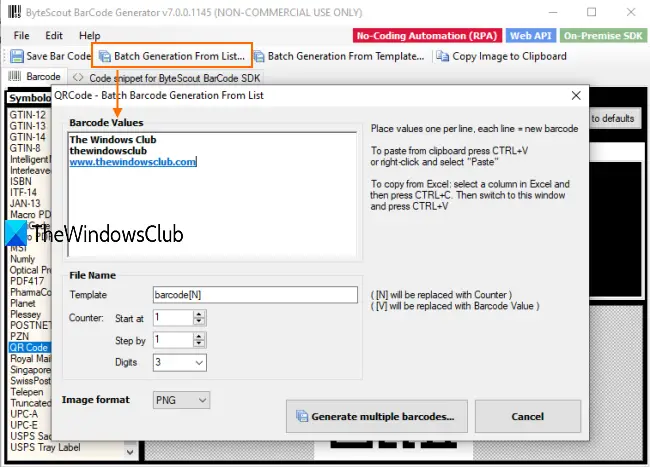 In that box, you can add barcode values or text, URL, etc., in different lines. The value available in each line is turned into a separate QR Code. Now set the output image. Finally, press the Generate multiple barcodes button to save QR Codes to the desired folder.
4] Free QR Creator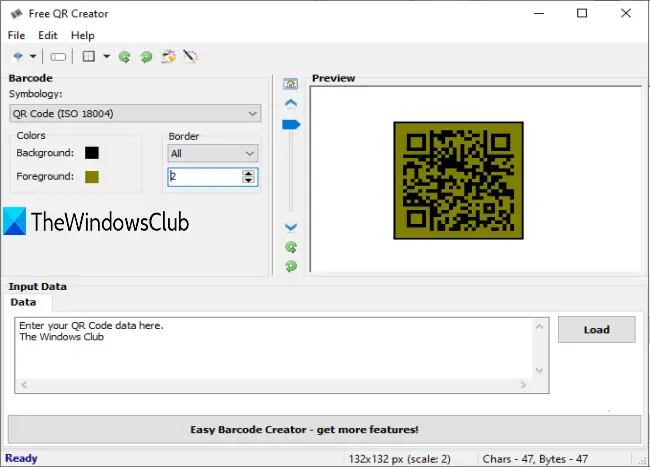 This Free QR Creator tool lets you create micro and regular size QR Codes. There are a couple of useful features. You can save the QR code as TIFF, PNG, EMF, GIF, JPG, or PNG image file. The feature to add borders to QR Code is also there. Moreover, you can also rotate the QR Code using the available option.
You can download this QR Code creator software from smp-soft.com. After opening its interface, select the QR Code type or symbology and enter input data in the given box. The preview is generated instantly on the right-section. You can also use the slider to change the preview size.
Use other options as per your needs. For example, you can set the background and foreground color, add borders, and set the border width, rotate the QR Code using the Edit menu. Finally, you can save the QR Code using the Export option in the File menu.
5] QR Code Generator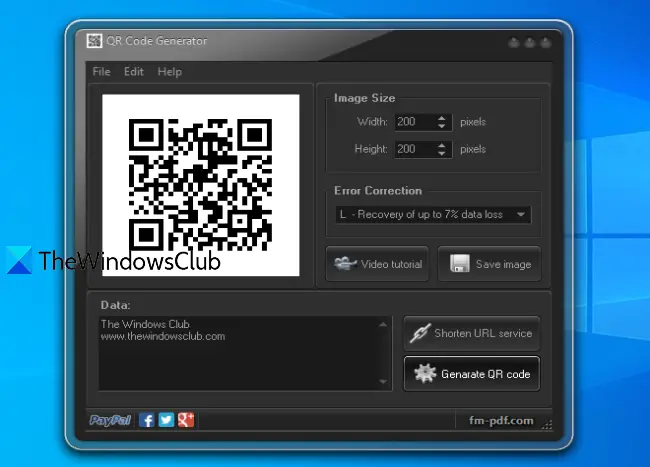 Its name already clears the purpose of this tool. This QR Code Generator comes with a very simple interface where you can create a QR Code and save it as a PNG image. You can also set custom height n width for QR Code. The error correction level (L, M, Q, and H) can also be set using the available drop-down menu.
Download this software and install it. On its interface, use its Data section to enter text, URL, or other information for QR Code. Set output image size and error correction level using the available options. After that, press the Generate QR Code button. It will show a preview of the output. Now you can save the QR Code using Save image button.
This list ends here. We have covered very simple to feature-rich QR Code generator software for you. Hope these will help.