A Barcode is a representation of data in a machine-readable format; it shows data about the object to which it attaches. Barcode is generally made of parallel lines of different widths and is referred as linear or 1 dimensional (1D).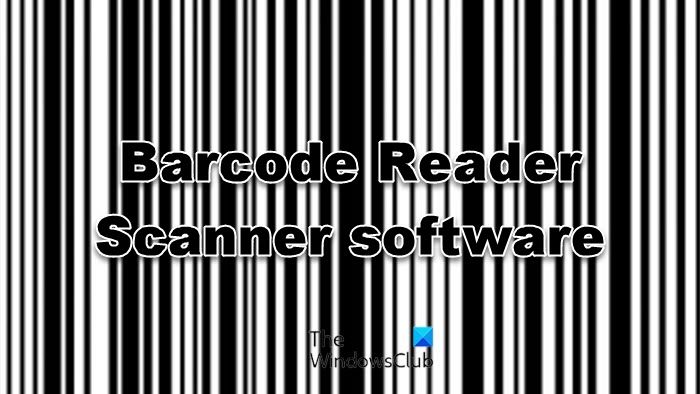 You may have seen some barcode scanners (hardware) in some stores are shopping complexes, but what if you want to scan your barcodes or QR codes on your Windows PC? You can do so using some of the applications that enable you to do so.
Free Barcode Reader Scanner software
You can use these barcode scanners for your small business and even your big business. Entering the barcode number in the PC is rather difficult if compared to scanning barcodes, and it even reduces the chances for mistakes in entering the product details. So, read on to know about the different free software.
BcWebCam
Zbar Barcode Scanner
Free Barcode Scanner & Reader Software
ByteScout BarCode Reader.
1] BcWebCam
It is a free tool that can scan your barcode and can give you instant online results. The application is very easy to use and you don't need any hardware device, you can just scan those barcodes with your webcam. You don't need to spend extra money on any expensive barcode scanners – you can do so with your Windows PC. The application has a field that instantly shows you item number in the field. You just need to capture an image of your barcode and you are ready to go. The supported codes list includes EAN 13 and EAN 8. You can also read QR codes which are generally used in magazines and web sites.
3] Zbar Barcode Scanner

It is a free open source utility that is very efficient in barcode reading. The application can even scan barcodes from various sources including video streams, image files, and raw intensity sensors. It also supports barcodes types like EAN, QR codes, Code 39, Interleaved 2 of 5 and many others. The application is very easy to use and you can use this free app for your business or personal use. Get it here.

3] Free Barcode Scanner & Reader Software
It is another free tool that can again scan your barcodes from your webcam and you can use the scanned data for different purposes. It is a very simple tool with a very intuitive interface; you can scan various codes with this tool. Get it here.
4] ByteScout BarCode Reader
ByteScout BarCode Reader makes scanning barcodes a breeze.
This is our list of the free Barcode Scanners or Barcode Readers. I personally liked bcWebCam the best, as it has support for many formats and it also has support for webcams.
If you have any suggestions or comments to make, they are most welcome.