Do you want to uninstall SpyHunter 4 or SpyHunter 5 from your Windows PC? If so, this post will interest you.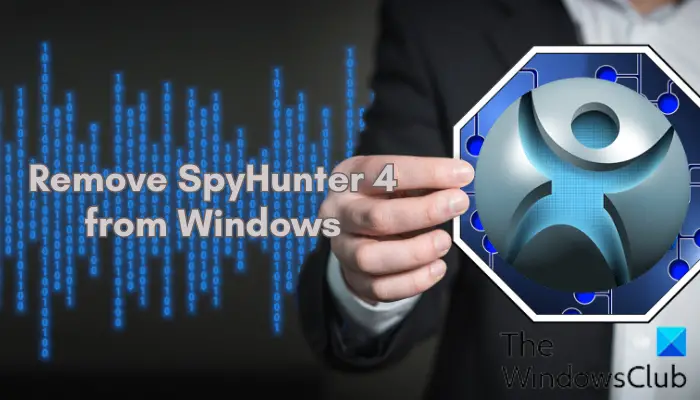 Why is SpyHunter on my computer?
SpyHunter is an antimalware program that protects your system from malware and viruses like trojan horses, computer worms, rootkits, etc. It comes with advanced malware removal functionality and technology and active guards that detect and block/eliminate malware before it affects your PC. It also provides some additional handy features, including protection against Thwart Hacker Attacks, privacy protection, PC optimization functions, file shredder, duplicate file scanner, and more. It is a subscription-based software; however, you can check its trial before purchasing it.
Now, there can be different reasons why you may want to uninstall or remove SpyHunter from your computer.
The Trial period or your Subscription has expired.
It might be the case that the software is not compatible with your OS and is not working properly on your computer.
The software keeps crashing or freezing, or it is not performing well on your computer.
You want to reinstall SpyHunter. So, you have to uninstall it and then reinstall a clean version on your PC.
In any case, you can remove the SpyHunter 4 or SpyHunter 5 program from Windows 11/10 using the below-mentioned instructions.
How to remove SpyHunter from Windows 11/10
To remove or uninstall a program from Windows 11/10 PC, you can use Control Panel or Windows Settings. Uninstall the program and then delete the remnant files to remove it completely. Here are the basic steps using which you can remove SpyHunter 4 or SpyHunter 5 from your computer using the Settings app:
Make sure SpyHunter 4 is not running in the background.
Open Windows Settings.
Navigate to Apps > Installed apps.
Look for SpyHunter 4 and press the three-dot menu option.
Select the Uninstall option.
Delete the leftover files and invalid registry entries associated with the software.
Restart your computer.
First of all, make sure the SpyHunter program is not running on your computer. It is by default launched at startup automatically and runs in the background. So, before trying to uninstall it, right-click on its icon from the system tray and close it. Or, you can open Task Manager using Ctrl+Shift+Esc, select the SpyHunter process, and close it using the End task button.
Now, hit the Win+I hotkey to open the Settings app, and from the left-side panel, navigate to the Apps tab. From the right-side pane, click on the Installed apps option and look for the SpyHunter 4 program under the list of your installed applications.
Next, press the three-dot menu button associated with SpyHunter 4, choose the Uninstall option, and confirm the uninstallation of the app. Windows will start removing SpyHunter from your system.
When the program is uninstalled, you need to manually delete the remnant files of the program so that the program is removed completely. To do that, open File Explorer using Win+E and delete the following folders and files from the below locations:
C:\bootsqm.dat
C:\Users\<YourUsername>\Desktop\SpyHunter.lnk
C:\sh4ldr
C:\Program Files\Enigma Software Group
C:\Windows\System32\Drivers\EsgScanner.sys
C:\Users\<YourUsername>\Downloads\SpyHunter-Installer.exe
There can be remnant files of SpyHunter 4 at other custom locations. So, you need to find such files and delete them from your computer manually.
After that, evoke the Run command box using Win+R and enter regedit in it to open the Registry Editor app.
In the Registry Editor app, press the Ctrl+F hotkey to open the Find dialog. Now, type SpyHunter in the Find what box and click on the Find Next button. It will then start searching and locating the associated registry entries.
Now, delete all the invalid SpyHunter 4 registry entries. Once done, close Registry Editor and reboot your computer to let the changes apply and completely remove SpyHunter 4 from your computer.
Note: An incorrect change to the registry can cause severe damage to your computer. Hence, we recommend you create a backup of your registry before making the above registry changes to be on the safer side.
Read: Free Standalone On Demand Antivirus Scanners for Windows.
Besides Settings, you can also use Control Panel to remove SpyHunter 4 from your computer. For that, search for Control Panel in Windows Search and it. Now, click on the Uninstall a program option under the Programs category. Next, select the SpyHunter 4 program, press the Uninstall button, and follow prompted instructions to uninstall it. After that, delete leftover files and invalid registry entries to uninstall SpyHunter 4 completely.
See: How to uninstall Avast antivirus from Windows?
Uninstall SpyHunter 5/4 using Uninstaller software
Some users have reported issues while uninstalling SpyHunter from their PCs conventionally. Here are some problems experienced by users while trying to remove SpyHunter 4 from Windows:
The program is not listed in the Settings app or Control Panel, so you are unable to remove it conventionally.
For some users, there is another unidentified process that is interrupting the SpyHunter's uninstallation task.
It might also be the case that an error occurs during the uninstallation process.
Now, if you are experiencing any of the above issues during SpyHunter 4 uninstallation, you can use a third-party free uninstaller program to remove it. Bulk Crap Uninstaller is a good software to uninstall SpyHunter as it completely removes software and applications from your computer. It can also list hidden or protected items and remove them. Plus, if there is an issue interrupting the uninstallation process, it handles the problem.
Download Bulk Crap Uninstaller from its website and install it on your computer. It also comes in a portable package, so you can run it whenever needed without installing it. Launch the uninstaller as an administrator and select the SpyHunter 4 program from the list. After that, press the Uninstall button and follow the onscreen steps to complete the uninstallation process. It will then delete all the remnant files from your computer to completely remove SpyHunter 4 from your PC.
I hope this guide helps you completely remove SpyHunter 4 or SpyHunter 5 from your PC.
Read: AntiVirus Removal Tools & Uninstallers for popular AntiVirus programs
How do I stop SpyHunter?
If you have registered SpyHunter's trial through MyCommerce, you can stop or cancel a trial or subscription by signing into the MyAccount section of MyCommerce and then canceling your subscriptions. Or, you can also cancel your subscription plan by directly contacting MyCommerce via phone or email. Besides that, you can also contact EnigmaSoft's payment processor (check your confirmation email) or Spyware HelpDesk to get your subscriptions canceled.
Now read: How to completely uninstall McAfee Internet Security.