People often tend to use third-party antivirus software. This is due to the fact that sometimes they find the third-party service better than what Microsoft is offering with the pre-installed Windows Defender on Windows10/8/7. Or sometimes, people want to avail a particular feature that would fulfill their needs that Windows Defender does not.  Some people even use it to try it out through the trial period and check how it is like to get it installed and working. Now, if you are one of these people or in some other scenario not covered above using AVG Antivirus software and you want to uninstall AVG, here are the things that you can do about it.
Completely uninstall AVG products
To remove AVG Antivirus from your computer, you can follow 2 main steps. One will help you remove it with default functionality and the other one will remove it fully. They are:
Using the default uninstaller that comes with the Installer Package.
Using standalone software from AVG:
Let us start to explore them one by one.
1: Uninstall AVG the default uninstaller that comes with the Installer Package
First of all, start by clicking on the Start menu and right-clicking on entry for AVG Antivirus.
Then click on Uninstall.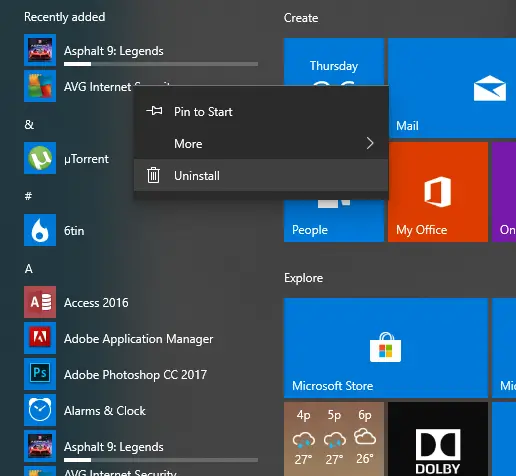 A new window will open up, inside the list, look up for your AVG Internet Security entry.
Then right-click on it and then click on Uninstall. You will get a UAC prompt, click on Yes. Next, you will see the following window.
Click on Uninstall.
It will throw a prompt asking if you really want to uninstall AVG because that could also be a malware attack. You click on Yes. Or else after 60 seconds, the No option gets selected automatically.
After you are done, it will start to uninstall and meanwhile will ask you some optional survey questions.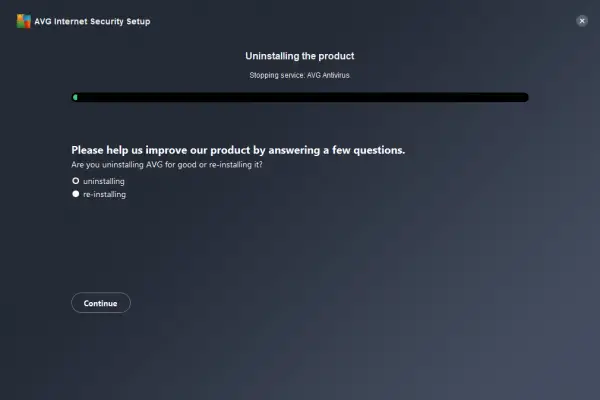 It will now prompt you to Restart your computer. You can do it now or even later. That all depends on your selection of the options displayed over there.
2: Remove AVG using AVG Clear
Using AVG Clear
First of all, start by downloading AVG Clear from the official website. Run the downloaded file.
You will get a prompt telling you that it is recommended to run this executable file after Windows is booted into Safe Mode. You should click on Yes to boot into Safe Mode and then execute it from there or No to continue as is in the normal boot mode.
Then you get a new page where all the details of the product could be found. You can choose what your product is what paths to uninstall its system folders from.
And then, finally click on the Uninstall button to uninstall AVG Antivirus Software from your computer.
You can Restart your computer for the changes to take an effect.
Using AVG Remover
Start by downloading the AVG Remover from the link here.
When you run it, it will ask you if you want to read the Privacy Policy, License Agreement or run the AVG Remover Utility.
When you click on AVG Remover, it will start to scan your computer for installed AVG products.
After that, when these folders are found after scanning, it will prompt the user if they really want to uninstall it from their computer. When they agree to the prompt, it starts to remove AVG Antivirus software and all the leftover folders from their computer.
Now, it will take a few seconds or minutes depending upon the power and performance of the computer.
After it is done, it will prompt the user to Reboot their computer for the final removal of everything created by the AVG Antivirus Software.
It will continue after a couple of reboots in its process of uninstalling AVG Antivirus, that is totally OK. You can sit back and let the utility do its work.
Additionally, you can just head to the Program Files folder inside C:\ to verify if the AVG Antivirus folders are removed or not. If not, it is safe for the user to delete them manually.
Read next: AntiVirus Removal Tools & Uninstallers for popular AntiVirus programs.