Before going to a certain place, be it a shopping complex or a restaurant, I look for its reviews on Google. On more than one occasion, I have been disappointed due to my high expectations. This raises the question of who to believe and who to not. In this post, we will solve this dilemma as we will see how to identify and remove fake Google Reviews.
Identify and Remove Fake Google Reviews easily
In our quest to make Google a zone free of fake reviews, there are a few things that need to be done before removing fake Google Reviews. Following are the things that need to do to make sure that nobody falls into the trap of fake reviews on Google.
Spot the fraud and fake reviews
Delete fake reviews
Report fake reviews
Let us talk about them in detail.
How to remove bad reviews from Google My Business
1] Spot the fraud and fake reviews
The very first thing we need to do is identify if the reviews are fake. Some fake reviews can be easily spotted, while others require skill, patience, and observation. The following are the things you need to do to spot a fake review on Google.
Look for nuances in the review
You must pay attention to the detail of the message written. They are two kinds of fake reviews, one that seems obviously fake to the naked eye, whereas some are hard to spot. To detect fake reviews that are hard to spot, you need to look for irrelevant information mentioned in the review, the one that has nothing to do with the issue. For example, in the review of a restaurant, a reviewer mentions details about their family. This is done to make the review more believable.
Check for emphasis on a certain point
When we want to make a point that we truly don't believe in, we often try to highlight the point by putting more and more emphasis on it. More often than not, the fake reviewer will try to highlight their negative emotion without actually talking about the events that evoke them. According to a study done at MIT, a fake review will contain more exclamation points than the actual one.
Look for complex words in the review
Most fake reviewers are not descendants of Willian Shakespeare or George Orwell. They can not cultivate stories and, at the same time, use complex words because most of them don't have the vocabulary of a writer. So, if you think the message is written in complex English and at the same time it feels like the writer's emotions are skyrocketing, it's a sign that the review is fake. Do keep in mind that there are a lot of non-English speaking customers using your service, and they won't be as proficient as you are in English.
Check the reviewer's details
We should also check the details of reviewers, such as their avatars, name, businesses, and frequency of their reviews.  If the name of the reviewer is the same or similar to your competitor or if the avatar has the logo of their company, it's a clear giveaway.
Most fake reviewers are not foolish to use their real name or put the logo of their company as the avatar. But they are foolish enough to brag about their brand, which in this case, would be competing. To get more information on this, we need to check other reviews by the same person. For that, click on their name. You will see all the reviews that they have posted. If you notice them boasting about a certain brand, it's a red flag.
These are the things one needs to keep in mind when looking for fake reviews.
Read: How to set up Google My Business
2] Delete fake reviews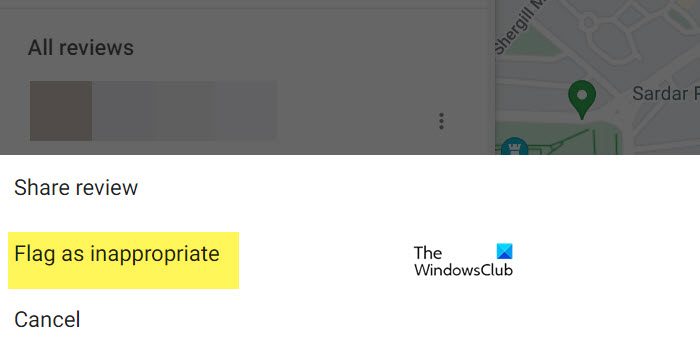 After spotting a fake review, it's time to delete it. Do keep in mind you need to be the owner of the business to do the same. Follow the steps mentioned below to remove a fake review.
Go to business.google.com to log into your business account.
Access the Reviews tab from the left panel of the screen.
Look for the fake review. You need to use the aforementioned tips to spot fake reviews.
Click on the three dots associated with it and select Flag as inappropriate.
You need to select a relevant option from the form that will be prompted to you as you move further.
Finally, after following the on-screen instructions, your concern will be submitted and if Google thinks that the review is actually fake, it will be removed.
Read: Best AI tools for Business
3] Report fake reviews
After asking Google to delete the review, you can also report it. We need to use the support page of Google to do this job. Follow the steps mentioned below to do the same.
Navigate to support.google.com and confirm your account. Make sure to log in with the account linked to your business.
Select your business from the list.
Tick the box next to Check the status of a review I reported previously and continue.
Here you can see all the reviews that you have appealed to Google to remove. This way you know which review to not report.
Now, click on the Back button.
Select Report a new review for removal and click on Continue.
Find the review that you want to report, report it, select the reason, and submit your appeal.
That's it!
Read: Free Personal Finance & Business Accounting Software
Can you get a false Google review removed?
In order to get a false Google review removed, you need to make an appeal to Google. Whether you are a customer or a business owner, you don't have the privilege to remove any review. You need to follow the instructions made before to appeal for the removal of the fake review and report it. If Google concludes that the review is actually fake, they will remove it; otherwise, you have to deal with some criticism about your business.
Read: What is Google Local Guide and what are its perks?
How do I report a fake Google review?
Yes, you can definitely report a fake review to Google. All you have to do is go to Google's support, look for a review, and report it to them. To know more refer to the aforementioned guide.
Also read: Google My Business suspended due to quality issues.