Artificial Intelligence (AI) has become important for businesses that are looking to stay competitive in today's fast-paced digital world. From automating repetitive tasks to improving customer support, AI can help businesses improve efficiency thereby increasing business potential. There are a lot of great AI tools available for every need of running a business. In this guide, we list some of the best AI tools for business.
Best AI tools for Business
If you have a business and looking to implement AI tools in your business, you can use the following AI tools.
Quickchat
Hoppy Copy
HireYaY
Reply
AdCreative.ai
Let's get into the details of each AI tool and see how you can use it for your business.
1] Quickchat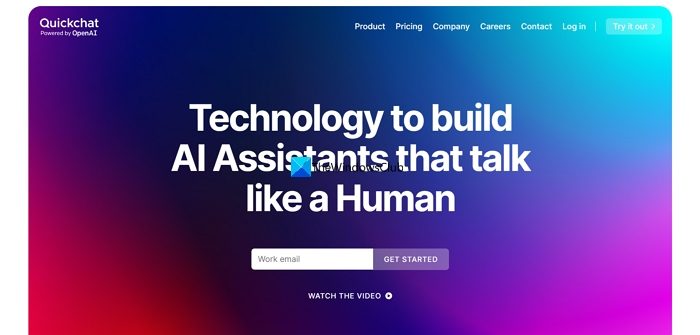 Quickchat is powered by OpenAI, the company behind ChatGPT. Using Quickchat, you can build a multilingual AI assistant powered by GPT-3. To build an AI assistant using Quickchat, you don't need to know any code or access to any other tools. You can integrate the AI assistant built with Quickchat in your website as a widget, or other messaging apps, live chat software, or any application you use using the Quickchat API. Quickchat can help automate you automate your business. If you are a website owner, developer, or enterprise, you can use Quickchat to give the best possible customer support to your customers using Quickchat. Quickchat is available for a 14-day trial and then you can upgrade your plan if you like the service.
2] Hoppy Copy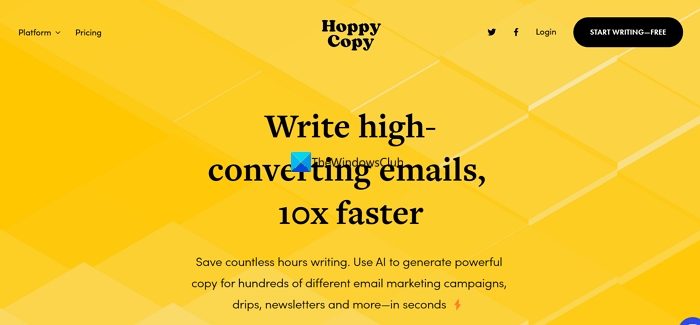 Hoppy Copy is an email AI assistant that can let you generate emails that convert faster. If you are running an online business, it is common to run newsletters to let the users know about new updates, products, or offers. You can use Hoppy Copy to write emails that can convert easily in a short time. The time you spend on email writing is very less and you can focus on other areas with the saved time. You can write hundreds of different email marketing campaigns, drips, newsletters, and others in seconds. There are many templates available on Hoppy Copy that you can use to create emails blazingly fast. You can even edit or reword the emails with a fresh copy. Hoppy Copy also lets you convert blogs to emails, emails to tweets, and tweets to texts. Repurposing your content is very easy. You can use Hoppy Copy for a 7-day trial period and can subscribe to a paid plan if you like the service and its features.
3] HireYaY
HireYaY is an AI tool that can help you hire the best people to work on your business. Using HireYaY, you can create engaging job ads and distribute them to millions of job seekers in one click. On HireYaY, AI generates the job description to attract the top talent. AI will suggest skills, responsibilities, and qualifications, and even write a personalized message based on the input you give for the job. Also, HireYaY gives you location-based salary info for a particular job. Once you are done with the job description, you can post on job boards with just one click. The AI will parse every uploaded resume and select the best of the candidates for you to see. HireYaY is still in beta mode and you can use it for free. If you like the service and the insights it gives, you can upgrade to a paid plan later.
4] Reply
Reply is an all-in-one sales engagement platform to create new opportunities by automating and scaling cold outreach across multiple channels. Its built-in AI sales assistant Jason AI can write and respond to emails, and book meetings on your behalf. It is a full-scale sales engagement platform with a 140 million+ lead database, deliverability suite, AI sales assistant, CRM integrations, and analytics to grow your business to the next level. You can discover leads, engage and execute.
Read: Best AI tools for Productivity
5] AdCreative.ai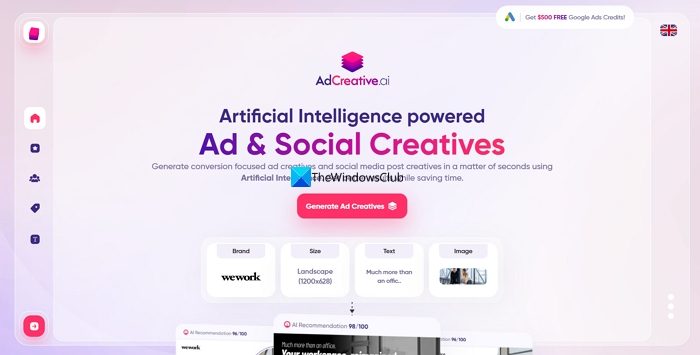 If you have a business that runs slow and wants to make it better using social media and other digital channels, you can use AdCreative.ai. It is an AI-powered tool that generates social media and other content that focuses on conversion. You can create content for all social media platforms in seconds using AI-powered AdCreative.ai. Using AdCreative.ai, you can generate creatives, headlines, texts, and social creatives, and see their performance analytics.
These are the different AI tools you can use for your business to automate various tasks.
Read: Free Personal Finance & Business Accounting Software for Windows
What AI is being used in business?
There are many kinds of AI tools that are being used in business. Right from creating a brand identity for a business to its customer support, sales, and accounting, there are AI tools for every aspect of the business. You have to find the right tools and use them to the fullest to improve your business.
AI can be used as a business tool to discover leads, engage with customers, execute sales, and collaborate with other people to hire them. There are tools that can help you market your business on digital platforms easily using artificial intelligence.