Artificial intelligence (AI) tools have the potential and capabilities to help the way we work and increase productivity. The AI tools can help you do many tasks such as recording meetings, transcribing them, or making notes out of them, etc. There are many great tools that can cater to tracking your habits to your business tasks. you might be wondering what tools you can use in your personal and professional lives. In this guide, we show you the best AI tools for productivity.
Best AI tools for Productivity
If you are looking for AI tools to track your productivity or use their features to be productive, the following AI tools can help you.
Noty AI
TinyWow
ReclaimAI
Rationale
Cogniflow
Let's get into the details of each tool and know them better.
1] Noty AI
It is a custom to make notes in meetings. Noty AI transcripts your meetings into notes, actionable items, summaries, and follow-ups in seconds. The manual tasking of everything related to meetings is streamlined by AI and catered to you. This helps you save time and use that time on other productive tasks. With Noty AI, you get a real-time transcription of the meetings and effortless note-taking features. You can integrate Noty AI into Google meet, Google Docs, Google Calendar, and Zoom. You can try Noty AI as a 1 team member in its free tier and if you like the features, you can upgrade to a paid plan as per the need and the members of your team.
Read: Best Productivity Features in Windows 11
2] TinyWow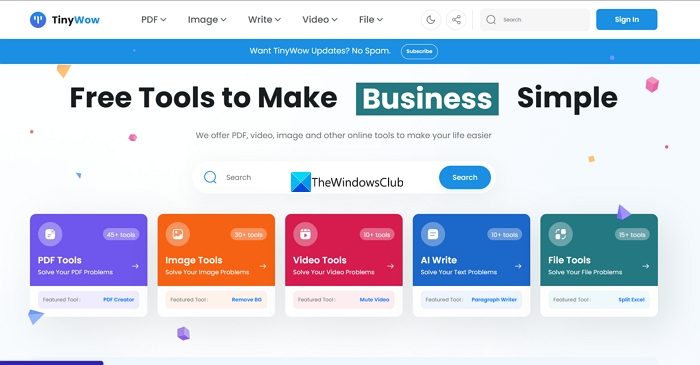 TinyWow has free tools for almost all of your personal and professional tasks. From PDF files to Video files, you can create, edit, compress, and do many things using TinyWow. TinyWow has PDF tools like Edit PDF, PDF to Word converter, JPG to PDF converter, Merge PDFs, Split PDFs, and other PDF-related features. Coming to images and video, you can remove the background of the images, remove objects or persons from a photo, convert a photo into a profile picture, generate images with AI, compress video, resize video, etc. Tinywow is a free-to-use service and all the data related to your usage is deleted after an hour.
Read: Best IFTTT applets for productivity
3] ReclaimAI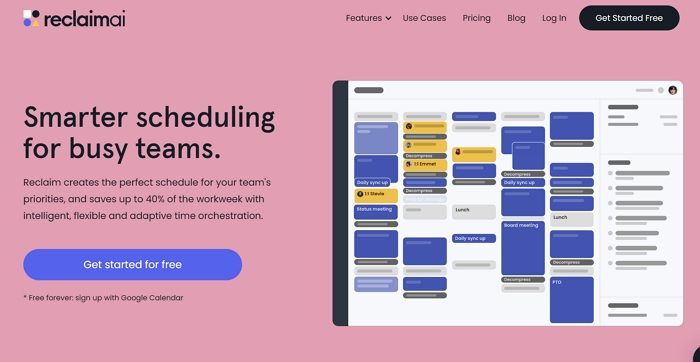 Reclaim AI is a smarter scheduling tool for busy teams. It creates the perfect schedules according to your team's priorities. It can help you save time by 40% of your work week and use that on other productive areas of focus. It has the capability to make your schedules intelligently with adaptive time orchestration. ReclaimAI can be integrated with Google Calendar to auto-block time for tasks and routines, find the best time for one-to-one meetings, add breaks, and travel timings, and reprioritize your calendar for more productivity. Reclaim AI is free for people with simple calendars and does all the time management tasks for free. If you have complex and busy schedules, you should opt for a paid plan.
Read: Best Productivity Apps for Windows from the Microsoft Store
4] Rationale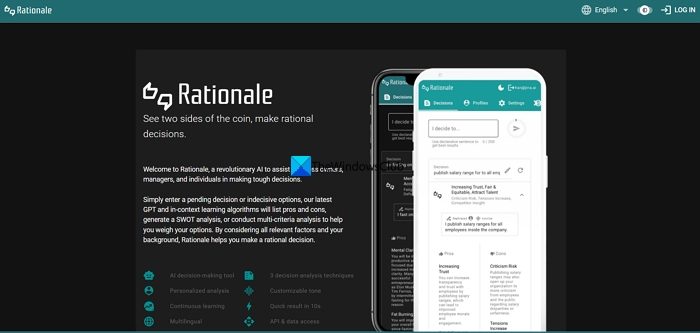 Rationale is one of its kind AI tools. This tool helps users in making rational decisions. It is deemed to be a revolutionary AI that assists business owners, managers, and individuals in making tough decisions. It helps people see two sides of the coin and make rational decisions. All you have to do is enter the pending or indecisive options on it, and Rationale's latest GPT and in-context learning algorithms will list out the pros and cons. It also generates a SWOT analysis to help you with your decision-making. It helps come to a rational decision using its AI tools along with your background.
5] Cogniflow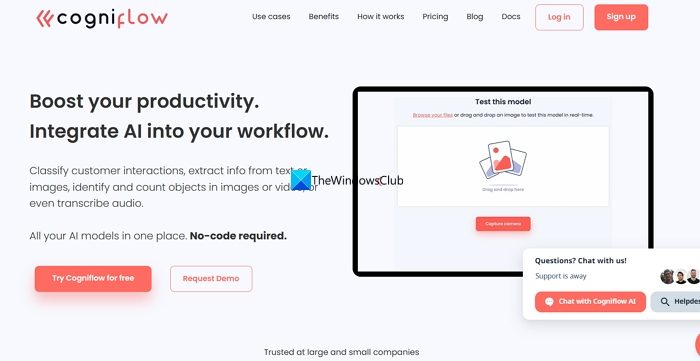 Cogniflow is like an All-in-one AI tool if you are a business manager. It helps you with customer service, HR/Recruiting, Operations, and many more. This tool will help you efficiently track customer service and other business-related activities thereby boosting your productivity with a single tool. Cogniflow can classify customer interactions, extract info from text or images, identify and count objects in images or video, and can even transcribe audio. To use Congiflow, you don't need any knowledge or coding. You can start with a free tier and upgrade to a paid plan if it is helping you increase your productivity.
These are the five best AI tools for productivity that can help you stay uncluttered with your personal and professional lives.
Read: Best AI tools for Students
How can AI help productivity?
AI can help productivity in many ways from streamlining your work to saving your time on repetitive and time-consuming tasks. You can use AI to do many things from automatically scheduling your meetings to transcribing and note-making. The tasks you do regularly that consume time and decrease productivity can be done by AI tools to save your time thereby increasing productivity.
Related read: 10 Websites to track New Year Resolutions.